Peanut Butter and Chocolate Rice Krispies Treats
The perfect blend of salty and sweet come together in these chewy, chocolate topped, peanut butter and pretzel Rice Krispies treats!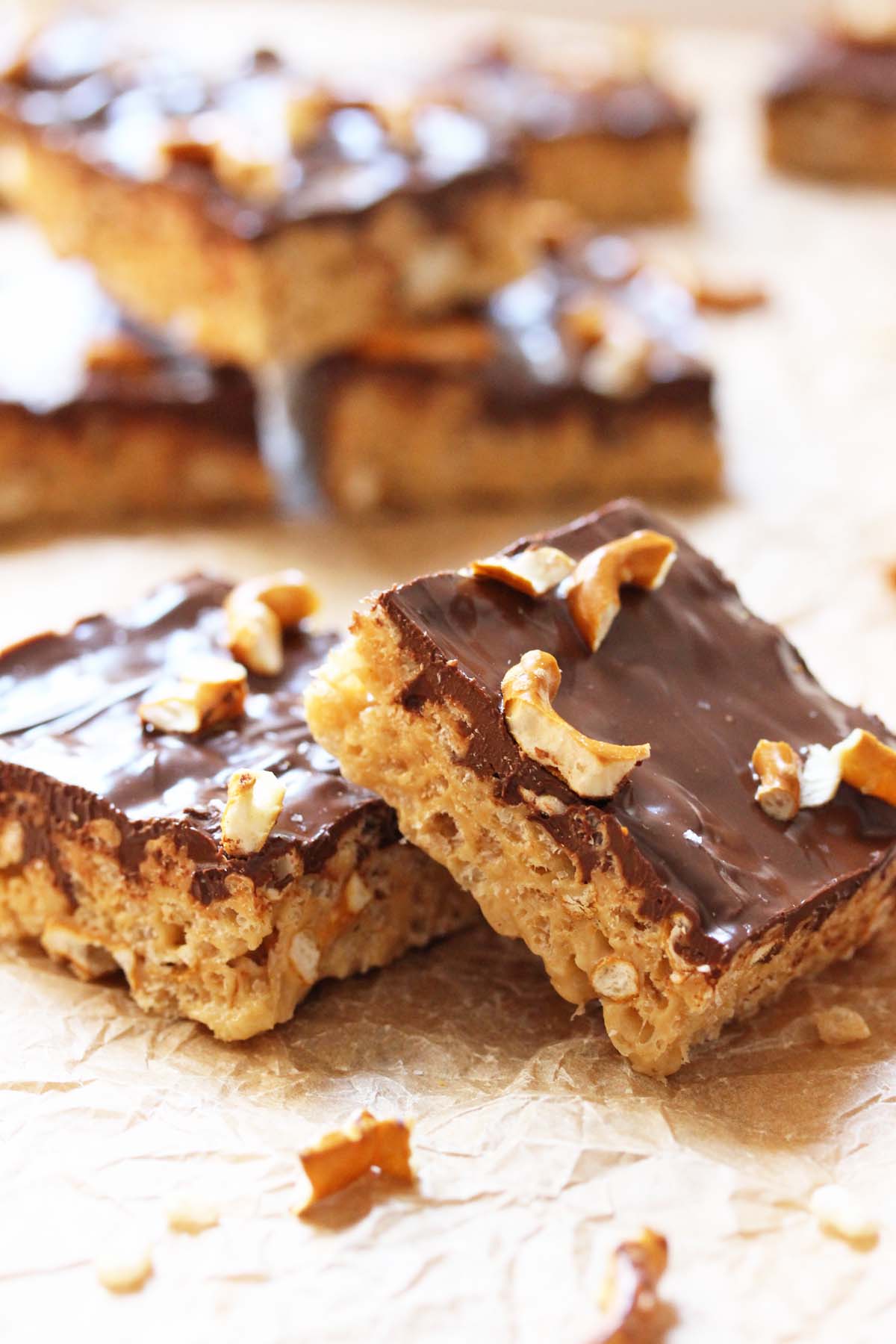 First off, I get a little confused when it comes to the name here, since I see a lot of variation. Rice Krispies treats, Rice Krispie treats, Rice Krispy treats, or Rice crispy treats. It seems to be a strange blend of branding and grammar rules. Regardless – these are gooooooood!
We are taking an ordinary Rice Krispies treat to a whole new level on the blog today! But first excuse me for a moment while I swipe away a few Rice Krispies from the keyboard and pretend that I didn't just eat some obscene number of these bars simply because they are so flipping delicious.
I initially set out to make the classic Rice Krispies treats… until I saw a bag of pretzels on the counter. Suddenly I was reaching for the peanut butter and grabbing a bag of chocolate chips to form this sweet and salty combo. You can imagine Matthew's reaction when I handed him one of these and not a original Rice Krispies treat. Hehe.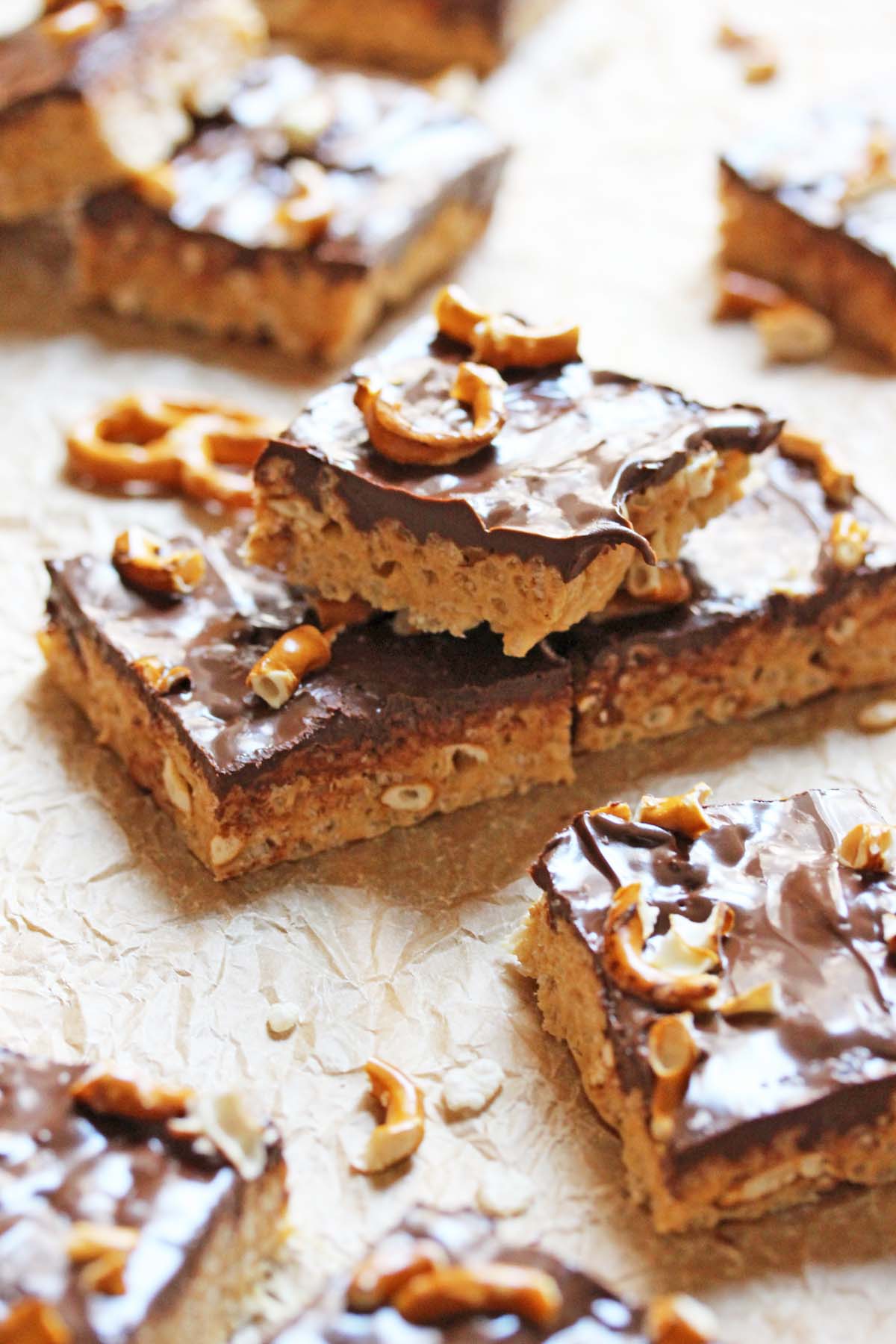 A chewy, marshmallow-y Rice Krispies base, mixed with peanut butter and tossed with crunchy salted pretzels. Topped with a semi-sweet chocolate mixed with more peanut butter and finished with a few more pretzels and a sprinkling of sea salt. Are you drooling yet?
These are addictive… you have been warned.
Peanut Butter and Chocolale Rice Krispies Treat
Yield: 24 bars
5 cups of Rice Krispies cereal
1 cup of pretzels, chopped plus more for topping
1/4 cup of unsalted butter, plus more for greasing the pan
1 10 oz package of marshmallows (I used jet -puffed marshmallows)
1/2 cup of creamy peanut butter
Topping
1 and 1/2 cups of semi -sweet chocolate chips
2 tablespoons of creamy peanut butter
Flaked sea salt for sprinkling (optional)
Directions
Line a 9 x 13- inch baking dish with parchment paper. Lightly grease the parchment paper.
In a large bowl toss together the cereal and the pretzel pieces.
In a large sauce pan on low heat melt the butter. Add the marshmallows and stir until melted. Remove from the heat. Stir in the peanut butter until incorporated and smooth. Immediately add the cereal and pretzel mixture to the peanut butter mixture and stir until combined.
Turn the Rice Krispies mixture into the prepared baking dish, and press it evenly into the pan. This mixture will be quite sticky so you can lightly butter your hands or use a piece of parchment paper to make this less messy when pressing the mixture into the pan.
Now you can prepare the chocolate topping.
Chocolate topping
In the bowl of the double boiler add the chocolate chips and peanut butter. Stir until the chocolate and peanut butter is well combined and smooth. Carefully remove the chocolate from the heat and pour it over the bars. Using a spatula evenly smooth out the chocolate over the top of the bars. While the chocolate is still wet sprinkle with some flaked salt and broken pretzel pieces. Let the topping set. Once the topping has set you can slice into bars and enjoy!