Baked Coffee Cake Doughnuts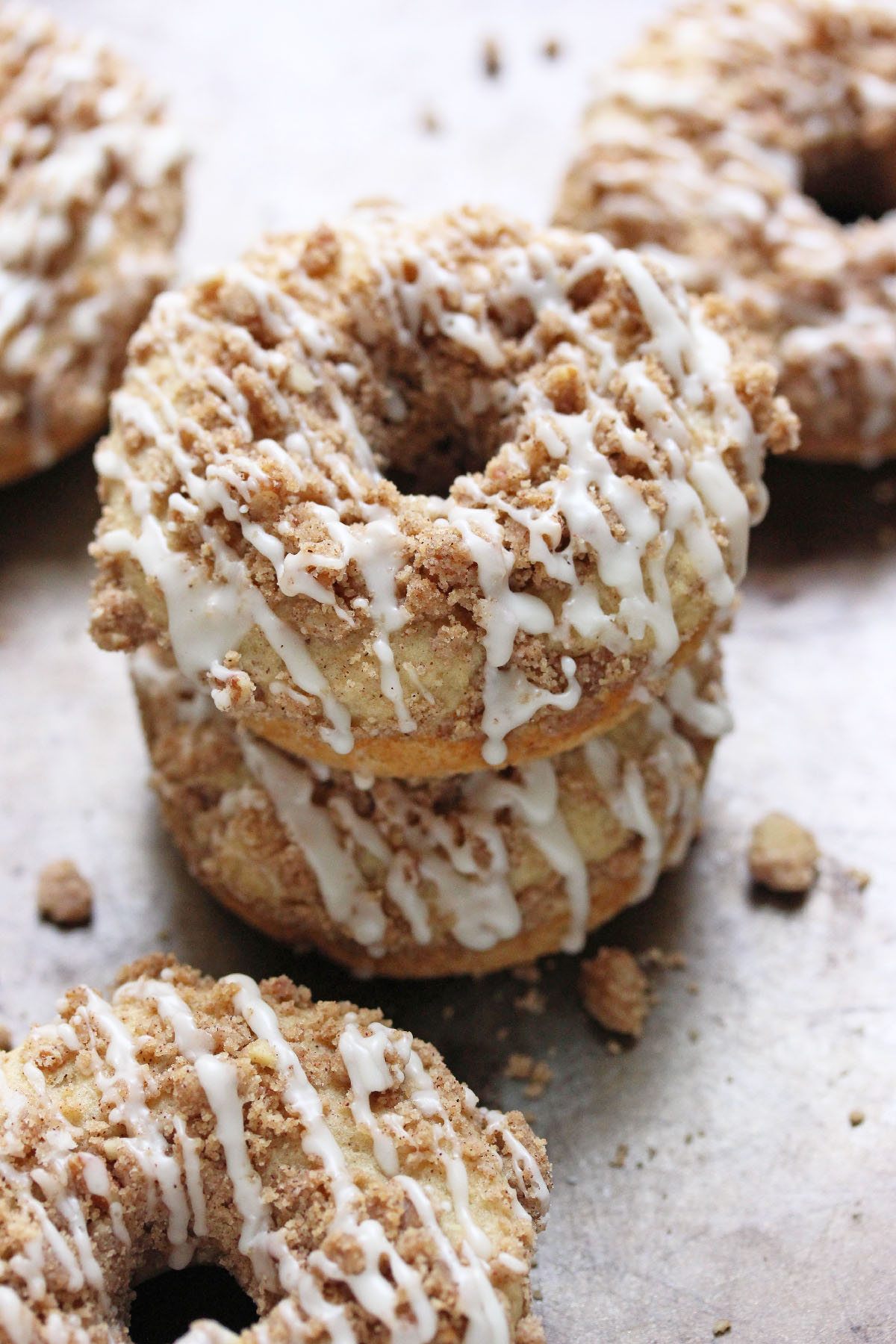 Four words…Baked Coffee Cake Doughnuts!
Because it's the weekend…Because I love doughnuts….Because yesterday was National Donut Day….Because I say so! These doughnuts were made with that weekend cup of coffee in mind. Well that and I simply couldn't resist making something for National donut day even if I am a day late.
As soon as I got in the kitchen I knew exactly the kind of doughnuts I wanted to make…baked coffee cake doughnuts with a crumb topping and glaze! The only real challenge was figuring out how I wanted to achieve that yummy signature crumb topping, if we're being honest here that is one of the main reasons why I eat coffee cake. hehe.
I went with a simple buttery crumb mixed with chopped pecans baked right on top of the doughnuts. Best decision ever. No extra steps and by baking the crumb on top I found it helps to better secure the crumb to the doughnut!
Bake. Cool. Drizzle with glaze. Drizzle with glaze again. Devour.
Baked Coffee Cake Doughnuts
Yields: 6 doughnuts
Crumb Topping
1/2 cup of all- purpose flour
1/4 cup of light brown sugar
1 teaspoon of cinnamon
pinch of salt
4 tablespoons of unsalted butter, melted and cooled
2 tablespoons of finely chopped pecans (optional)
Doughnuts
1 cup plus 2 tablespoons of all-purpose flour
1 teaspoon of baking powder
1/4 teaspoon of baking soda
1/4 teaspoon of ground cinnamon
1/8 teaspoon of ground nutmeg
1/4 teaspoon of salt
2 tablespoons of unsalted butter, melted and cooled
1/4 cup of light brown sugar
1/2 cup of low fat buttermilk, shaken
1 large egg, room temperature
1/2 teaspoon of vanilla extract
Glaze
1/4 cup plus 2 tablespoons of confectioners sugar
1 tablespoon of whole milk
1/8 teaspoons of pure vanilla extract
Directions
Preheat the oven to 325 degrees and grease the doughnut pan.
For The Crumb Topping
In a medium sized bowl mix together the flour, sugar, cinnamon, salt, and chopped pecans. Stir in the melted butter and mix until combined. The mixture should be nice and crumbly. Set aside.
For the doughnuts
In a large bowl sift together the flour,baking powder, baking soda, cinnamon, nutmeg, and salt.
In a separate bowl whisk together the melted butter, brown sugar, buttermilk, egg, and vanilla extract.
Gradually add the buttermilk mixture to the flour mixture and mix until just combined. Make sure not to over mix.
Pipe or spoon the batter into each section of the doughnut pan filling each about 3/4 of the way full.
Generously sprinkle the crumb over the top of each doughnut. Really sprinkle that crumb topping on there.
Bake the doughnuts for 13-17 minutes or until the doughnuts are cooked through and a toothpick inserted into the doughnut comes out clean.
Let the doughnuts cool in the pan for 5 minutes. Gently remove the doughnuts from the pan and transfer them to a wire rack, crumb side up to fully cool.
While the doughnuts cool you can prepare the glaze.
Glaze
In a small bowl whisk together the confectioners sugar,milk and vanilla until combined and smooth.
Drizzle the cooled doughnuts with the glaze, and enjoy!