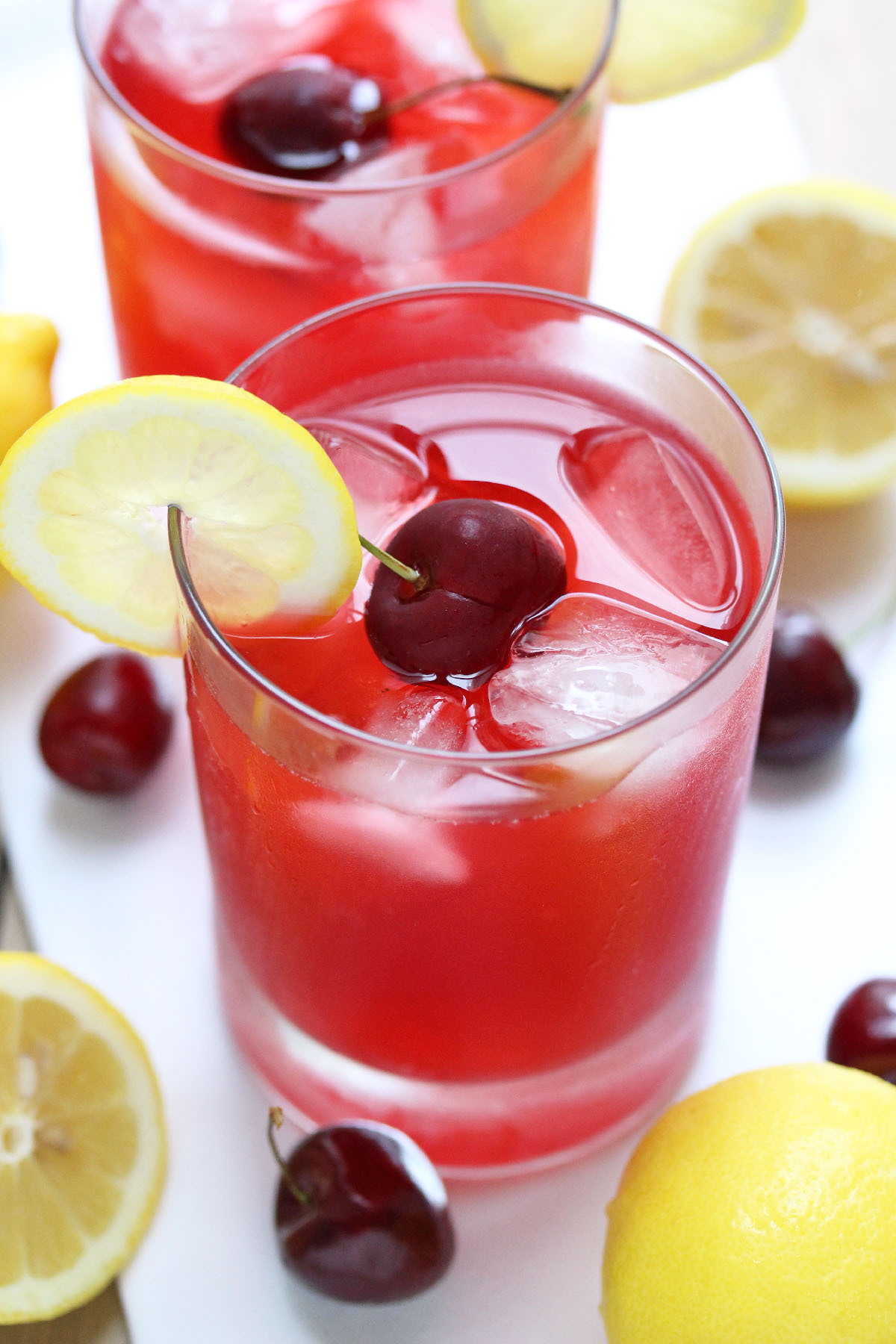 All the fresh and tart flavor you love about lemonade infused with a sweet cherry simple syrup!
Lately my little kitchen has been overflowing with all kinds of fruit. I have been happily, munching, freezing, baking and blending all sorts of yummy fruit for future recipes!
Then it happened… in the middle of all my fruit filled recipe testing frenzy my blender died…mid smoothie, sniffle. Nine years was a good run for our little starter blender, and it wasn't a complete loss either because the smoothie was delicious.
A lot has changed in the nine years since we got our blender. hehe. I need to not get so distracted by the special features and attachments that some of the newer blenders have. Though there is something amazing about a blender that can turn your ice into snow…just saying.
But enough about blenders, let's talk about this cherry lemonade!
This lemonade starts out like most with a handful of freshly squeezed lemons, a few cups of cold water, an easy simple syrup for sweetness, and… some fresh cherries, because I find them delicious and they just pair so nicely with lemons!
Not only do the cherries give this lemonade that nice reddish-pink hue, it also adds a subtle cherry flavor to this sweet yet tart lemonade.
Cherry Lemonade
Yield: 6 servings
Cherry Simple Syrup
2/3 cup of granulated sugar
1 cup of water
1 and 1/2 cups of fresh cherries (about 8oz), pitted
1/2 teaspoon of fresh lemon zest, finely grated
Lemonade
1 cup of fresh lemon juice (about 4-5 large lemons)
4 cups of cold water
ice cubes
Fresh cherries and lemon slices for garnish (optional)
Directions
For the cherry simple syrup
In a medium saucepan, stir together the sugar, water, cherries and lemon zest. Bringing the mixture to a boil. Once the mixture is boiling, reduce the heat and using the back of a wooden spoon carefully break up the cherries to help them release more of their flavor.
Continue simmering until the sugar has dissolved and the cherries are tender. About 10-15 minutes.
Remove the cherry syrup from the heat and let cool.
While the cherry syrup cools you can prepare the lemonade.
For the lemonade
Squeeze 1 cup of fresh lemon juice into a large glass measuring cup. Using a fine mesh strainer, strain the lemon juice into a large glass pitcher, discarding the seeds and any pulp.
Add 4 cups of water to the pitcher with the lemon juice.
Once the cherry syrup has cooled strain it into the pitcher of lemonade, and discard the cherry solids. Give the lemonade a quick stir to combine.
Serve over ice, with a few sliced lemons and some pitted cherries. Enjoy!
Note: I started the simple syrup first so it has plenty of time to cool. I also like to refrigerate the cherry lemonade, before adding ice for at least two hours, so it is nice and chilled before serving.