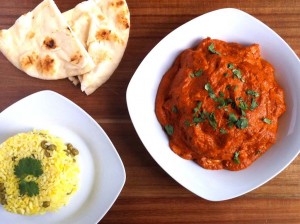 Growing up I never had Indian curry or any Indian food dishes for that matter. That all changed when I moved to NYC. The first year here we went to this fantastic Indian restaurant in Manhattan and WOW. I could not believe what I had been missing out on for so long; it was fantastic! Spicy and sweet flavors all mixing in beautiful harmony. Since then, I have tried various different types of Indian dishes from multiple restaurants and take away places (some good, some not so good) but throughout chicken tikka masala remained one of my favorites.
Chicken tikka masala is an English and Indian hybrid. The origins of which appear to be under debate and a bit murky. What is not under debate and is actually quite clear, is how wonderful it tastes! This dish has it all; yummy chicken chunks with a slightly sweet and rich creamy sauce ending with a kick of heat.
I have been working on making a tikka sauce at home over the years and after quite a bit of experimentation, this is the sauce that I am most happy with. The prime sources of inspiration for this were from allrecipes.com for the marinade and Gordon Ramsay for the tikka masala sauce.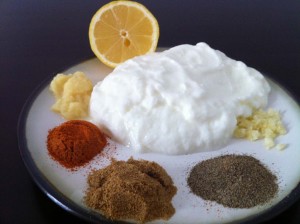 Chicken Marinade
:
2 chicken breasts (cubed)
1 cup yogurt
1 tablespoon fresh lemon juice
2 teaspoons cumin
1 teaspoons ground black pepper
2 teaspoons ginger (I used minced ginger)
1 teaspoon cayenne
1 clove garlic (chopped fine)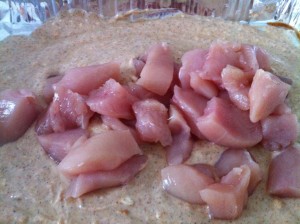 First, I started the marinade by mixing together 1 cup yogurt, 1 tablespoon fresh lemon juice,
2 teaspoons cumin, 1 teaspoon black pepper, 2 teaspoons minced ginger, 1 teaspoon cayenne, and 1 clove chopped garlic. To that I added the cubed chicken. I made sure all of the chicken chunks were fully covered and then placed tinfoil over the top. I placed it in the refrigerator for 1 hour. If you were to make this marinade even further ahead, I would suggest not adding the lemon juice until closer to the time of prep.
Tikka Masala Sauce:
2 tablespoons olive oil
1 small yellow onion (chopped fine)
1/2 a jalapeño (seeded and chopped fine)
1/2 teaspoon ginger (I used minced ginger)
2 cloves garlic (chopped fine)
1/2 teaspoon ground cardamom
1/8 teaspoon ground cloves (combine with cinnamon in 1/4 teaspoon)
1/8 teaspoon cinnamon (combine with cloves in 1/4 teaspoon)
1/2 teaspoon cumin
1/2 teaspoon ground coriander
1/2 teaspoon chili powder
1/4 tsp turmeric
1/4 teaspoon black pepper
2 tablespoons tomato paste
14 oz crushed tomato
1 tablespoons sugar
2 tablespoons yogurt
6 tablespoons of cream
1 bunch of cilantro for garnish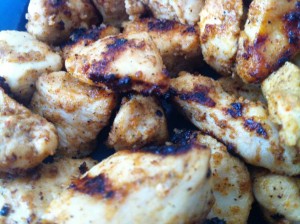 Once the hour was up I began cooking the chicken in a pre heated grill pan until fully cooked and nice dark grill marks appeared. Then I set the chicken aside.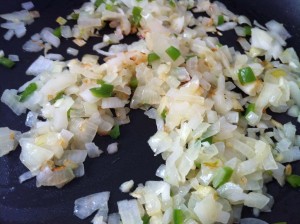 In a large sauce pan on low heat I added 2 tablespoons of olive oil, onion, jalapeño, garlic, and ginger sauteing until soft.
Next I added in the spices; 1/2 teaspoon ground cardamom, 1/2 teaspoon chilli powder, 1/2 teaspoon cumin, 1/2 teaspoon ground corriander, 1 tablespoon sugar, 1/4 teaspoon black pepper, 1/4 teaspoon tumeric, and 1 equally divided 1/4 teaspoon of cinnamon and cloves split half and half (1/8th teaspoon of both cinnamon and cloves). Stirring until well incorporated and fragrant. Then I added in 2 tablespoons of tomato paste and cooked it for about 2 minutes.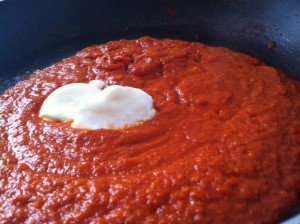 Next I added in the 14 oz of crushed tomato sauce and brought it to a simmer. I removed it from the heat and carefully spooned all my sauce into my blender; blending until nice and smooth. Next on low heat I placed the sauce back into the pan and brought it to back up to a simmer. I added 2 tablespoons of yogurt.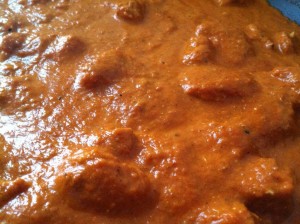 Lastly, I tossed in the chicken and 6 tablespoons of cream stirring until it became a lite creamy orange color.
We enjoy our tikka masala over steamed basmati rice with peas. I threw some cardamom seeds in the steamer to add a subtle flavor. I also used 1/4 teaspoon of turmeric mixed in while cooking to add some yellow color (be warned this spice can stain anything, including fingers). Then we garnished it with cilantro and of course some naan bread on the side.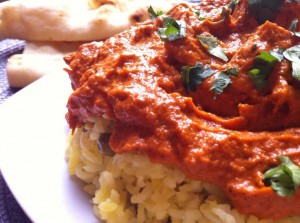 I like having more control over the consistency of the sauce by adding as much cream as you want. One thing to note, as well, is that I did not use Garam Masala in the recipe. This is because I find that the cloves can be overpowering. Instead I used all of the spices in it, but adjusted the ratios to downplay the cloves. In the end, the creamy, sweet, and spicy flavors are delicious. This is my go to for when I am craving Indian food. It takes a bit more time than ordering out, but the results are worth it!