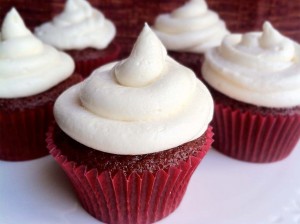 I must say I get a bit jealous when I look over and see my cat, Bella, sleeping. I wish I could sleep for hours and hours like she does without a care. But I must not be fooled by that cute little kitty face for I know she is just resting up for her 1 am play time. Seeking out only the noisiest of toys to bat around the house. I mention this, because she was sleeping under the kitchen table as I started baking this afternoon.
What was I baking? Well, lets talk about that. Cupcakes, the red velvet in particular. What can be said about red velvet cupcakes? They are moist, have a subtle hint of chocolate, and pair nicely with cream cheese frosting. I think the subtle flavor is what lends itself the name velvet.
I have never made red velvet cupcakes and I am not exactly sure why. I simply could not let that continue on. I got this recipe from Martha Stewart. If anyone could teach me the ways of red velvet I knew it would be her.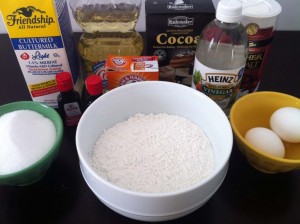 Ingredients:
2 1/2 cups of cake flour (not self rising), sifted
2 tablespoons unsweetened cocoa powder
1 teaspoon salt
1 1/2 cups vegetable oil
1 1/2 cups sugar
2 large eggs room temp
1/2 teaspoon red gel food color
1 teaspoon vanilla extract
1 cup buttermilk
1 1/2 teaspoons baking soda
2 teaspoons white vinegar
Frosting:
2 sticks unsalted butter
1 (8 oz) block cream cheese
4 cups confectioners sugar, sifted
3/4 teaspoon vanilla extract
First, I preheated the oven to 350 degrees and lined the muffin tin with paper liners.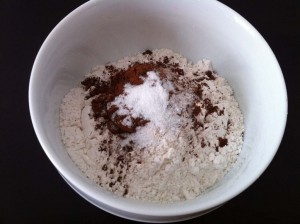 Next, I mixed together 2 1/2 cups of sifted cake flour, 2 tablespoons of cocoa powder, and 1 teaspoon of salt by hand.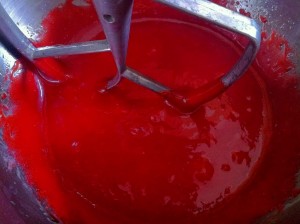 Then using a mixer on the lowest setting I added 1 1/2 cups of sugar and 1 1/2 cups of oil. I mixed this for about 2 minutes. I made sure to scrape down the bowl with every new addition. Next, I added 2 eggs. Then I added the 1/2 teaspoon of food color and 1 teaspoon of vanilla extract. I added the flour mixture in three parts and the buttermilk in two parts, alternating the two. Next, in a small bowl I mixed 1 1/2 teaspoons of baking soda and 2 teaspoons of vinegar letting it foam. Then I added the baking soda mixture to my batter and mixed it in.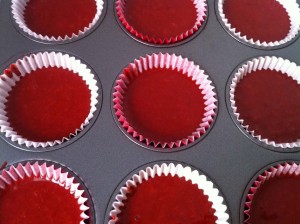 I filled my muffin papers almost to the top (about 3/4 full), but made sure to leave enough room for rising.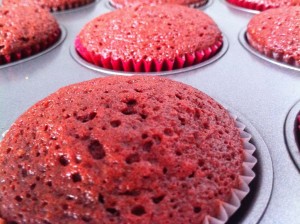 I placed my cupcakes into the oven for 20 minutes. I rotated them after 10 minutes. After the 20 minutes were up, I made sure a tooth pick inserted into the center came out clean.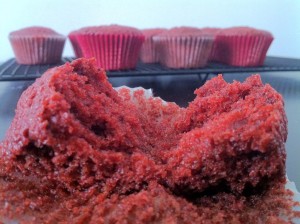 Then to the cooling rack they went until fully cooled. Well, maybe just one for a sample. Quality control, you know.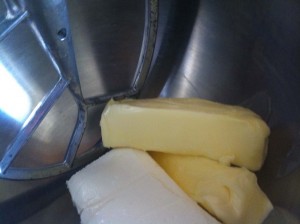 While the cupcakes cooled I got started on my frosting. I began by creaming together the 2 sticks of butter and 1 block of cream cheese.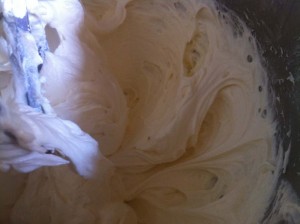 Then I added in 3/4 teaspoon of vanilla and the 4 cups of powdered sugar and mixed until smooth and fluffy.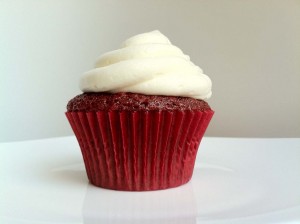 Then it was time to decorate. I still have quite a bit of learning left to do there, but I am pretty happy with the results on these guys though.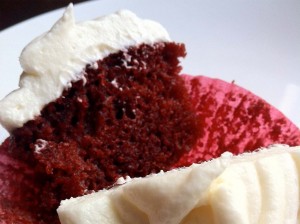 These cupcakes turned out great. They were super moist and I really enjoyed the hint of cocoa. The cream cheese frosting was sweet and fluffy, and stood up really well for decorating.