Spicy Cajun Chicken Salad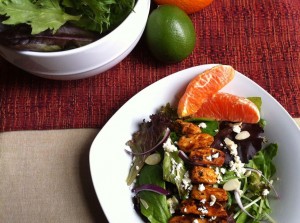 With April coming to a close it is time to bid a farewell to National Grilled Cheese month and all it's cheesy glory. Fittingly, the month of May is National Salad Month. I am looking forward to seeing the recipes that come out this month, as I have had to incorporate more salads into my diet in order to balance out my sweet tooth. If you have been reading regularly, you know I have been baking a few sweets.
One of the challenges I find when it comes to salads, is how to keep it interesting. I saw that tastespotting is running a feature on May 1st for National Salad Month. So, I decided to put on
the old apron and get to work on one of the salads I have been refining lately. Enter the spicy cajun chicken salad with chili lime vinaigrette One of the hidden calorie pockets of salads, is of course, the salad dressing. I wanted to pack a lot of flavor with as little extra calories as I could. A vinaigrette makes sense to do just that.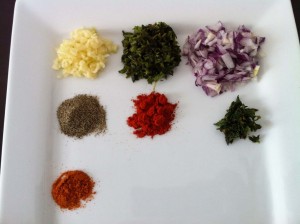 Chicken Seasoning:
2 chicken breasts
1 tablespoon olive oil
2 cloves of garlic (chopped)
2 tablespoons red onion (chopped fine)
1 teaspoon fresh thyme
1 tablespoon fresh oregano
1/4 teaspoon cayenne pepper
1/2 teaspoon smoked paprika
1/4 teaspoon black pepper
1 tablespoon fresh lime juice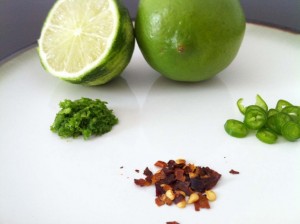 Chili Lime Vinaigrette:
2 tablespoons olive oil
2 tablespoons rice vinegar
1/4 teaspoon honey
1/4 teaspoon green chili pepper sliced thin
1 pinch crushed red pepper flakes
2 tablespoons of fresh lime juice
1/2 teaspoon of lime zest
1 bag mixed spring greens (baby lettuce, baby greens, endive, radicchio)
1 cara cara orange
sliced almonds
Queso Fresco
1/2 red onion (sliced thinly)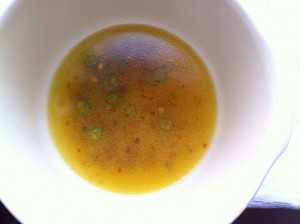 I started making the vinaigrette by mixing 2 tablespoons olive oil, 2 tablespoons fresh lime juice, 2 tablespoons rice vinegar, 1/2 teaspoon lime zest, 1 pinch red pepper flakes, 1/4 teaspoon green chili pepper, and 1/4 teaspoon honey. Mixing until well combined. I set the vinaigrette aside until it was time to assemble.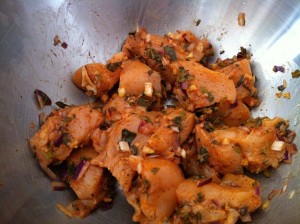 I oiled and preheated my grill pan. Then I cubed my chicken and placed it into a large bowl. I separated the powdered spices to coat the chicken first because I wanted them to stick to the chicken as much as possible and not to the fresh herbs, garlic, and onion. So, I started by adding 1/4 teaspoon of cayenne, 1/2 teaspoon of smoked paprika, 1/4 teaspoon black pepper, and 1 pinch of salt. I mixed until the chicken was well coated. Then I added the remaining ingredients: 2 cloves garlic, 2 tablespoons onion, 1 tablespoon oregano, 1 teaspoon thyme, 1 tablespoon of olive oil, and 1 tablespoon of fresh lime juice. I gave it another good mix, making sure the flavors got everywhere.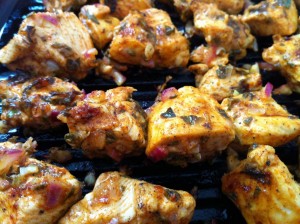 I placed my seasoned chicken into the grill pan and heated it until thoroughly cooked and nice grill marks formed. I then set the chicken aside to cool slightly.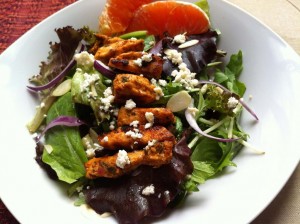 For assembly, I mixed my greens with a few tablespoons of the chili lime vinaigrette until nicely coated. Then I added the red onions, almonds, orange slices, Queso Fresco, and the chicken.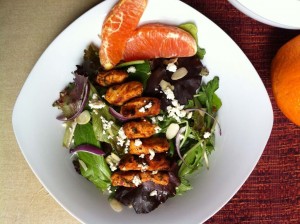 The spicy cajun flavor cut with the citrusy lime vinaigrette is an explosion on your taste buds. The Queso Fresco and Orange give you some delightful coolness and help to deal with the spice. The almonds and onions give good texture and crunch. This simple salad with a lot of flair will get you excited for salad night, at least it does for us! Enjoy!