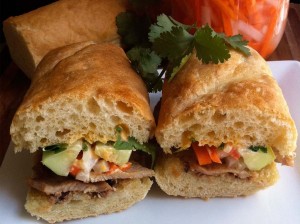 I mentioned last time when I made French bread that I was thinking up ways in which I could use some of this great bread. So what dish is part French, part Vietnamese, and all delicious? That would be the Banh Mi.
Banh Mi means bread and that is what I have plenty of at the moment; so I am going to be using some of my homemade French bread, but this would work with your favorite crusty baguette as well. Some of the common staples you see when making this sandwich are pork liver pâté, pickled daikon, and a spicy mayo. Now for those of you who may not know, pickled daikon does have quite a unique smell. But don't be fooled by its aroma it is quite good. You will want to pickle your daikon and carrots a day or two in advance for the full effect, but at least two hours would be sufficient.
Pickled Daikon & Carrots: (yields 1 quart sized mason jar)
1 medium daikon peeled and cut into thin matchstick pieces
2 small carrots peeled and cut into thin matchstick pieces
1 1/2 cups water
1 1/2 cups distilled white vinegar
5 tablespoons sugar + 1 tablespoon sugar to marinade
1 teaspoon salt + 1/4 teaspoon salt to marinade
First I washed, peeled, and sliced up my daikon and carrots.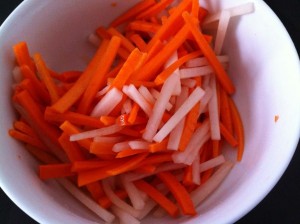 Then in a small bowl I added the daikon, carrots, 1 tablespoon sugar, and 1/4 teaspoon of salt. I mixed to evenly coat all the vegetables. I let this mixture sit for about 10-15 minutes until the carrots and daikon were able to bend without breaking.
I rinsed the daikon and carrots and placed them into the mason jar. Then in a small pot I added 1 1/2 cups of water, 1 1/2 cups of vinegar, 5 tablespoons of sugar, and 1 teaspoon of salt. I made sure the sugar was dissolved and brought it to a light simmer.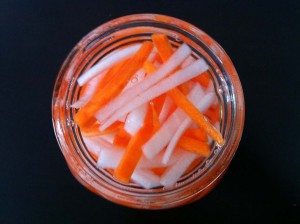 Next, I poured the brine into the jar until the vegetables were fully submerged. I let it cool before placing the lid on the jar and putting it into the refrigerator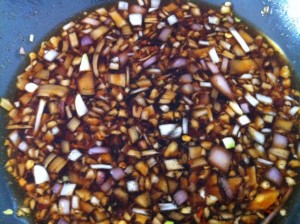 Pork Marinade: (yields 2 healthy sandwiches)
1 small shallot chopped fine
1/2 teaspoon minced ginger
2 cloves garlic minced
1/4 cup soy sauce
2 tablespoons fish sauce
2 pinches crushed red pepper flakes
1 tablespoon dark brown sugar
2 pinches black pepper
2 boneless pork chops (about 3/4 lb) sliced thin
First I mixed together the shallot, ginger, garlic, soy sauce, fish sauce, red pepper flakes, brown sugar, and black pepper. Then I added the pork and mixed to coat all of the pork.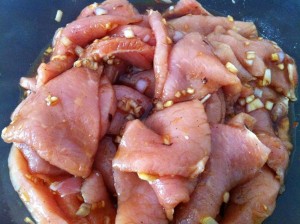 Then I placed the marinated pork, covered, into the fridge for 2 hours. With about 15 minutes still left on the marinade time I preheated the oven to 400 degrees.
Once the two hours was up I cooked the pork in a grill pan. Making sure the pork was fully cooked, I then let it rest for 4 minutes off the heat.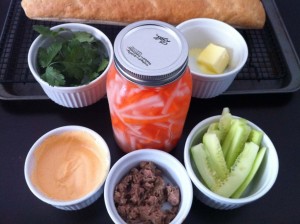 Condiments and Fillings:
1 loaf of French bread
1 package of pork liver pâté
Sriracha mayo (I mixed 4 tbsp mayo and 1/4 teaspoon Sriracha sauce)
1 bunch of fresh cilantro
3 tablespoons of butter softened
1 cucumber cut into thin spears/wedges
pickled daikon and carrots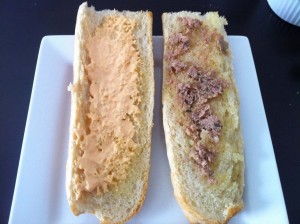 To begin assembly, I took half of my loaf of French bread and cut it open. I then buttered both sides of the the bread and placed it into the oven on the bread stone for 4-5 minutes, until the bread started to get slightly crisp. I then spread a thin layer of pâté on the bottom half of my bread, and a thin layer of Sriracha mayo on the top half of my bread.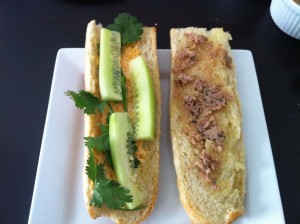 On the top, I added the cilantro and cucumber wedges.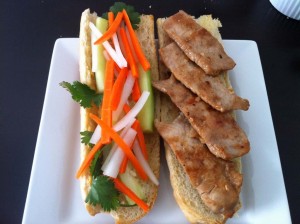 After that, I added a heaping portion of pickled daikon and carrots, check out that color! On the bottom half of the bread, I added the pork over the pâté.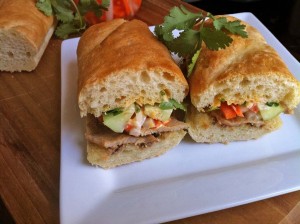 Now it was time to enjoy! This made for a quite an impressive dinner. I enjoyed the flavor of the pork. The pickled and fresh vegetables added a crisp and refreshing texture. By pickling the daikon and marinading the pork ahead of time, the actual sandwich making goes quick, making it a candidate for the weeknights.