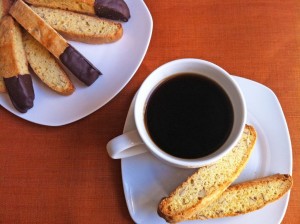 Lately, I have found myself drinking coffee more frequently. With a good cup of coffee, I like to have a sweet treat along side; being the dessert lover that I am. I starting thinking about different sweets that pair well, and especially when their is dunking involved. Enter the biscotti; a twice baked, sweet, and crumbly Italian cookie that is made for dunking!
This recipe was inspired by Smitten Kitchen.
Ingredients:
3 1/4 cups of flour plus more for dusting
1 tablespoon baking powder
1/4 teaspoon of salt
1 1/2 cups of sugar
10 tablespoons of butter room temp
3 eggs room temp
1 tablespoon vanilla extract
1 tablespoon of orange zest
1 1/2 tablespoons of fresh orange juice
1 cup of almonds chopped
1 egg white
I began by preheating the oven to 350 degrees. I sifted together 3 1/4 cups of flour, 1 tablespoon of baking soda, and 1/4 teaspoon of salt. I sifted them three times and set them aside for later.
Then I added the flour in three equal parts, making sure to mix well.
On a floured surface I divided the dough in half and shaped them into two equal sized logs.
I placed the two Biscotti logs spread apart onto the bread stone. And brushed the tops and sides with 1 egg white.
I baked the Biscotti on the middle rack for 30 minutes, rotating halfway though the bake time.
Once the Biscotti finished baking, I let them cool for 25 minutes. After 25 minutes I sliced the biscotti and placed them laying flat, onto the bread stone.
I baked the sliced biscotti for 12 minutes, rotating halfway through.
Then I let them cool on the cooling rack.
I decided to dip a few in chocolate as well, since chocolate would play so nice with the orange. I dipped about half of the biscotti in chocolate. I placed the biscotti into a storage container and made sure they would be easily accessible for when I had coffee or tea.
These cookies have a great orange flavor to them. They are good for dunking of even just by themselves. They even pair well with a glass of milk.