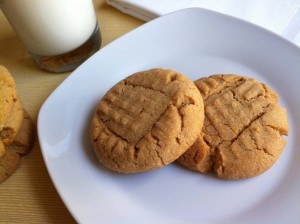 I finished up the internship at the local patisserie here in Brooklyn. It was such a great experience and I am excited to move on to the next place and learn more. Just have to find that next place…
I am also hoping to try baking some goodies for the farmers market in Park Slope soon. A lot of details have to be worked out, but the idea has been planted in my mind.
A candidate for this first bake, I thought, might be some traditional Peanut Butter cookies. Slightly crisp, with a soft chewy center, and of course that great peanut butter flavor. With an ingredient list of less than 10, these are simple to make but have a focused and delicious flavor.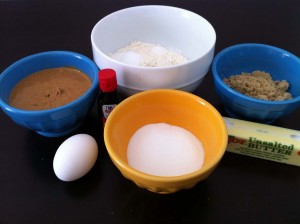 Ingredients:
1 1/4 cups flour
1 tablespoon baking powder
1/4 teaspoon salt
1 stick unsalted butter softened
1/2 cup sugar plus more for rolling
1/2 cup light brown sugar
1 cup creamy peanut butter
1 egg
1 teaspoon vanilla extract
I whisked together the 1 1/4 cups of flour, 1 tablespoon of baking powder, and 1/4 teaspoon of salt. I set these dry ingredients aside for later.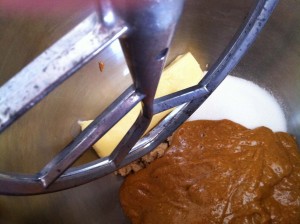 Then in the mixer I creamed together 1 stick of butter, 1/2 a cup of sugar, 1/2 a cup of brown sugar, and 1 cup of peanut butter. I incorporated all of these together until smooth.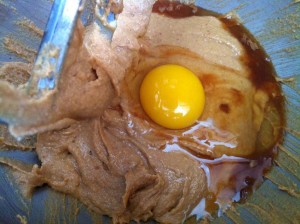 I scraped down the bowl, and then I added in 1 egg, and 1 teaspoon of vanilla. I mixed those in thoroughly.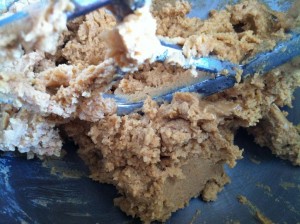 Then I added in the dry ingredients from earlier in three equal parts, scraping down the bowl after each addition. I rolled the dough into a long medium thick tube, wrapping it in plastic wrap, and placing it in the refrigerator for 1 1/2 hours. On the last 30 minutes of chill time, I preheated the oven to 350 degrees.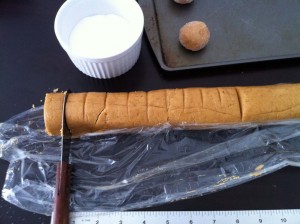 Once the dough had fully chilled, I cut them into 1 inch pieces, shaped them into a ball, and rolled them in some sugar.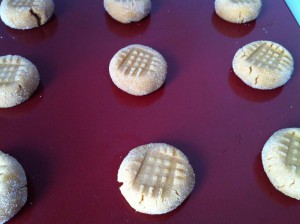 I placed 12 cookies, spaced about 1 inch apart onto my coated bread stone. You may have noticed I am obsessed with my bread stone; I use it for all my baking. Cookie sheets work just as well here, though.
I gently pressed the fork into each one making a cross hatch design. It is the only way to make proper peanut butter cookies. I baked the cookies for 10 minutes, rotating halfway through until they were golden brown around the edges and the centers were still slightly soft.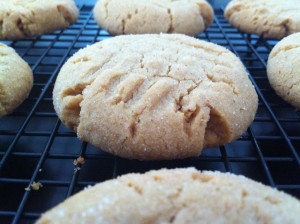 I then placed the cookies onto a cooling rack.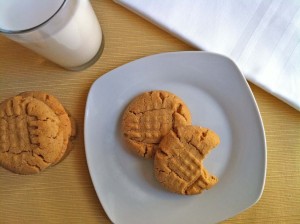 These cookies were delicious. I made sure to put them away in a container once they were fully cooled
to try and minimize temptation. This was of course, after I sampled one or two to check for quality control.