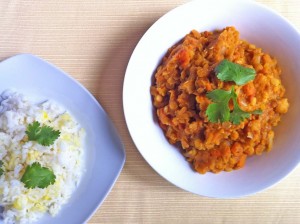 From time to time, I have a habit of going into the cupboards and reorganizing. It's not uncommon during this time that I discover some ingredients that have slipped under the radar. I like to use that opportunity to be creative and inspire a new dish to try making use of the forgotton. Recently, during a cupboard cleaning, I stumbled across a lot of lentils. I decided a good use would be to make a Red Lentil Curry.
I mentioned before that moving to New York City introduced me to different curries. I have already shared my favorite Chicken Tikka Masala recipe, and this dish shares some of those flavors. I made it with some basmati rice and served it with naan as well. Either or would have been fine, but sometimes its hard to pick.
Vegetarian dishes can sometimes get a bad rap for being bland; but this flavorful curry is far from bland!
Ingredients: (yields 4-6 servings)
2 tablespoons vegetable oil
1 medium yellow onion chopped fine
1 medium carrot chopped fine
2 cloves garlic minced
1 teaspoon of minced ginger
1/2 small jalapeno seeded
2 cups cauliflower chopped
1 14.5 oz can diced tomatoes
1 1/2 cup red lentils rinsed and picked over
1 tablespoon tomato paste
1 tablespoon Madras curry powder
1 teaspoon cumin
1/8 teaspoon cayenne pepper
1/8 teaspoon black pepper
1 pinch salt
2 1/2 cups low sodium vegetable broth
1 cup unsweetened coconut milk
1 bunch cilantro chopped for topping
First I began by heating a dutch oven on low heat with 2 tablespoons of vegetable oil.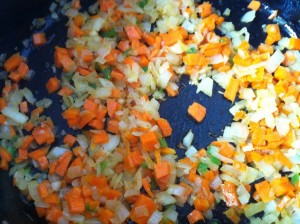 To the oil I added the onion, carrot, jalapeño, garlic, and ginger. I sautéed that for about 6-8 minutes, making sure they were soft.
To the sautéed vegetables I added 1 tablespoon of curry powder, 1 teaspoon of cumin, 1/8 teaspoon of cayenne, 1/8 teaspoon of black pepper, and 1 pinch of salt. I stirred for 2 minutes.
Then I added 1 tablespoon of tomato paste and stirred for another 2 minutes.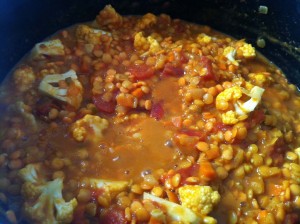 Then I added 1 can of diced tomatoes, 2 1/2 cups of vegetable broth, 1 cup of coconut milk, and 2 cups of cauliflower.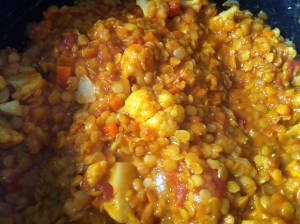 I cooked the lentils covered on low heat for 50 minutes, stirring it about every 10 minutes. I knew it was done when the lentils and cauliflower were tender.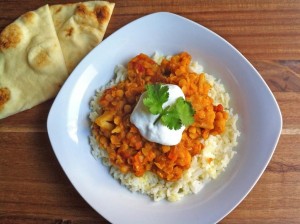 We enjoyed our lentils over rice with a dollop of Greek yogurt, chopped cilantro, and a side of naan
bread.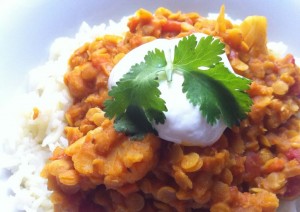 This is a bright and flavorful curry. Sweet from the coconut milk, and spicy from the cayenne and jalapeño. The heat is subtle enough to let the curry powder through and tie everything together.