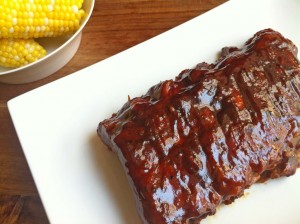 The star of the summer cookout, is often, the barbecue sauce. Slather it over chicken, ribs, or even the grill itself! I have been working on my own blend for awhile now. While you will not be seeing my face on a bottle anytime soon, I am very happy with how this turned out.
To show case the sauce, I went with some delicious pork ribs. They remind me of my childhood summers, when I would feast on ribs and my face would end up covered in BBQ sauce. These sweet, tangy, sticky ribs are a sure winner.
Barbecue Sauce Ingredients:
1 tablespoon of vegetable oil
1/2 of a small onion, chopped
2 cloves garlic, sliced
1 1/4 cups of organic ketchup
1 cup dark brown sugar
5 tablespoons of honey
1 tablespoon of worcestershire sauce
2 teaspoons of dijon mustard
1/4 of a cup of apple cider vinegar
1 teaspoon of chili powder
1/4 of a teaspoon of cayenne pepper
2 pinches of salt
1/4 teaspoon of black pepper
Rib Rub Ingredients:
1lb pork ribs
1/2 teaspoon salt
2 teaspoons freshly ground black pepper
1/2 teaspoon cayenne pepper
2 teaspoons paprika
2 teaspoons onion powder
2 teaspoons garlic powder
3 tablespoons water
I preheated the oven to 350 degrees. I placed a sheet of foil shiny side down onto a cookie sheet.
I prepared the ribs by rinsing them and cutting off any excess fat. I lightly seasoned both sides of the ribs with the rub. Since these are going to be slathered in barbecue sauce, the idea is just to season the meat lightly at this stage. I placed the ribs fat side up onto the lined cookie sheet and sprinkled some water around the ribs. Next I placed a sheet of foil on top of the ribs and sealed each side of the foil together forming a pouch.
I cooked the ribs for 40 minutes.
While the ribs were cooking I got started on the barbecue sauce.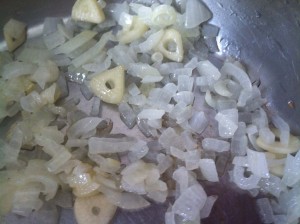 In a small saucepan with 1 tablespoon of vegetable oil I began sautéing 1/2 of an onion and 2 cloves of garlic. I sautéd the onions and garlic until softened and fragrant which took about 5 minutes.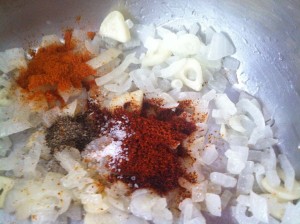 To the onion mixture I added 1 teaspoon of chili powder, 1/4 teaspoon of cayenne pepper, 2 pinches of salt, and 1/4 of a teaspoon of pepper. I stirred for 1 minute.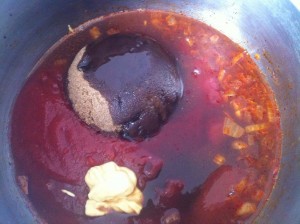 Next I added 1 1/4 cups of ketchup, 5 tablespoons of honey, 1/4 cup of apple cider vinegar, 2 teaspoons of dijon mustard, 1 tablespoon of worschestshire sauce, and 1 cup of dark brown sugar. Using a whisk I stirred the mixture until everything was incorporated.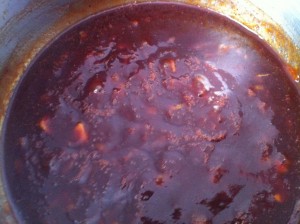 I simmered the sauce on low heat for 30 minutes and slightly thickened. I made sure to stir the sauce often.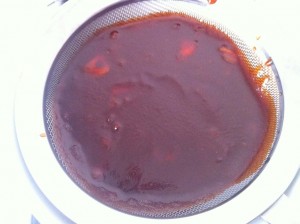 Once the 30 minutes was up, I removed the barbecue sauce from the heat and carefully sifted the sauce through a sieve to remove the onions and garlic.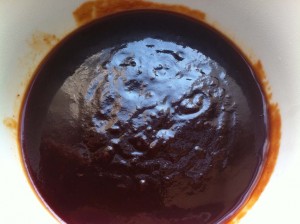 I then transferred 1/2 a cup barbecue sauce to a small bowl for brushing on the ribs and placed the rest of the barbecue sauce into a mason jar.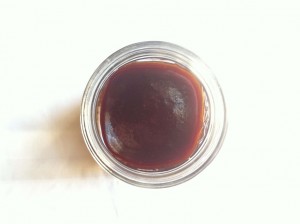 Once the 40 minutes were up and the ribs were ready I carefully opened the foil away from myself and removed the top piece of foil. Using the 1/2 a cup of barbecue sauce I set aside I evenly coated both sides of the ribs with the sauce.
I then placed the ribs back into the oven fat side down for about 15 minutes. Once the 15 minutes were up I made sure the ribs were fully cooked and removed them from the oven. I let the ribs cool for 5 minutes before slicing them up. We had our ribs with some corn on the cob.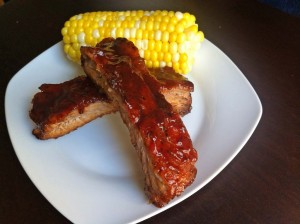 Such a delicious sauce. Sweet, tangy, and some heat in there makes it a deep and flavorful topping. The ribs soaked it right up and were incredibly flavorful. Corn on the cob, ribs, and barbecue sauce… I am pretty sure thats the definition of summer!