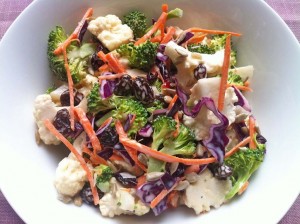 A few months ago I stumbled across a vegetable slaw at a local market that both Matthew and I loved. I enjoyed that it was packed with veggies, dried berries, and a light dressing.
In recreating this at home, I settled on a recipe for the dressing from smittenkitchen which captured the tangy and subtly sweet coleslaw style. Combining that dressing with the simple chopped veggies, berries, and seeds makes for a quick, healthy, and delicious side dish.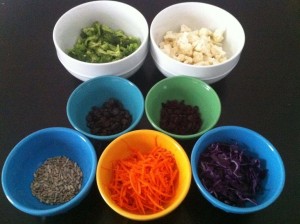 Salad Ingredients:
2 cups of broccoli chopped into small pieces
2 cups of cauliflower chopped into small pieces
1 medium carrot, julienned
1 cup of red cabbage, sliced thin
1/3 of dried cranberries
1/3 of a cup of rasins
1/4 of a cup of raw and shelled sunflower seeds
Dressing Ingredients:
1/2 of a cup of buttermilk, well shaken
1/3 of a cup of mayonnaise
2 tablespoons of apple cider vinegar
1 tablespoon of sugar
1 1/2 tablespoons of shallot, chopped fine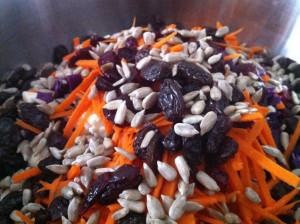 In a large bowl I mixed together 2 cups of chopped broccoli, 2 cups of chopped cauliflower, 1 medium carrot julienned, 1 cup of cabbage sliced thin, 1/3 of a cup of raisins, 1/3 of a cup of dried cranberries, and 1/4 of a cup of raw shelled sunflower seeds. I set this aside for later.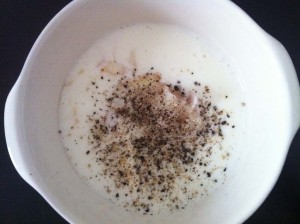 Using a small bowl I mixed together 1/2 of a cup of buttermilk, 1/3 of a cup of mayonnaise, 2 tablespoons of cider vinegar, 1 tablespoon of sugar, and 1 1/2 tablespoons of shallots chopped fine.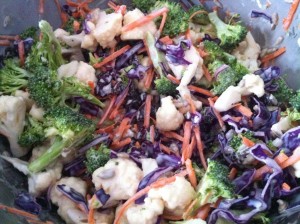 I then poured the dressing over the vegetables and tossed them until evenly coated.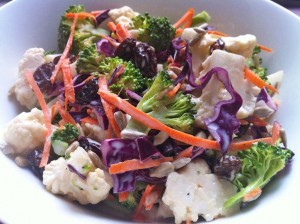 This slightly sweet, crunchy, and tangy fresh vegetable slaw is the perfect compliment to a lot of summer dishes or just as a snack by itself.