Orzo Salad With Tomatoes, Peppers, and Onions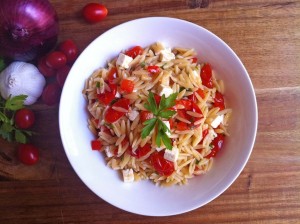 The summer heat wave continues. We have been running fans non stop! Pasta salads are a great dish to make in the heat. You can prep them in the cooler morning and let them chill in the fridge for later. They make a good side or even a light meal by themselves.
For this orzo salad, I pulled in some fresh and vibrant red vegetables, tossed in some oil and white balsamic vinegar. Some parsley and a bit of feta finishes it off.
Ingredients: (yields 4 servings)
1 1/2 cups orzo
5 tablespoons olive oil
2 teaspoons white balsamic vinegar
2 cloves of garlic, minced
1/4 red onion, chopped fine
1/2 cup red pepper, chopped
1 cup grape tomatoes, seeded and cut in half
2 tablespoons fresh parsley, chopped fine
1/2 teaspoon red pepper flakes
1/4 cup of feta, cut into tiny cubes
salt and pepper to taste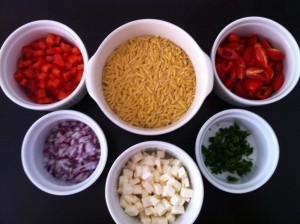 First I began by boiling the water for the orzo. While waiting for the water I started sautéing the vegetables.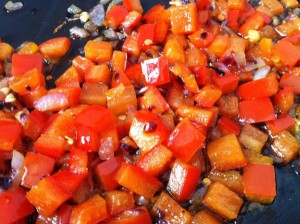 In a frying pan, I added 2 tablespoons of olive oil, 1/2 a teaspoon of red pepper flakes, 1/2 a cup of red pepper, and 1/4 cup of red onion. I cooked that over medium heat for about 5 minutes, making sure the peppers and onions were soft.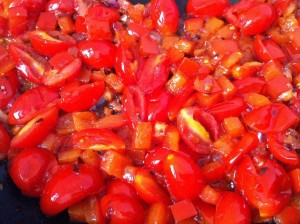 To the onion mixture I added 1 cup of tomatoes, 2 cloves of garlic, salt, and pepper to taste. I cooked that for about 4 minutes and then set the vegetables aside to cool.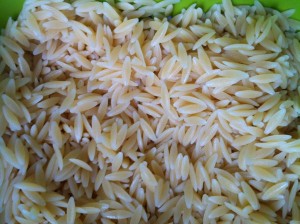 By this time, the water was boiling and I added in 1 1/2 cups of orzo and cooked it according to the package. Once cooked I rinsed the pasta in cold water to shock it. I set it aside for later.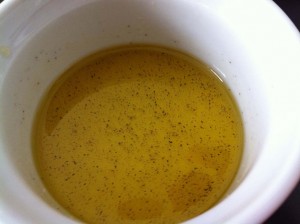 In a small bowl I mixed together 3 tablespoons of olive oil, 2 teaspoons of balsamic vinegar, and 1 pinch of black pepper.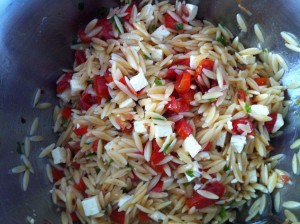 For assembly, in a large bowl I gently mixed together the orzo, oil, vegetables, 2 tablespoons of parsley, and 1/4 of a cup of cubed feta until combined.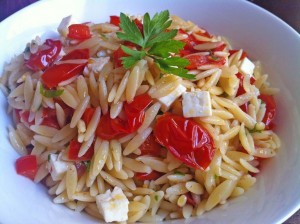 This is a fresh and flavorful salad. The sweet tomatoes, the heat from the pepper flakes, peppers, and onions, the saltiness from the feta all play together well with the orzo in some oil and vinegar with parsley. A perfect dish for a hot summer afternoon.