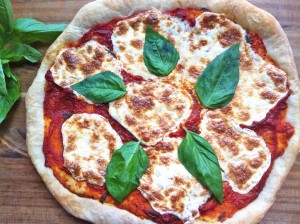 I enjoy making pizza at home, it is such a fun process, shaping the dough, spreading sauce, sprinkling cheeses, and layering the toppings. It is like a blank canvas waiting to come to life.
When I was younger I remember some of the first pizza's I made. I was so excited to make a pizza with all the toppings I had wanted and not what I was limited to from a menu. However that being said I loaded the pizza up with various meats, vegetables, and way too much sauce and cheese. Needless to say I ended up with a less than stellar pizza that was to runny from the excess sauce and cheese.
A lot has changed in the many years since I first started making pizza's. The old saying "less is more" is truly something that I believe in when cooking. So now when I make a pizza I keep it simple and really focus the ingredients I am using and the flavors I can achieve with them.
For the dough, I referenced Dennis' Pizza Recipe.
Dough Ingredients: (yields one 12-inch crust)
2 3/4 cup of bread flour, sifted plus more for dusting
1 cup of warm water, 105-115 degrees Fahrenheit
1 teaspoon of active dry yeast
1 teaspoon of salt
Sauce Ingredients:
1 tablespoon of olive oil
1/2 of a small red onion, chopped fine
1 clove of garlic, minced
1 pinch of red pepper flakes
1 15 ounce can of tomato sauce
6 leaves of fresh basil torn into small pieces, plus more for topping
salt and black pepper to taste.
Toppings:
9 thin slices of Mozzarella cheese (about 8 oz)
a few fresh basil leaves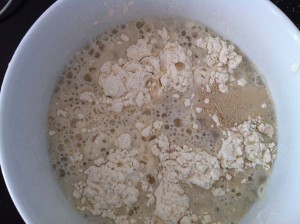 In a medium bowl I mixed together just under half of the sifted flour, 1 teaspoon of active dry yeast, and 1 cup of warm water about 110 degrees. the dough should be the consistency of batter. I set this mixture aside for 10 minutes.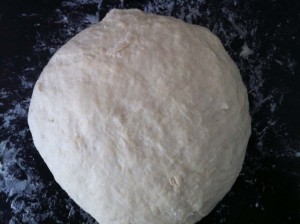 After 10 minutes I mixed in the remaining flour and 1 teaspoon of salt. I then turned out the dough onto a lightly floured surface and kneaded it for 10 minutes, shaping it into a ball. The dough should be slightly tacky.
I placed the dough into a gently oiled medium sized bowl. I covered the bowl lightly greased plastic warp and set it aside in a warm place to rise for 1 hour.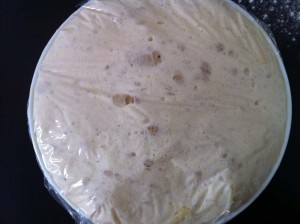 After the hour was up and the dough had doubled in volume I preheated the oven to 450 degrees with a pizza stone on the middle rack.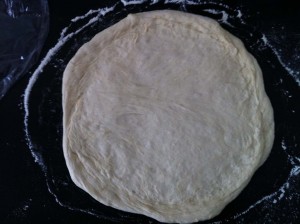 I gently turned out the dough onto a floured surface and began shaping it into a 12 inch round (about 1/2 thick at its thickest). If you like a thinner crust, you could make it slightly larger in round shape, and go for a 1/4 inch thick crust.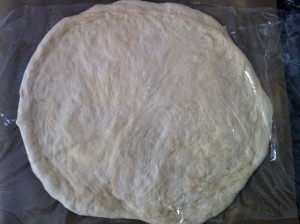 Then I placed the shaped dough onto a piece of lightly floured parchment paper. I covered the dough with a piece of greased plastic wrap and let it rise for 30 minutes.
While the dough rose for the second time I started on the sauce. In a frying pan I warmed 1 tablespoon of olive oil over medium heat.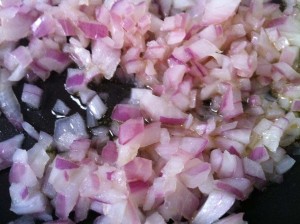 To the oil I added 1/2 of one small onion chopped fine. I cooked the onion for 5 minutes.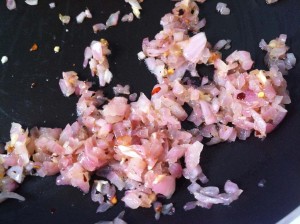 Next I added 1 pinch of red pepper flakes, 1 clove of minced garlic, and salt and pepper to taste. I sautéed it for 3 minutes.
I added one 15 ounce can of tomato sauce and 6 leaves of torn basil. I cooked it until it started to slightly thicken. About 6 minutes. I set the sauce aside to cool.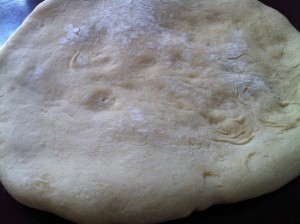 Once the 30 minute rise time was up I carefully transferred the dough onto the bread stone. I pre baked the dough for 5 minutes.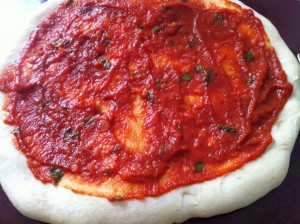 After 5 minutes I carefully removed the crust from the oven with the bread stone. I lightly spread the sauce over the crust leaving a rim. I did not end up using all of the sauce, make sure to keep it relatively thin on the spread.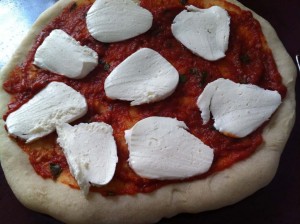 Then I spread out 9 slices of Mozzarella cheese over the sauce.
I baked the pizza for 20 minutes until the crust was golden brown and the cheese was nicely melted.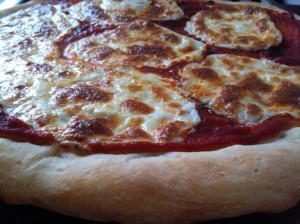 Lastly I let the pizza cool for 10 minutes and topped it off with a few leaves of fresh basil.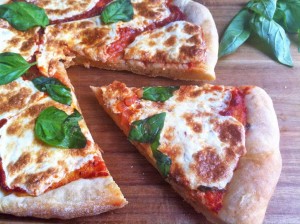 A crisp and chewy crust, a slightly sweet and spicy sauce, topped with rich mozzarela and fresh basil. This made for a perfect dinner!