Chicken Avocado Salad with Mango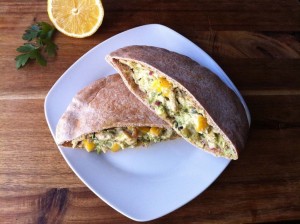 On Monday, Matthew and I went for a little overnight stay-cation in Atlantic City, NJ. We walked up and down the boardwalk, visited some shops, casinos, and of course enjoyed lots of delicious foods. It is always nice to get away and recharge a bit. Since I did some over indulging on our trip I felt like a lighter meal was in order. This fresh, creamy, tangy, and slightly sweet play on chicken salad is a delicious way to mix up your meals.
Ingredients: (fills one whole wheat pita)
2 chicken breasts fully cooked, shredded
1 avocado, diced
3 tablespoon of red onion, chopped fine
1/2 cup of fresh mango, chopped
1 tablespoon of fresh parsley, finely chopped
1/2 lemon, juiced
2 tablespoons of greek yogurt
salt and pepper to taste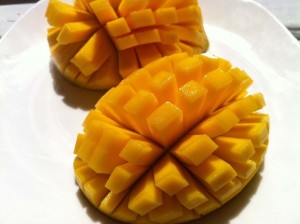 To get started, I sliced off the two sides of the mango, or the cheeks as you can call them. Then with each cheek, I sliced vertically and horizontally (forming a cross hash) within the skin. Finally, I pushed in the skin, turning the cross hash of fruit out, making a little porcupine of delicious mango bits.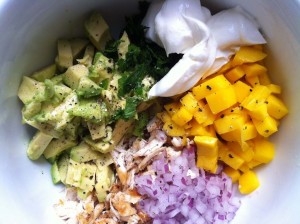 In a large bowl I gently mixed together 2 cooked and shredded chicken breasts, 1 diced avocado, 3 tablespoons of chopped red onion, 1/2 of a cup of chopped mango, 1 tablespoon of finely chopped parsley, 1/2 of a lemon juiced, 2 tablespoons of greek yogurt, and salt and pepper to taste.
We enjoyed our chicken salad served up on a whole wheat pita. This could also be served in the avocado skin or over some salad greens.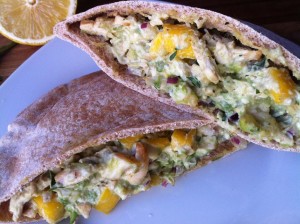 This made for a lite and delicious lunchtime meal. The creamy avocado, sweet mango, fresh parsley and tangy greek yogurt all mixed together with tender chicken breast to form a fantastic sandwich.