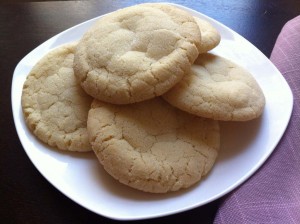 A good sugar cookie recipe can be hard to find and once you feel you have that great recipe you may not want to look any further. These sugar cookies are so delicious you won't have to wait for a holiday just to make them. They have a slightly crisp exterior with a nice and chewy center, topped with that unmistakable sugary luster. Matthew has never been a real fan of the sugar cookie and I usually prefer mine to be frosted. But this sugar cookie that I found on A Feast for the Eyes is so good the way it is that it has converted us both.
Ingredients: (yields 16 cookies in about 2 tablespoon sized portions)
2 1/4 cup of all- purpose flour
1 teaspoon of baking powder
1/2 teaspoon of baking soda
1/2 of a teaspoon of salt
1 1/2 cups of sugar, plus 1/3 of a cup for rolling
2 ounces of cream cheese, softened and cubed
6 tablespoons of unsalted butter, melted
1/3 cup of vegetable oil
1 egg, at room temperature
1 tablespoon of milk
2 teaspoons of vanilla extract
I began by preheating the oven to 350 degrees.
In a large bowl I mixed together 2 1/4 cups of flour, 1 teaspoon of baking powder, 1/2 of a teaspoon of baking soda, and 1/2 of a teaspoon of salt. I set this aside for later.
In a seperate bowl I added 1 1/2 cups of sugar and 2 ounces of cubed cream cheese.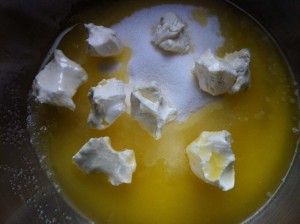 To the sugar and cream cheese I added 6 tablespoons of melted butter and whisked it until combined.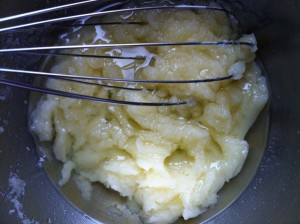 Then to the butter I added 1/3 of a cup of vegetable oil. I mixed that until incorporated.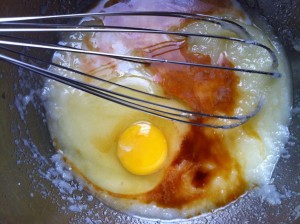 To the oil I added 1 egg, 1 tablespoon of milk, and 2 teaspoons of vanilla extract and mixed that together until smooth.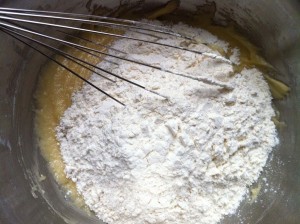 Then in two equal parts I added the flour mixture mixing each part until combined.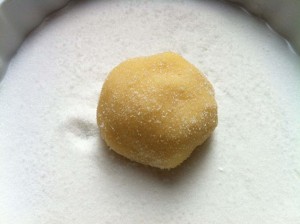 I shaped 16 two tablespoon sized balls and rolled them in a shallow dish filled with 1/3 of a cup of sugar.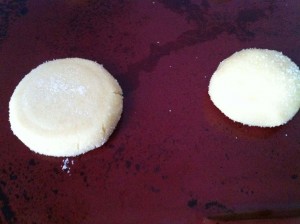 Then I evenly spaced 8 cookies on my bread stone and flattened each one slightly with the bottom of a drinking glass.
I lightly sprinkled the cookies with a tiny bit of extra sugar. I baked the cookies on the middle rack for 13 minutes rotating halfway through.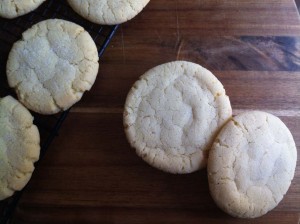 These cookies are soft, chewy, and surrounded in a delightful coating of sugary crystals. There is a subtle hint of vanilla that comes through making each bite a wonderful smooth mouthful. No need for frosting on these cookies, only a cup of milk to wash them down!