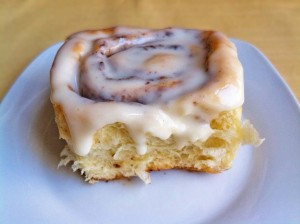 Cinnamon rolls are a beloved breakfast treat that can take you back to your childhood with that tempting cinnamon and sugar aroma. For these rolls, I adapted a recipe from the very talented folks over at America's Test Kitchen.
Dough Ingredients: (yields 12 rolls)
3/4 cup of buttermilk, warmed (110 degrees)
7 tablespoons of unsalted butter, melted and cooled
3 eggs,room temperature
4 1/4 cups of all purpose flour, plus more for dusting
1/4 cup of sugar
1 package of active dry yeast
1 teaspoon of salt
1 nub of butter for greasing the pan
Filling Ingredients:
3/4 cup of light brown sugar, packed
2 1/2 teaspoons of cinnamon
1 pinch of salt
1/8 teaspoon of ground cloves
1 tablespoon of unsalted butter, melted
Glaze:
3 tablespoons of buttermilk
3 tablespoons of cream cheese, softened
1/2 teaspoon of vanilla extract
1 1/2 cups of confectioners sugar
I began by mixing 4 cups of flour, 1/4 of a cup of sugar, 1 teaspoon of salt, and 1 package of active dry yeast in the mixer bowl with the dough hook attachment.
I increased the speed to medium and let the dough mix for a total of 10 minutes. I stopped the mixer after 5 minutes to add 2 tablespoons of flour. I added the remaining 1/4 cup of flour.
Then I turned my dough out onto a lightly floured surface and kneaded it enough to shape a nice ball.
I placed the dough ball into a lightly oiled bowl gently flipping to coat both sides of the dough. I covered the dough with lightly oiled plastic wrap and let the dough rise for 2 hours.
With 5 minutes left on the rise time I used a nub of butter to grease a 9 x 13 pan.
On a lightly floured surface I gently shaped the dough using my hands into a 16 by 12 inch
rectangle.
Then I brushed the dough with 1 tablespoon of melted butter.
In a medium bowl I mixed together 3/4 of a cup of light brown sugar, 2 1/2 teaspoons of cinnamon, 1/8 teaspoon of ground cloves, and 1 pinch of salt.
Then I added the cinnamon and sugar mixture evenly over the dough leaving 3/4 of an inch border at the top. I gently pressed the cinnamon mixture into the dough.
I carefully and slowly rolled the dough into a tight and even tube.
Then I pinched the dough together to form a nice seam.
I gently rolled the tube over with the seam side down and carefully stretched the tube until it was 18 inches long.
Using a serrated knife I sliced twelve 1-1/2 inch rolls.
I placed the rolls cut side down into the pan.