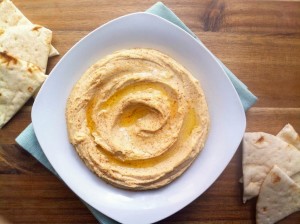 I really enjoy hummus and am always making sure we have some on hand for snacking. There are some great store bought varieties but of course, it is a great treat to make your own homemade versions.

This hummus recipe from smittenkitchen.com is quick and easy to make. Also by removing the skins from the chickpeas it results in a smoother hummus and who doesn't love that. This smooth, rich, and creamy hummus is great served with veggies and pitas for snacking. Speaking of which, I made some pitas a while back which go great with this hummus, if you want to check that out as well.
Ingredients:
1 15 ounce can of low sodium chickpeas
1/2 cup of Tahini paste
2 tablespoons of lemon juice
3 cloves of garlic, minced
3/4 teaspoon of salt
1/4 cup of water
olive oil of drizzling
paprika for garnish
I peeled one 15 ounce can of chickpeas and I discarded the skins.
Using a food processor I blended the chickpeas until nice powdery clumps had formed.
Then I added 1/2 of a cup of Tahini paste, 2 tablespoons of lemon juice, 3 cloves of garlic minced, and 3/4 of a teaspoon of salt. I blended until pureed.
I slowly added in 1/4 of a cup of water a little at a time until the mixture was nice and smooth. You may need more or less water.
Then I transferred the hummus to a bowl and wrapped it in a piece of plastic wrap. I placed the bowl in the refrigerator for a minimum of 30 minutes. The longer the hummus sits the more the garlic flavor will develop.
I removed the hummus from the refrigerator after 30 minutes and sprinkled it with a bit of paprika and drizzled it with some olive oil.
This hummus has a smooth texture with hints of garlic and lemon. We enjoyed ours with fresh slices of pita.