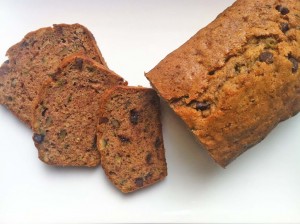 Zucchini bread makes for a great coffee time treat. It can be a little daunting to add a vegetable to your dessert, but this bread will help you over your reservations.
In this spice bread recipe that I found on smittenkitchen.com, the zucchini adds texture and moisture. The walnuts add some crunch. The chocolate chips bring some sweetness to the mix. Spreading a little butter over the top while its still warm is a delicious addition as well.
Ingredients: (yields 2 loaves)
3 eggs
1 cup vegetable oil
1 3/4 cup of sugar
2 cups of zucchini, grated
2 teaspoons of vanilla extract
3 cups of all purpose flour
3 teaspoons of cinnamon
1/8 teaspoon nutmeg
1 teaspoon of baking soda
1/2 teaspoon baking powder
1/2 teaspoon salt
1/2 cup of walnuts, chopped
1 cup semi sweet chocolate chips
I began by preheating the oven to 350 degrees. Then I greased and floured two bread pans.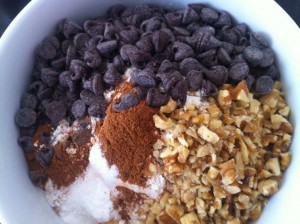 In a large bowl I mixed together 3 cups of flour, 3 teaspoons of cinnamon, 1/2 teaspoon of baking powder, 1 teaspoon of baking soda, 1/8 teaspoon of nutmeg, 1/2 of a teaspoon of salt, 1/2 of a cup of walnuts, and 1 cup of chocolate chips. I set this aside for later.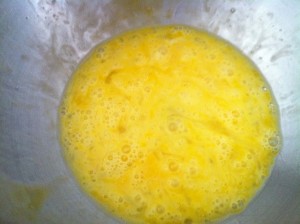 Using a mixer bowl I mixed together 3 eggs until combined.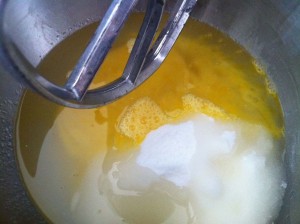 To the eggs I added 1 cup of vegetable oil and 1 3/4 cups of sugar. I mixed until incorporated.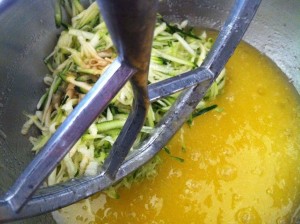 Then I mixed in 2 cups of grated zucchini and 2 teaspoons of vanilla.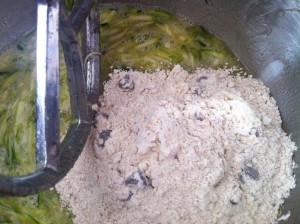 In two equal parts I mixed in the dry ingredients until combined. I made sure not to over mix.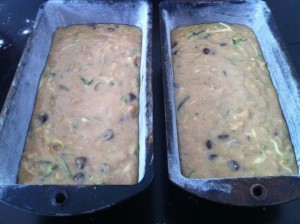 I divided the batter between the two bread pans.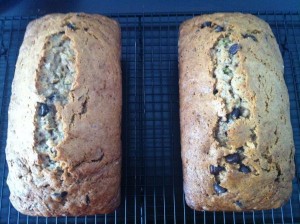 I baked the bread on the middle rack for 1 hour rotating halfway through. A toothpick inserted in the center should come out clean.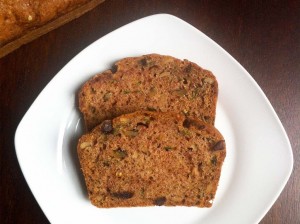 Hints of warm spice from the cinnamon and nutmeg, a little crunch from the walnuts, little bursts of sweet chocolate, and a nice moist texture from the zucchini. This bread will have you looking at vegetables in a new way!