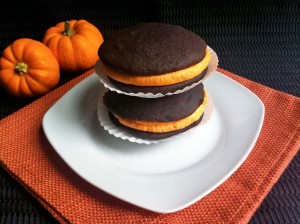 Halloween is upon us! Even though it has been many years since I last went trick-or-treating I still enjoy getting into the holiday spirit. Putting up decorations, watching classic scary movies, and enjoying some treats.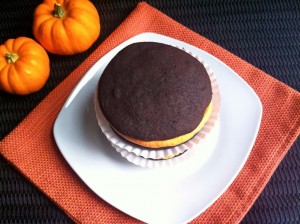 So to help celebrate the holiday I whipped up a batch of delicious chocolate whoopie pies with an orange tinted butter cream frosting. Simple, sweet, and festive. Two soft cake like chocolate cookies sandwiched together with a festive and creamy orange butter cream center.
Ingredients: (yields 15 cookies)
1 2/3 cups of flour
2/3 cups of unsweetened cocoa powder
1 1/2 teaspoons of baking soda
1 teaspoon of salt
5 tablespoons of unsalted butter, at room temperature
3 tablespoons of vegetable shortening
1 cup of light brown sugar, packed
1 egg, room temperature
2 teaspoons of vanilla extract
1 cup of whole milk
I began by creaming together 5 tablespoons of butter, 3 tablespoons of vegetable shortening, and 1 cup of light brown sugar in the mixer bowl. I mixed until combined.
Then I added 1 egg and 2 teaspoon of vanilla. I mixed until incorporated.
In a separate bowl I sifted together 1 2/3 of a cup of flour, 2/3 of a cup of cocoa powder, 1 1/2 teaspoons of baking soda, and 1 teaspoon of salt.
Then I added the flour mixture in 3 equal parts and the 1 cup of milk in 2 equal parts until just combined, I made sure not to over mix the batter. I stopped the mixer and scraped down the bowl before each new addition.
I transferred the batter to a glass bowl and covered it with a piece of plastic wrap. I placed the batter in the refrigerator for one hour. I like to refrigerate the batter to make it easier to scoop and shape.
With 30 minutes left on the chill time I preheated the oven to 375 degrees and lined the cookie sheet with parchment paper.
Once the 30 minutes was up I scooped and evenly spaced six cookies about 1 1/2 tablespoons in size onto my parchment lined cookie sheet. I very gently patted down each cookie.
I baked the cookies for 10 minutes and the centers were set. I let the cookies cool for 5 minutes before transferring them to a cooling rack.
While the cookies were cooling I started on the frosting.
Butter Cream Ingredients:
1 cup of unsalted butter, at room temperature
3 1/2 cups confectioner sugar
1 teaspoon of vanilla extract
orange gel food coloring
In the mixer bowl I added 2 sticks of butter and I beat until smooth.
Then I added 3 1/2 cups of confectioners sugar one cup at a time until well combined and smooth, I made sure to stop the mixer and scrape down the bowl.
I added 1 teaspoon of vanilla and mixed until incorporated.
Then I added 1 drop of gel food coloring and mixed until well combined. I scraped down the bowl. and repeated this process of adding food coloring until I achieved the desired shade.
To assemble, I took the flat side of one cookie and I piped the butter cream leaving some space along the outer edge. Then I placed the second cookie, flat side down onto the butter cream and very gently pressed the cookie.