Orecchiette with sausage and peppers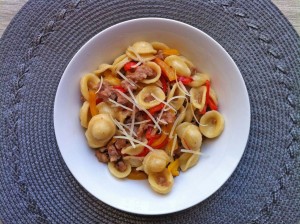 Wow, it is going on the last week of October already! No sign of snow in the city yet, but plenty of decorations are popping up for the holidays to come. On my way to the grocery store this morning I couldn't help but notice the giant snowflake lights adorning the streets. Then I start to think about all the holiday planning I have yet to do… and that just freaks me out. So for now I will remind myself that we are still in October and I still have a bit of time.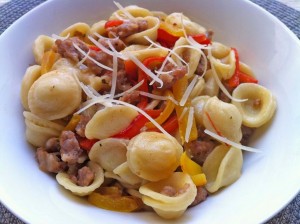 For tonights dinner I wanted something quick and tasty. I remembered this recipe that I came across earlier in the week on marthastewart.com. The sweet and salty Italian sausage, freshly roasted peppers, and the smooth buttery sauce really makes for a delightful pasta dish. Additionally, its simplicity allows this to be a great option for a quick meal.
Ingredients:
2 medium red bell peppers with the sides sliced off and the core, ribs, and seeds removed
2 medium yellow bell peppers with the sides sliced off and the core, ribs, and seeds removed
1 lb Orecchiette
2 teaspoons olive oil
1 lb sweet Italian sausage, removed from casing
1 tablespoon of unsalted butter, cubed
1/3 cup of Parmesan cheese, grated
*Reserve 1/2 of a cup of pasta water
I began by boiling a pot of water for my pasta. while I waited for the water to boil I started grilling my peppers.
In a lightly oiled grilling pan I placed my peppers skin side down on medium low heat. I carefully turned the slices of peppers often to make sure all the peppers were evenly blackened. Once the peppers were blackened I placed them in a glass bowl and covered the bowl with plastic wrap for 4 minutes to help loosen the skin.
Once the water was boiling I cooked the pasta until al dente. I drained the pasta and made sure to reserve 1/2 of a cup of cooking water.
After 4 minutes I removed the plastic wrap from the peppers and let them cool slightly. While the peppers cooled I preheated a large frying pan with 2 teaspoons of olive oil. I cooked 1 pound of Italian sausage for 10 minutes until browned and fully cooked. I made sure to break up the sausage as I cooked it.
While the sausage was cooking I rubbed off the skins from the peppers and sliced them into thin strips. I added the peppers to the cooked sausage until the peppers were heated through.
In a large bowl I added the sausage mixture, pasta, 1 tablespoon of cubed butter, 1/2 of a cup of reserved pasta water, 1/3 of a cup of parmesan cheese, and salt and pepper to taste.
Then I gently tossed the pasta mixture together until combined.