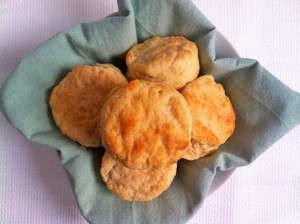 I am slowly starting to unpack our winter clothing because the cold is demanding more layers. While I was looking through a bin of hats, scarfs, and mittens I noticed the dreaded solo mitten. Apparently I could not bare to get rid of it when I last packed this stuff away, most likely in hopes that the missing mitten would reappear. It makes me think I may want to revisit the mitten strings my mother would make me use when I was younger.
Speaking of layers these delicious buttermilk biscuits have lots of warm flaky layers, which to me is a must have when it comes to biscuits. This recipe is great because it contains just a few ingredients and comes together quite quickly. You can use the extra time figuring out how to top them.
Being that is was still early in the morning when I made these I put together a delicious sausage, egg, and cheese biscuit, which was a perfect way to start the morning.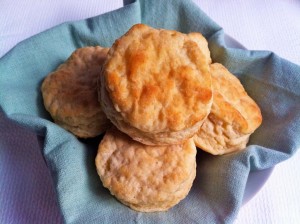 However you decide to eat them, I am sure the tender and flaky dough with a great buttery rich flavor throughout will delight you. For this biscuit I followed a great recipe from Jordana's blog.
Ingredients:
2 cups of flour
1 tablespoon of baking powder
1/2 teaspoon of salt
1 stick of unsalted butter, cubed and chilled
1 teaspoon of honey
3/4 cup of buttermilk
To begin I preheated the oven with the bread stone to 450 degrees
In a medium bowl I mixed together 2 cups of flour, 1 tablespoon of baking powder, and 1/2 of a teaspoon of salt.
To the flour mixture I cut in 1 stick of cubed butter until incorporated and crumbly with some pea sized pieces.
Then I stirred together 3/4 of a cup of buttermilk and 1 teaspoon of honey in a measuring cup. I added the buttermilk to the flour mixture. I used a fork to stir in the buttermilk just until the dough formed and was slightly sticky.
I turned out the dough onto a floured surface and carefully kneaded it about 10 times and the dough was no longer sticky.
Then I gently shaped the dough into a 9 inch round about 1/2 an inch thick. I cut the dough into rounds, I don't have a biscuit cutter so instead I used a drinking glass.
I carefully placed the biscuits onto the hot bread stone, I made sure that the biscuits were slightly touching, this helps the biscuits to rise upwards more.
Finally, I baked the biscuits for 12 minutes and until the tops were golden brown.