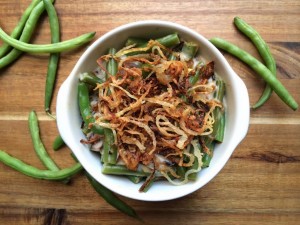 Green bean casserole is a classic dish and often a common holiday staple. It is a comforting side that can hold it own against the other stars of the table such as a plumply golden turkey, a bounty of stuffing, and a glorious mound of mashed potatoes just to list a few.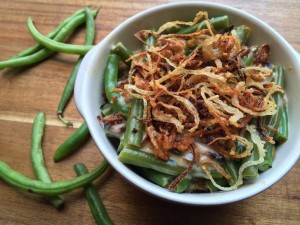 With Thanksgiving quickly approaching I wanted to write about a few dishes that will be making an appearance on our table this year. This is an outstanding homemade casserole stuffed with fresh green beans and coated in a creamy mushroom sauce topped with crispy fried onions. I found this lovely recipe on Smitten Kitchen.
UPDATE: You can check out the other two dishes in this series Roast Turkey and Pumpkin Pie.
Onion Topping Ingredients:
2 medium onions halved, and thinly sliced
1/4 cup of all-purpose flour
2 tablespoons panko breadcrumbs
1/2 teaspoon of salt
freshly ground black pepper
1 1/2 cups canola oil, for frying
In a large bowl I tossed together 2 sliced onions, 1/4 of a cup of flour, 2 tablespoons of breadcrumbs,1/2 teaspoon of salt and some black pepper. I tossed until evenly coated.
Then In a large frying pan I heated 1 1/2 cups of canola oil over medium low heat. I carefully added a handful of onions in a single layer at a time and fried until light golden brown.
I used a slotted spoon to transfer the onions to some paper towel to drain.I repeated with the remaining onions.
Then I preheated the oven to 400 degrees.
Green Beans
1 1/2 pounds of green beans trimmed and halved
I placed a large pot of water on the stove and brought it to a boil. Once boiling I cooked the green beans for 5 minutes. Then I drained the beans and plunged them into ice water to stop them from cooking.
I drained the beans for a second time and set them aside.
Mushroom Sauce Ingredients:
3 tablespoon of unsalted butter
12 ounces of mushrooms, chopped
freshly ground black pepper
3/4 teaspoon salt
2 garlic cloves, minced
3 tablespoons all-purpose flour
1 1/2 cups of chicken broth
1/2 cup of heavy cream
I melted 3 tablespoons of butter in a large frying pan on medium low heat. Then I added 12 ounces of mushrooms, 3/4 teaspoon of salt, and black pepper. I sauteed until the mushrooms started to release their liquid. About 4 minutes.
Then I added 2 cloves of minced garlic and sauteed for 1 minute. I added 3 tablespoons of flour until the mushrooms were fully coated.
I added 1/4 of a cup of broth at a time while I stirred constantly, I simmered for 1 minute. Then I added 1/2 of a cup of heavy cream and brought it back to a simmer. I stirred frequently and cooked until the sauce thickened. About 6 minutes.
Then I added the green beans to the sauce and stirred until coated. I transferred the bean mixture to a casserole dish and added the fried onions on top.
I baked the casserole for about 10 minutes and the sauce was bubbly and the onions were a shade darker. Keep an eye on the onion topping so it doesn't get too brown.