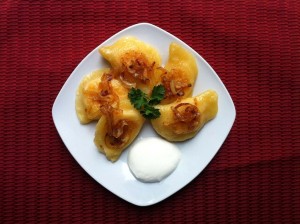 These tender little dumplings have been invading my dreams lately! My favorite are the cheddar and potato. Add some sauteed onions and a dollop of sour cream and I am on cloud nine. The only thing more dangerous than dreaming of pierogies is being surround by them, they just can't get cooked up fast enough.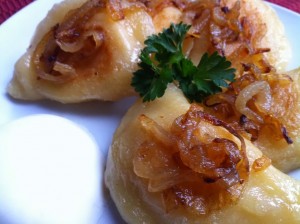 I used this recipe from Brown Eyed Baker and I will be making sure to freeze some to have in the future (just maybe not today.) These turned out great; a soft, tender, and slightly fried dough encasing a delicious cheddar potoato center and topped off with some sauteed onions. I garnished with a bit of parsley and some sour cream.
Dough Ingredients: (yields 2 dozen large pierogi)
2 cups of flour, plus more for dusting
1/2 teaspoon of salt
1 large egg,
1/2 cup of sour cream
1/4 cup of unsalted butter, softened and cut into small cubes
I began by making the dough. In a large bowl I mixed together 2 cups of all purpose flour and 1/2 of a teaspoon of salt.
I beat 1 egg and added it to the flour mixture. Then I added 1/2 of a cup of sour cream and 1/4 of a cup of butter. I mixed just until combined.
Then I turned out the dough onto a lightly floured surface and kneaded it for about 5 minutes and the dough was smooth and just slightly sticky. Be careful not to add to much flour when kneading as it can toughen the dough.
I wrapped the dough in a piece of plastic wrap and placed it in the refrigerator to chill for 30 minutes.
Filling Ingredients:
1 pound baking potatoes, peeled and quartered
4 ounces of cheddar cheese, grated
1 tablespoon of cream cheese
salt and pepper
1 small onion, thinly sliced
unsalted butter for sauteing
While the dough was chilling I started on the potato filling.
I placed the potatoes in a large pot and covered them with cold water. I brought them to a boil over high heat and cooked them until fork tender.
Once the potatoes were cooked I drained and mashed them. I added 4 ounces of cheddar cheese, 1 tablespoon of cream cheese, and salt and pepper to taste. I let the potato mixture cool.
I placed a large pot of water on the stove and brought it to a boil over high heat. While waiting for the water to boil I started to prepare the pierogies.
On a lightly floured surface I rolled the dough out to 1/16" thickness. I cut out the rounds using a drinking glass. ( roughly 3 1/2 inches in diameter).
Then I shaped the cooled potatoes into 1 tablespoon sized balls. I placed a small ball of filling into the center of each dough round.
I carefully folded the dough over the filling forming a semi circle, I used my fingers to pinch the edges together.
Then I placed a few pierogies at a time into the boiling water. They will float to the top once they are done. About 8 to 10 minutes.
Using a slotted spoon I transferred the pierogies to the strainer to remove any excess liquid.
In a large frying pan I sauteed 1 small onion in butter until the onions were soft. I added in the cooked pierogies and pan fried until slightly crisp and lightly golden brown.