Chocolate Crackle Cookies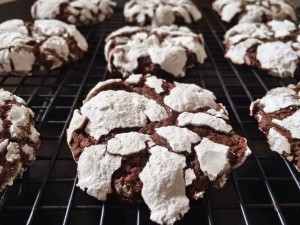 We officially have our first good coating of snow, not quite snow angle making quality yet but it could get there. While the snow gently falls outside I am busy inside baking up yet another delicious and chocolaty batch of cookies to add to my ongoing list of holiday favorites.
Now my love for chocolate is no secret as it can often be found making its way into many of my favorite desserts. I simply could not resist the urge to bake up a batch of these delicious chocolate crackle cookies from marthastewart.com. These cookies are amazing and they remind me a little bit of snowy covered peaks, if snowy covered peaks had a generous coating of powdered sugar and were made of rich delicious chocolate.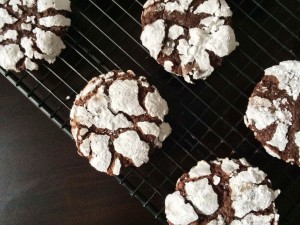 While these cookies do require a bit more time and patience as the dough is softer and sticker than your average cookie dough they are so worth it. Not only do these have a fun appearance but they have a soft cake like texture with the perfect amount of chocolate in each bite.
Ingredients:
(yields about 4 dozen cookies)
8 ounces of bittersweet chocolate, melted and cooled
1 1/4 cups all purpose flour
1/2 cup of dutch cocoa powder
2 teaspoons of baking powder
1/4 teaspoon of salt
8 tablespoons of unsalted butter, room temperature
1 1/3 cups of light brown sugar, packed
2 large eggs
1 teaspoon of vanilla extract
1/3 cup of milk
1 cup of confectioners sugar, plus more for rolling
To begin I used a medium pot filled halfway with water I placed a heatproof glass bowl on top to make a double boiler. I brought the water to a light simmer over medium low heat.
I placed 8 ounces of bittersweet chocolate into the glass bowl and mixed until fully melted. Once melted I carefully removed the chocolate from the heat and set it aside to cool.
Then I sifted together 1 1/4 cups of flour, 1/2 of a cup of cocoa powder, 2 teaspoons of baking powder, and 1/4 of a teaspoon of salt. I set this aside for later.
In the mixer bowl I beat together 8 tablespoons of butter and 1 1/3 cups of light brown sugar until light and fluffy.
To the butter mixture I added 2 eggs and 1 teaspoon of vanilla extract. I beat until combined. Then I added the melted chocolate and mixed until incorporated.
Then I alternated by adding the dries and the 1/3 of a cup of milk and mixed until just combined. I made sure not to over mix.
I divided the dough into four equal parts and wrapped each part in plastic wrap. Then I refrigerated the dough overnight so it could get nice and firm.
The next morning it was time to start baking! I preheated the oven to 350 degrees.
While the oven was preheating I removed one quarter of dough at a time from the refrigerator. On a clean work surface I rolled each portion of dough into a log about 16 inches long with 1 inch in diameter. I used confectioners sugar to prevent sticking.
Then I wrapped each log in plastic wrap and placed them in the refrigerator for 30 minutes to chill. Once the dough had finished chilling I cut each log into 1-inch pieces. Then I tossed a few pieces of dough at a time into the confectioners sugar. I rolled the pieces into a ball shape. I checked to make sure that none of the chocolate dough was visible. If any cocoa-colored dough was visible I simply re rolled the ball in confectioners sugar again to coat completely.
I evenly spaced a few cookies at a time onto my bread stone and baked them until the cookies have flattened and the sugar splits. About 12- 15 minutes, I made sure not to over bake them. Then I carefully transferred the cookies to a cooling rack to fully cool.