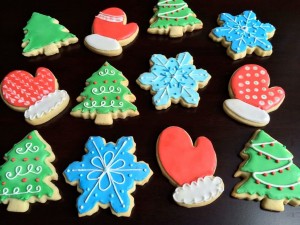 Christmas is just three days away and I have been in the full swing of holiday preparations. One absolute must have cookie for me this time of year is the cut out sugar cookie. Frosted, iced, or doused with sprinkles I can't seem to resist indulging in a few.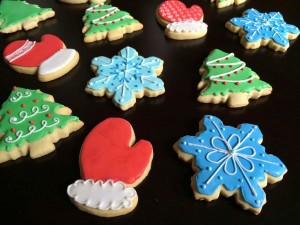 This year I used a recipe that Matthew's mother gave me and uses quite often for the holidays. She mentioned it comes from a county fair winner in the Northland. It is a soft and cakey cookie with subtle hints of butter and vanilla. It reminds me of a cross between a loft house style cookie, and a classic cut out sugar cookie. They are quite delicious and most importantly they keep their shape while baking which is a must when making cut outs.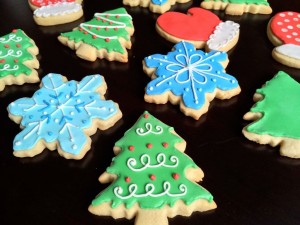 Ingredients: ( yields about 2 1/2 dozen depending on shape and thickness )
1 cup of sugar
1/2 cup of unsalted butter, room temperature
1/2 cup of vegetable shortening
2 eggs, room temperature
3 tablespoons of greek yogurt (or sour cream)
1 teaspoon of baking soda
1 teaspoon of vanilla extract
1/4 teaspoon of salt
3 cups of all -purpose flour
To begin in a small bowl I mixed together 3 tablespoon of greek yogurt and 1 teaspoon of baking soda. I set it aside for later.
In the mixer I creamed together 1 cup of sugar, 1/2 of a cup of shortening, and 1/2 of a cup of butter. I creamed until fluffy.
To the butter mixture I added 2 eggs and 1 teaspoon of vanilla extract. I mixed until combined. I added the greek yogurt and baking soda mixture and mixed until incorporated.
Then I mixed in 3 cups of flour and 1/4 of a teaspoon of salt and mixed until just combined. I made sure not to over mix.
I divided the dough into four equal parts and wrapped each part in plastic wrap. The dough will be a bit sticky. Then I refrigerated the dough for 1 hour.
With 30 minutes left on the chill time I preheated the oven with the bread stone to 350 degrees.
Then I removed one quarter of the dough at a time and rolled it out onto a lightly floured surface about 1/4 inch thick. I used my cookie cutters to cut out the desired shapes.
I carefully spaced the cut out cookies onto the bread stone and baked them for 8 -12 minutes depending on the shape and thickness. I made sure to keep a close eye on the cookies. Then I let the cookies cool for 5 minutes before transferring them to the cooling rack to fully cool.
Once the cookies were fully cooled it was time to start the icing and get to decorating!
Royal Icing Ingredients:
(this will cover about 2-3 dozen 3.5 inch cookies in two colors)
Source:
Bake at 350
4 tablespoons of meringue powder
scant 1/2 cup of water
1 pound of powdered sugar, sifted
1 teaspoon of light corn syrup
a few drops of clear vanilla extract (optional)
In the mixer bowl with the paddle attachment I beat 4 tablespoon of meringue powder and a scant cup of water. I mixed until combined and foamy.
Then I added in 1 pound of sifted powdered sugar and beat on low until combined.
I added in 1 teaspoon of corn syrup and a few drops of vanilla extract. Then I increased the speed to medium high for about 5 minutes, and just until glossy and stiff peaks had formed. I made sure not to over beat.
I divided the icing into a few bowls and colored them to the desired hue with gel food coloring. I made sure to keep my icing well covered at all times in plastic wrap to prevent it from crusting or drying out.
This icing was thick and was what I used to outline my cookies. Once My cookies were Outlined I let them dry.
To thin out the icing for flooding the cookies I used a spatula to mix in 1 teaspoon of water at a time until a ribbon of icing disappears back into the rest of the icing within 2-3 seconds.