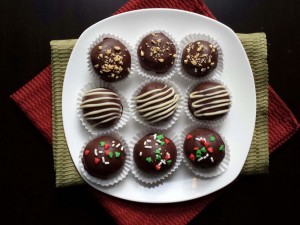 My list of holiday treats continues and with just one more week until Christmas you will want to make sure to add these yummy peanut butter candies to your holiday treats. Matthew and I are big fans of chocolate and peanut butter, so its only natural that peanut butter cups are one of our favorite candies. But what's not to love about that rich chocolate and peanut butter combination.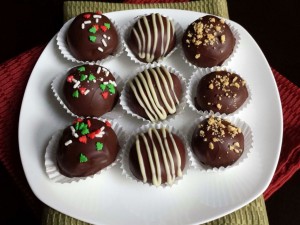 While these candies do take some patience and a bit of stirring to make, believe me when I say the end result is well worth it. I got this great recipe on brown eyed baker.com.
Ingredients: ( yields about 6 dozen depending on size)
1 1/2 cups of peanut butter
6 cups of powdered sugar
1 cup of butter, softened
1/2 teaspoon of vanilla extract
4 cups of semisweet chocolate chips
1/4 cup of shortening
I used white chocolate, chopped peanuts, and sprinkles for added decoration.
To begin I lined a cookie sheet with waxed paper. Then In a large bowl with a wooden spoon I mixed together 1 1/2 cups of peanut butter, 1 cup of butter, 6 cups of sugar, and 1/2 teaspoon of vanilla extract.
Then I rolled the dough into 1-inch balls and placed them on the prepared cookie sheet. The dough will be dry and crumbly, I simply pressed it a bit before shaping. I chilled the shaped balls in the freezer for 30 minutes and until firm.
In a medium pot filled halfway with water I placed a heatproof glass bowl on top to make a double boiler. I brought the water to a light simmer over medium low heat.
Then I added 4 cups of semisweet chocolate chips and 1/4 of a cup of shortening. I mixed until combined and fully melted.
Once melted I carefully removed the chocolate from the heat and removed the peanut butter balls from the freezer. Then using two spoons I rolled the balls in chocolate and placed them back onto the cookie sheet. I immediately decorated the balls with sprinkles before the chocolate set.
Then I refrigerated the peanut butter balls for about 2 hours and until the chocolate had set.
Store in an airtight container in the refrigerator
.