Peanut Butter Blossom Cookies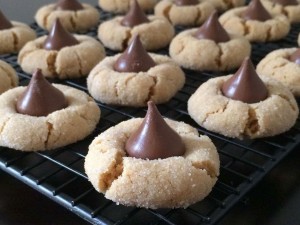 When the weather is frightful why not bake up something delightful! Continuing with the Holiday treats theme I have yet another cookie to share.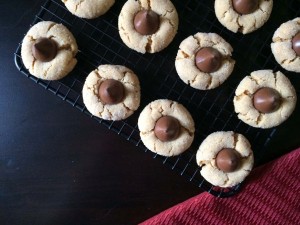 Peanut butter blossom's are a Christmas favorite around here. These cute little cookies are quite addicting especially if you have ever had the pleasure of snagging one while still slightly warm with the softened chocolate pooling in the center. This recipe from bhg.com is terrific and one I have been using for years. The only time consuming part besides letting them cool is unwrapping all those chocolate kisses.
Ingredients: (yields about 4 dozen cookies)
1/2 cup of shortening
1/2 cup of peanut butter
1/2 cup of sugar
1/2 cup of light brown sugar, packed
1 teaspoon of baking powder
1/8 teaspoon baking soda
1 egg
2 tablespoons of milk
1 teaspoon of vanilla extract
1 3/4 cups of all purpose flour
1/4 cup sugar, for rolling
milk chocolate kisses, unwrapped
I began by preheating the oven with the bread stone to 350 degrees.
In the mixer bowl I beat together 1/2 of a cup of shortening and 1/2 of a cup of peanut butter for 30 seconds and until well blended.
Then I added 1/2 of a cup of sugar, 1/2 of a cup of brown sugar, 1 teaspoon of baking powder, and 1/8 of a teaspoon of baking soda. I beat until well combined and stopped the mixer to scrape down the bowl as necessary.
To the peanut butter and sugar mixture I added 1 egg, 2 tablespoons of milk, and 1 teaspoon of vanilla. I beat until combined.
Then I gradually beat in as much of the 1 3/4 of a cup of flour as I could with the mixer and stirred in the remaining flour by hand. I mixed until incorporated.
I shaped the dough into 1-inch balls. I rolled the balls in 1/4 of a cup of sugar and evenly spaced some onto the bread stone.
Then I baked the cookies for 10-12 minutes and until the edges were firm and the bottoms were golden brown. I immediately pressed a chocolate kiss into each cookie's center. The cookies will crack around the edges. I transferred the cookies to a cooling rack to fully cool.