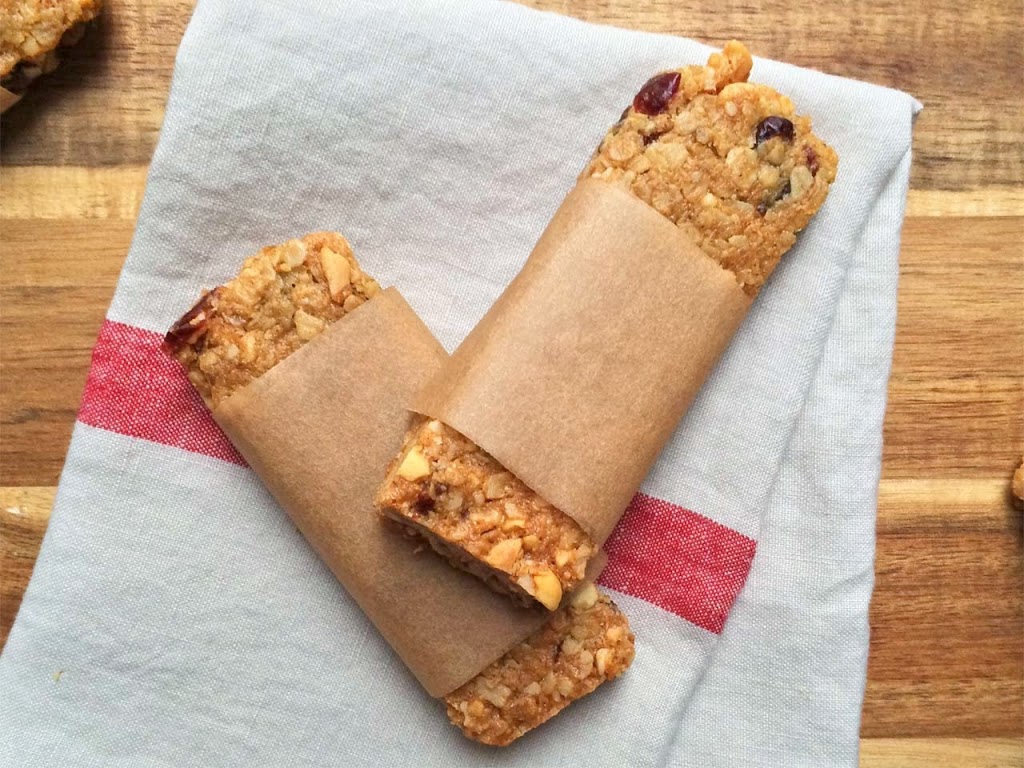 Homemade granola bars are a simple and fun snack you can prepare on the weekend to have on hand to help get you through the busy week. These bars disappeared quickly in our house and I must confess that I am already thinking up another yummy flavor combination for the next batch!
I used a granola bar recipe from smittenkitchen.com. Not only were these bars soft and chewy but they had the right balance of salty and sweet. Matthew and I also agreed that these bars would be perfect crumbled up over some yogurt.
One thing to note about these bars, they do have a tendency to be on the crumbly side. To deal with that, as I note below, you can make sure to pack them extra firm and allow them to cool for an additional 20-30 minutes in the fridge.
Ingredients:
1 2/3 cup of quick rolled oats
1/2 sugar
1/3 cup of oat flour (or 1/3 of a cup of oats, processed until finely ground in the food processor)
1/2 teaspoon of salt
1/4 teaspoon of ground cinnamon
1/2 cup of unsalted peanuts, chopped
1/2 cup of slivered almonds, chopped
1/2 cup of raisins, chopped
1/2 cup of dried cranberries, chopped
1/3 cup of unsweetened shredded dried coconut
1/3 cup of peanut butter
1 teaspoon of vanilla extract
6 tablespoons of unsalted butter, melted
1/4 cup of honey
2 tablespoons of light corn syrup
1 tablespoon of water
Instructions:

Preheat the oven to 350 degrees. Grease an 8" x 8" x 2" pan and line the pan in one direction with parchment paper, the paper will slightly overhang the opposing sides. Lightly grease the parchment paper and the exposed pan.
In a large bowl stir together all of the dry ingredients and the fruits and nuts.
In a separate bowl mix together the melted butter, vanilla, water, honey, corn syrup and peanut butter.
Add the wet mixture into the dry mixture and stir together until evenly coated and crumbly.
Evenly spread the granola mixture into the prepared pan and firmly press them into the shape of the pan.
Bake for 30- 40 and until the edges are golden brown and the tops start to get a little color as well.
Cool the bars in their pan on a cooling rack until they are fully cooled.
Once the bars have cooled, using a serrated knife cut them into rectangles or squares. If you notice they are a bit crumbly you can place the pan into the refrigerator for 30 minutes to let them further set. Then you can cut them cold.