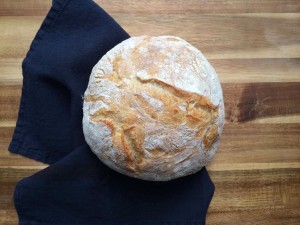 Happy 2014 everyone! I hope you all had a safe and wonderful time ringing in the new year. I did a bit of cooking and baking to ensure we sent off the year right. I prepared a little charcuterie plate of meats, cheeses, olives, fruit, and some freshly baked bread. Paired with some bubbly, made for a great New Years Eve!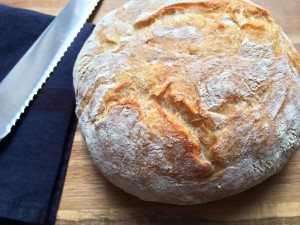 In the last post I mentioned that Matthew and I spent Christmas with his sister and her husband. When we arrived, Matthew's brother in law had prepared some beautifully looking rustic bread to greet us. He mentioned that it came from a NY Times article. This bread was perfectly browned with a nicely crisp crust and a soft chewy inside.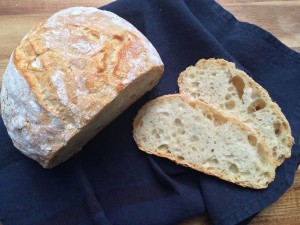 This bread was so good I simply had to find out more about how it was made. I did some quick searching, and found that this was a no-knead bread recipe featured in a column in the New York Times. This recipe does require a bit of planning so the dough can rest for a good 12 -18 hours, but the end result and that beautifully crisp crust is more than worth it. Plus the whole thing is made in the dutch oven and I really enjoy that. Easy and delicious. A perfect loaf!
Ingredients:
3 cups of all- purpose flour or bread flour, plus more for dusting
1/4 teaspoon of instant yeast
1 1/4 teaspoons salt
1 1/2 cups of warm water (110 degrees)
Instructions:


In a large bowl combine the flour, yeast and salt. Add the water and stir using a spoon until blended and all the flour is incorporated. The dough will be sticky and shaggy looking.
Cover the bowl with plastic wrap and let it rest for 12 -18 hours at room temperature. The dough will bubble and rise. The dough is ready when the surface is spotted with bubbles.
When the dough is ready, turn it out onto a lightly floured work surface, sprinkle the dough with a little bit of flour and turn the dough over on itself once or twice. Then cover the dough loosely with plastic wrap and let it rest for 15 minutes.
Using just enough flour to keep the dough from sticking to your fingers or your work surface, quickly and gently shape the dough into a ball.
Generously flour a cotton kitchen towel and place the dough seam side down on the towel. Then dust the dough with more flour and cover with another cotton kitchen towel. Let the dough rise for about two hours.
With 30 minutes before the dough is ready heat the oven with a 6 -8 quart enameled cast-iron pot, with the lid on to 450 degrees (I used a 5 quart enameled cast-iron dutch oven)
When the dough is ready carefully remove the dutch oven from the oven. Using caution remove the lid. With well floured hands pick up the dough and carefully place it into the pot. cover the pot with the lid bake for 30 minutes.
After 30 minutes carefully remove the lid and bake for another 15 -30 minutes, until the loaf is nicely browned. Cool on a rack.
Notes:
* Make sure the handles and knobs on your pot are safe to be heated up to 450 degrees.