Peanut Butter Brownie Bites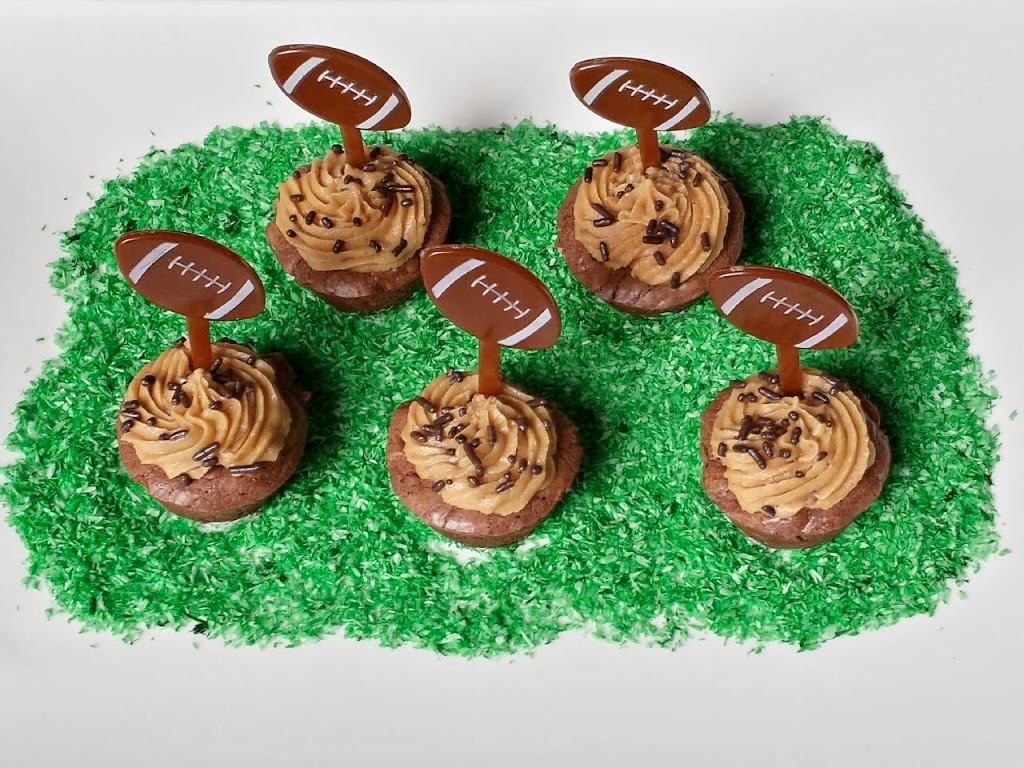 Get your game day on with these cute peanut butter cup brownie bites! I was thinking of various different bite sized football themed sweets that would be nice to serve during the big game. So I kept thinking cupcakes or brownies, cupcakes or brownies… you know important things.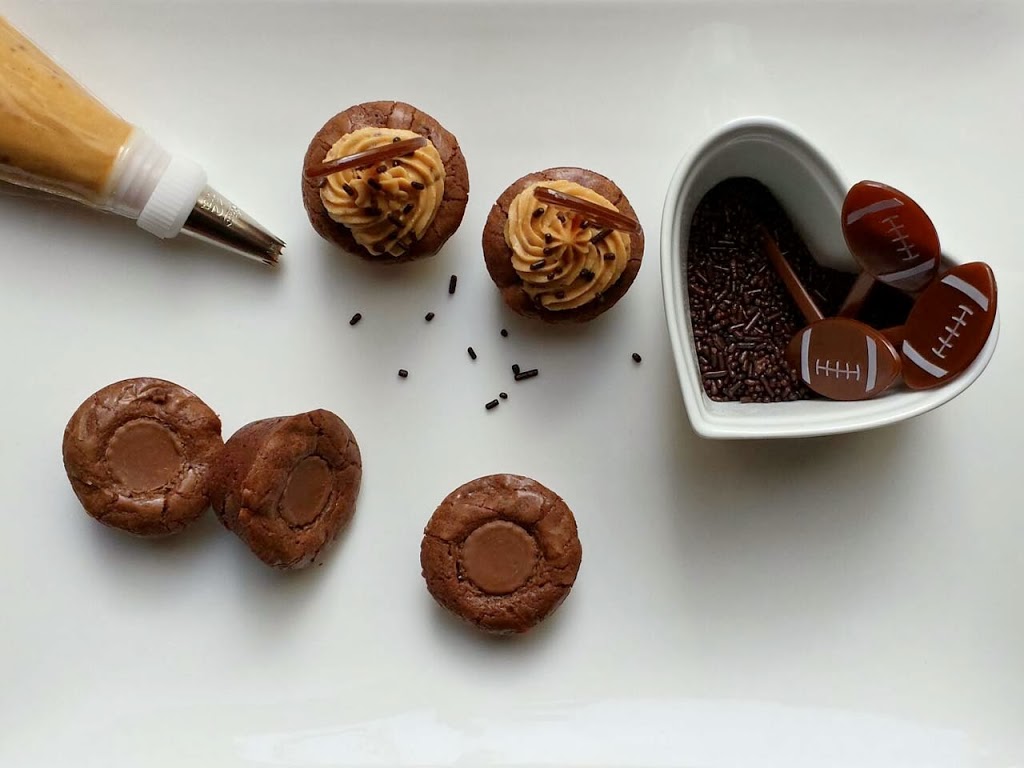 It was a tough call to make but brownies won, and not just any brownies. These are moist, melt in your mouth brownies that are studded with chocolate chips and stuffed with a peanut butter cup center. Then topped with a rich peanut butter frosting with bits of peanut butter cups mixed in. These festive little bites are sure to get people cheering.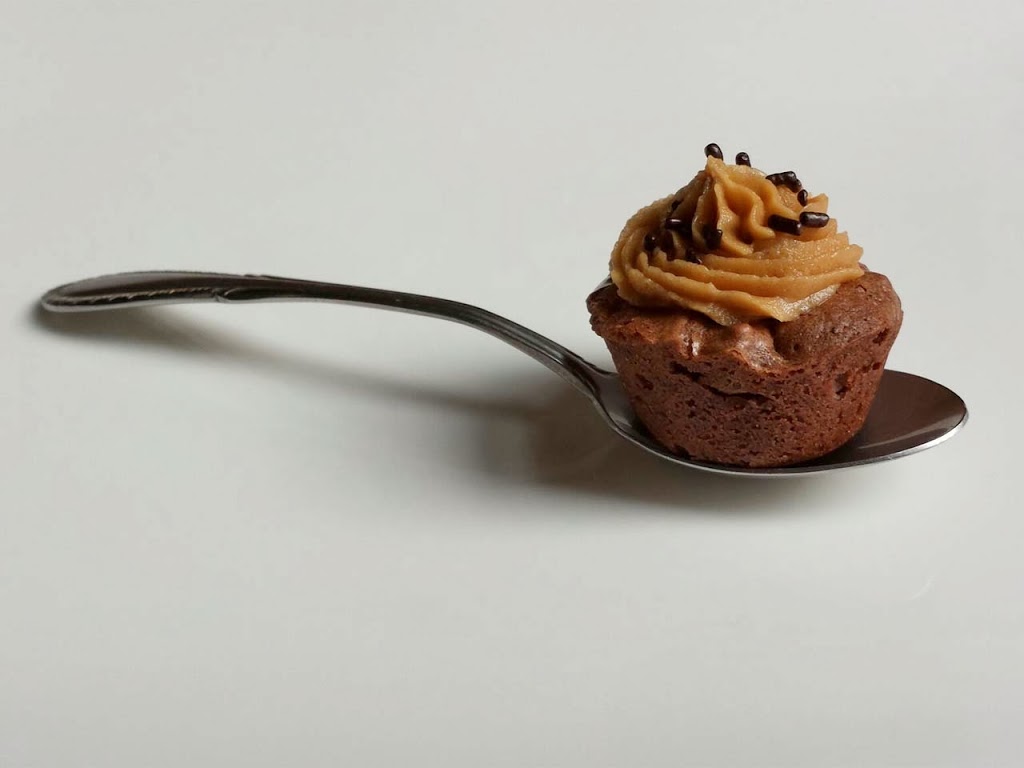 The brownie recipe is adapted from marthastewart.com and is a favorite of mine, you can see that I made a post on the brownies last year. The frosting recipe is from Ina Garten and it is super tasty.
Ingredients: (yields 40 mini muffin tin sized brownie bites)
3/4 cup of flour
1 tablespoon of unsweetened dutch cocoa powder
1/4 teaspoon of salt
1 stick of unsalted butter, softened
3/4 teaspoon of instant espresso powder
5 ounces semi sweet chocolate chips
3/4 cup of sugar
1/4 cup of light brown sugar, packed
3 eggs, room temperature
1 teaspoon of vanilla extract
4 ounces of semi sweet chocolate chips
40 mini, and unwrapped peanut butter cups (I used Reese's)
Frosting Ingredients:
1 cup of creamy peanut butter
1 cup of confectioners sugar
5 tablespoons of unsalted butter, softened
3/4 teaspoon of vanilla extract
1 pinch of salt
1/3 cup of heavy cream
1/3 cup of mini, and unwrapped peanut butter cups, finely chopped (I used the food processor)
chocolate sprinkles (optional)
Directions:
For the brownies:
Preheat the oven to 325 degrees Fahrenheit and generously grease a mini muffin pan. Set aside.
In a double boiler melt the butter. Add the espresso powder and stir until incorporated. Then add the 5 ounces of semi sweet chocolate chips and stir until smooth.
Carefully remove from the heat and stir in both sugars until well combined. Add the eggs one at a time and vanilla stirring until just incorporated.
Sift in the flour, cocoa powder, and salt stirring until almost combined. A few flour streaks should remain. Gently mix in 4 ounces of semi sweet chocolate chips until incorporated. Make sure not to over mix.
Scoop the batter into each individual muffin cup, just a little over half way full. Do not over fill. Gently press a peanut butter cup down into the center of each muffin cup until it is just about level with the batter.
Bake for 15- 18 minutes or until done, rotating halfway through. Let the brownies fully cool before removing from the pan.
For the frosting:
Add the confectioners sugar, butter, peanut butter, vanilla and salt to the bowl of an electric mixer using the paddle attachment.
Mix on medium low speed until smooth. Stop the mixer and scrape down the bowl as you work. Add the cream and beat on high until light and smooth. Then mix in the crushed peanut butter cups until incorporated.