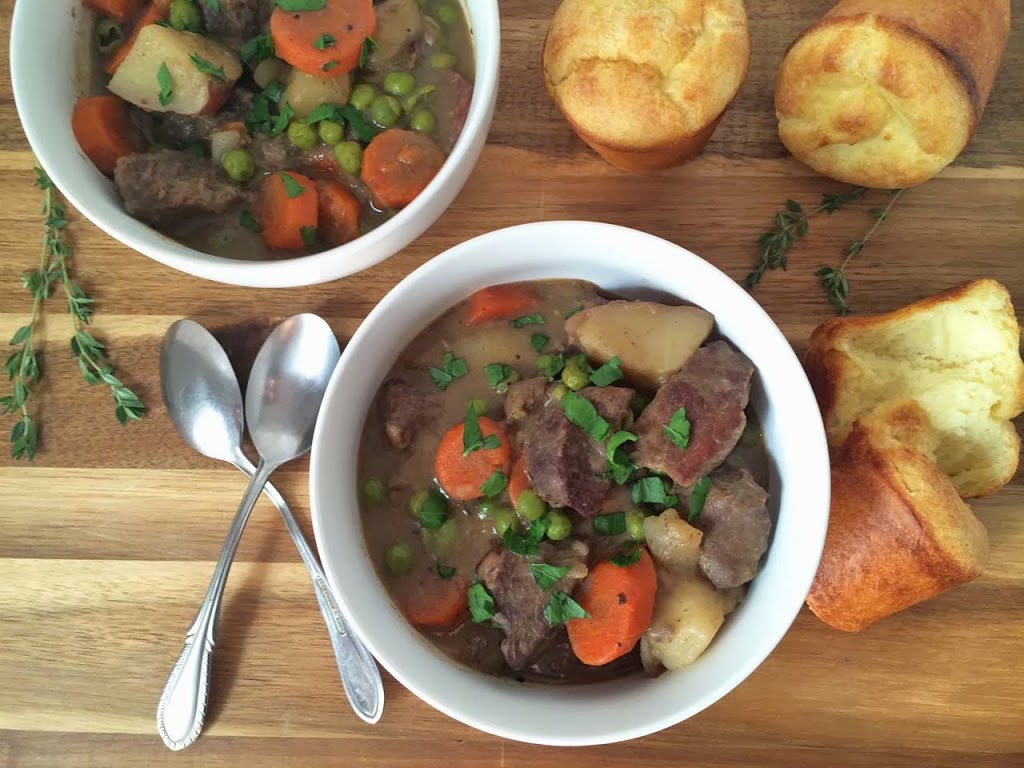 Today marks my 100th post! *happy dance* So I wanted to make a good comforting classic to celebrate. Well that… and I have been wanting a warm, hearty, stick to your ribs kind of stew with all the cold weather we have been having.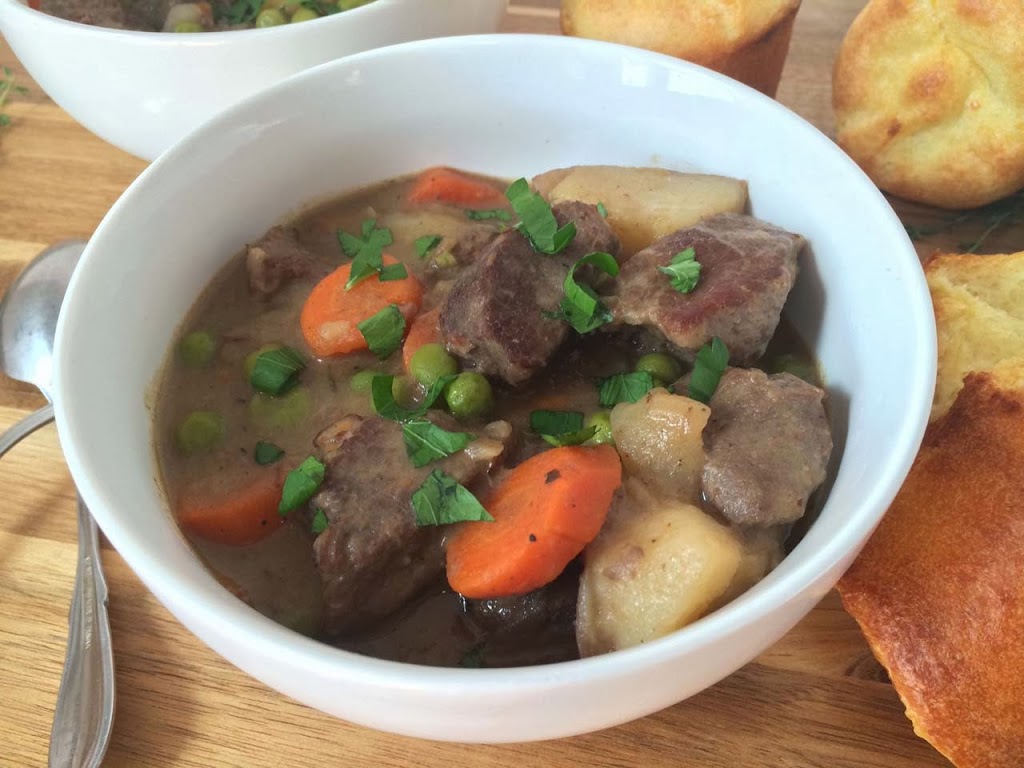 So while patently awaiting summer like most, I realized that I should really be taking advantage of the remaining cold weather by making more winter dishes. Enter the beef stew; this classic, comforting, cold weather dish, is just what I have been searching for. Tender chunks of beef, loaded with vegetables and a delicious sauce – perfect for dunking some bread in. I used the beef stew recipe from browneyedbaker.com. It turned out perfectly and exactly what I needed to take on the rest of this winter.
Ingredients: (yields 6-8 servings)
3 pounds of beef chuck roast, trimmed and cut into 1 1/2 inch cubes
salt and pepper
3 tablespoons of vegetable oil, divided
1/4 teaspoon of salt
2 medium onions, (about 2 cups) finely chopped
3 cloves of garlic, minced
3 tablespoons of all purpose flour
1 cup of dry red wine ( you can substitute 1 cup of broth plus 2 teaspoons of red wine vinegar)
2 cups of low sodium chicken broth ( you could also use beef broth instead)
2 bay leaves
3 sprigs of fresh thyme
4 medium red potatoes, peeled and cut into 1 inch cubes
4 large carrots, peeled and cut into 1/4 inch chunks
1 cup of frozen peas
Note: if you enjoy a slightly thicker sauce you can whisk together 1/4 cup of chicken broth and 1 tablespoon of flour and add it when you add the potatoes and carrots. As referenced in the directions.
Directions:

Pat the beef dry with some paper towels. Season with a bit of salt and pepper. (patting the meat dry will help remove any excess moisture so you can get a nice sear)
Heat 1 tablespoon of oil in a dutch oven over medium-high heat. Add about half of the meat, making sure not to over crowd the pan. Cook the meat for about 2-3 minutes, without moving until browned. With a pair of heat safe tongs turn the meat until all the sides are nicely browned. Transfer the browned beef to a large plate and set aside. Add another 1 tablespoon of the oil to the emptied dutch oven and repeat the same process for the other half of the beef.
Reduce the heat to medium and add the remaining 1 tablespoon of oil to the empty pan. Add the onions and 1/4 teaspoon of salt. Cook for about 5 minutes and until softened. Add the garlic and cook for 15 seconds.
Stir in the flour and cook for 2 minutes and until light in color. Add the wine and stir until the flour is incorporated and thick. Slowly add the chicken broth stirring constantly, try to scrape any brown bits from the bottom of the pan.
Add the thyme and bay leaves and bring to a simmer. Add the beef and bring it back to a simmer. Once simmering reduce the heat to low and cover, cook for 1 hour.
After an hour turn the heat to medium, and add the potatoes and carrots. Cook uncovered for another hour. I like a slightly thicker sauce so I whisked together 1/4 cup of chicken broth and 1 tablespoon of flour and added it at the same time as the carrots and potatoes and gently stirred until incorporated.
Once the hour is up reduce the heat to low and add 1 cup of peas. Cook covered for 5 minutes. After 5 minutes discard the bay leaves and the sprigs of thyme and salt and pepper to taste.