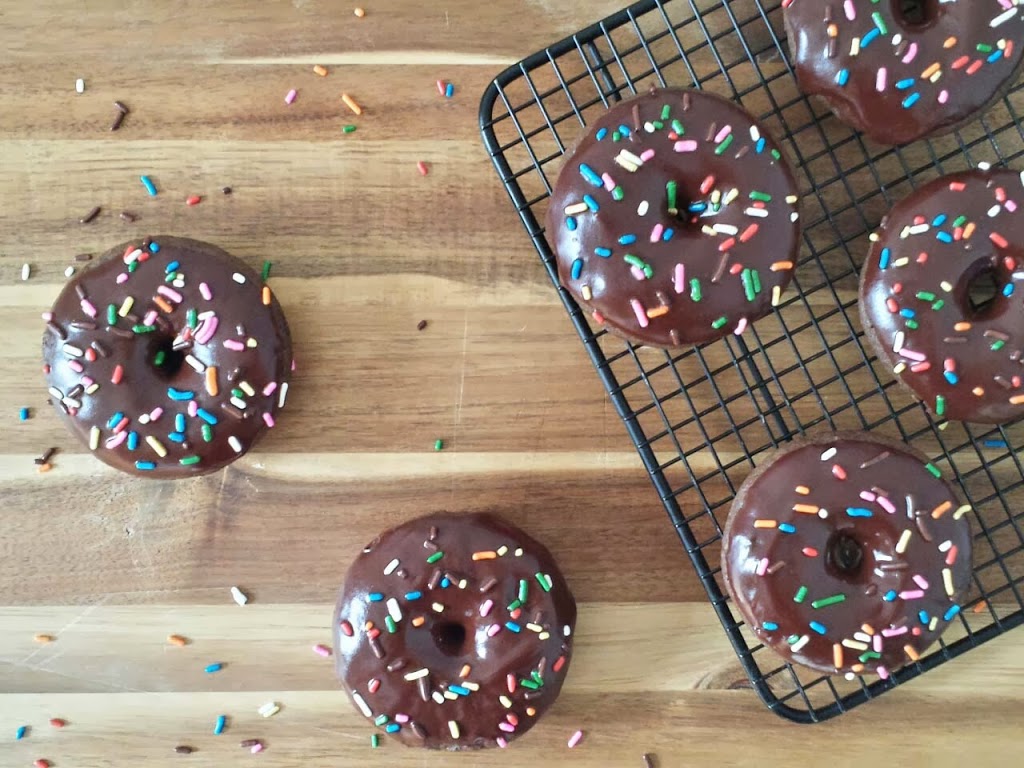 I just love when inspiration comes to me. A couple of days ago I was doing something I like to call the "cupboard shuffle". It's where you have far too many pieces of bakeware than a small cupboard can hold, and while reaching for one thing other bakeware tries to jump out.
This time it was the doughnut pan which was kinda perfect since I have been eyeing up the doughnuts far to often when picking up my morning coffee. I must say I have never been quite this excited to wake up early, but it is chocolate we are talking about here and bright colorful sprinkles, to me that equals one pretty good way to start the day.
These baked chocolate doughnuts were… yes were… fluffy, moist, and dipped in a deliciously smooth and tasty chocolate glaze, and if these haven't convinced you to bake your own doughnuts yet then maybe you should take a quick peek here!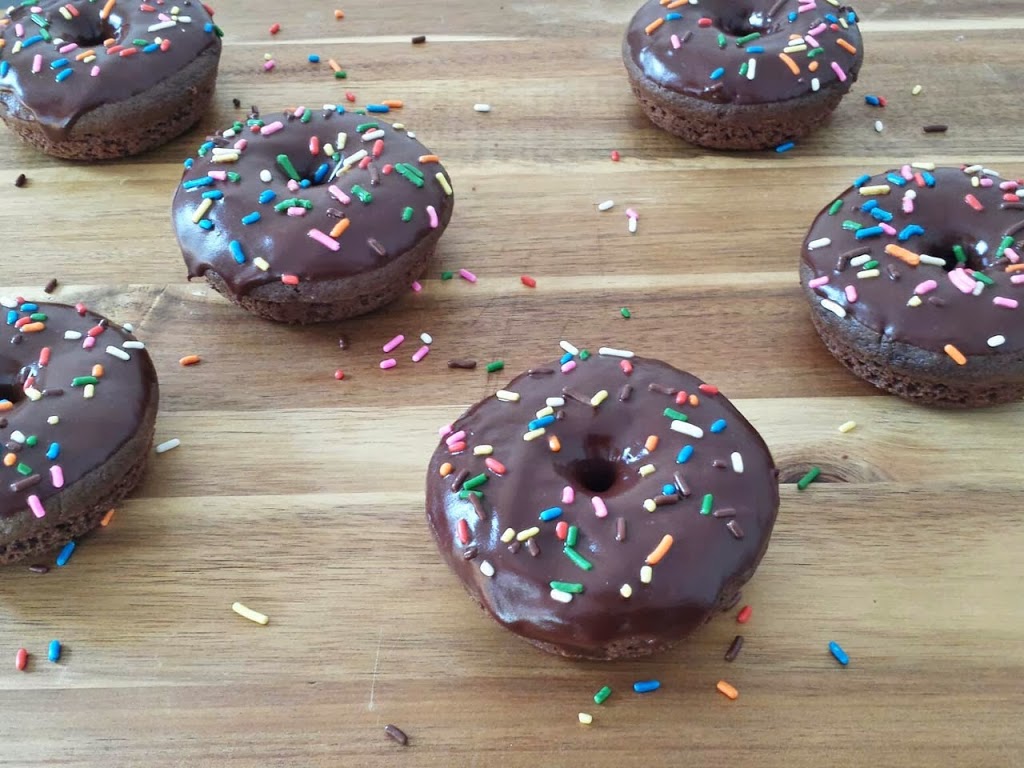 I used the doughnut recipe from shutterbean.com and paired it with a nice chocolate glaze from sallysbakingaddiction.com. It made for the perfect chocolaty combination!
Ingredients: (yields 6 doughnuts)
1 cup all-purpose flour
1/4 cup of unsweetened cocoa powder
1/2 teaspoon of baking soda
1/4 teaspoon of salt
1/2 cup of buttermilk, shaken
1/2 cup of light brown sugar, packed
1 egg, room temperature
3 tablespoons of unsalted butter, melted
1 teaspoon of vanilla extract
1 pinch of nutmeg (optional)
Directions:
Preheat the oven to 325 degrees and grease a doughnut pan.
In a large bowl sift together the flour, cocoa powder, baking soda, salt and nutmeg (if using). In a small bowl whisk together the brown sugar, buttermilk, egg, vanilla, and melted butter until smooth. Add the milk mixture to the flour mixture and whisk until incorporated and smooth. Be careful not to over mix.
Using a piping bag (or a large zip lock plastic bag with the corner cut off), carefully pipe the batter into the doughnut pan filling each section about 2/3 of the way full.
Bake the doughnuts for 13 minutes. Until fluffy and the doughnuts spring back when lightly pressed.
Cool the doughnuts in the pan on a cooling rack for 5 minutes. Once the doughnut pan is cool to the touch, carefully turn out the doughnuts onto the cooling rack to fully cool.
Time to start the chocolate glaze.
Chocolate Glaze:
1/4 cup of semi sweet chocolate chips
1 teaspoon of light corn syrup
1 tablespoon of unsalted butter
1 teaspoon of water
sprinkles (optional)
Directions:
In the bowl of a double boiler add the chocolate, butter, corn syrup, and water. Stir until the chocolate and butter is melted and the mixture is well combined and smooth. Carefully remove the bowl from the heat and allow to cool slightly.
Dip the cooled doughnuts one at a time, top side down into the chocolate glaze, transfer the glazed doughnut back onto the cooling rack and add sprinkles while the glaze is still wet. Repeat with the remaining doughnuts. Enjoy! To make clean up quick you can place your cooling rack into a rimmed baking sheet to catch any dripping chocolate or sprinkles.