Mini Red Velvet Bundt Cake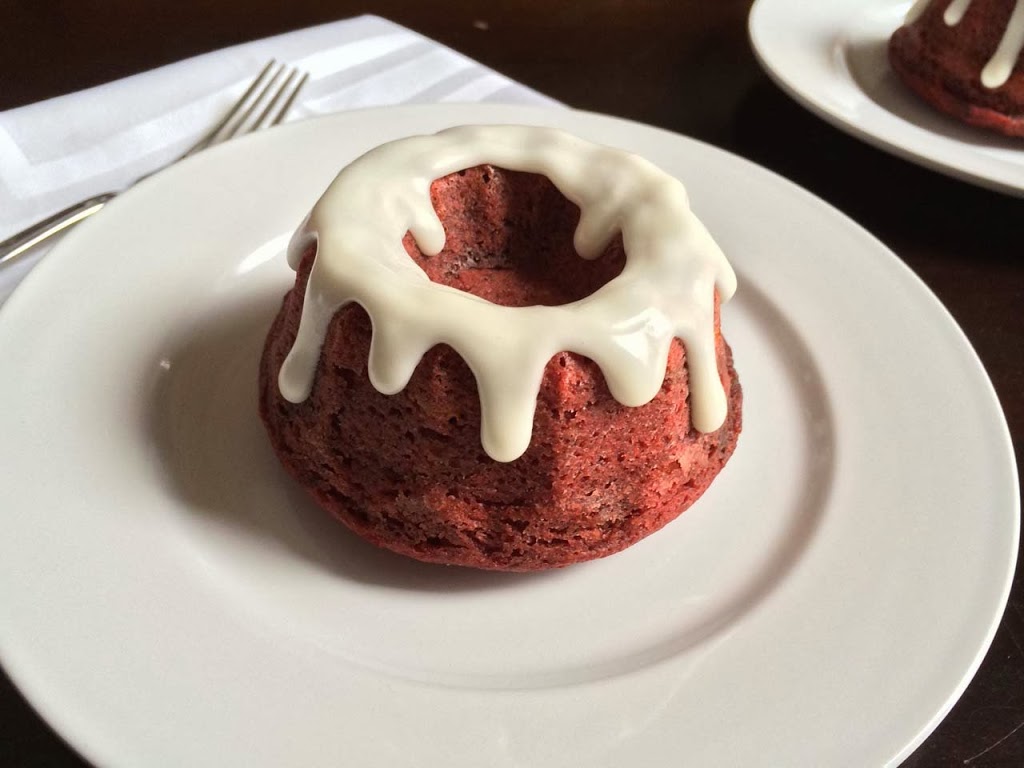 Valentine's, the holiday of looooooove. Traditionally a time of gifts, flowers and indulgent sweets. While a box of chocolates is a nice treat, what's even better is a decadent cake!
These mini red velvet cakes serve up the perfect portion of moist and tender cake studded with white chocolate chunks and a subtle hint of cocoa. Finished with a sweet and smooth cream cheese glaze drizzled on top. The perfect ending to a date night and a sure way to anyone's heart!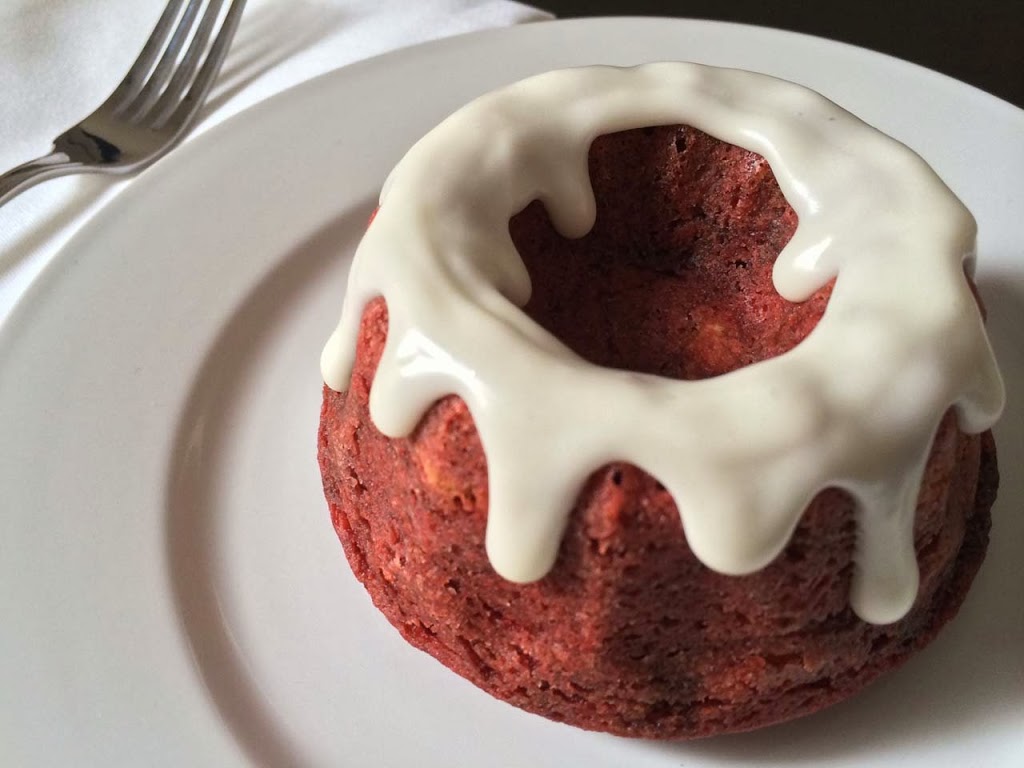 The red velvet cake is one of my favorites that you can check out here. The glaze is also another recipe of mine that I use often and it can be found here.
Cake: (yields 8 mini individual bunt cakes)
2 1/2 cups of cake flour (not self rising), sifted
2 tablespoon of unsweetened cocoa powder
1 teaspoon of salt
1 1/2 cups of vegetable oil
1 1/2 cups of sugar
2 large eggs, room temperature
1/2 teaspoon of gel food color
1 teaspoon of vanilla extract
1 cup of buttermilk, shaken
1 1/2 teaspoons of baking soda
2 teaspoons of white vinegar
3/4 cup of white chocolate chips
Directions:


Preheat the oven to 350 degrees. Grease and flour 8 mini individual bundt pans.
In a large bowl sift together the cake flour, cocoa powder and salt. Then in a small bowl add the chocolate chips and 1 tablespoon of the flour mixture, toss to coat and set aside for later.
In the mixer bowl add the sugar and oil, mix on medium high for 2 minutes until combined.(scrape down the bowl as needed). Then add in the eggs one at a time until incorporated. Add in the food coloring and the vanilla extract and mix until combined.
Add the flour mixture in three equal parts and the buttermilk in two equal parts alternating between the two. Mix on low speed until just incorporated, stop the mixer and scrape down the bowl between each new addition.
In a small bowl stir together the baking soda and vinegar, letting it foam. Add the baking soda mixture to the batter and mix for a few seconds. Then by hand stir in the chocolate chips until incorporated.
Divide the batter evenly into each prepared bundt pan, filling each about 3/4 full. Make sure not to over fill.
Gently place the individual bundt pans onto a rimmed baking sheet. Bake for 20 -25 minutes and a toothpick comes out clean, rotating halfway through. Remove from the oven and let cool.
Glaze:
3 tablespoons of buttermilk, shaken
3 tablespoons of cream cheese, softened
1/2 teaspoon of vanilla extract
1 1/2 cups of confectioners sugar
Directions:
In a small bowl whisk together the buttermilk, cream cheese,vanilla and confectioners sugar until well combine and smooth.
Set a cooling rack inside of a rimmed baking sheet. Then one at a time gently turn over the cooled bundt cakes onto the cooling rack. Gently tap the top and sides of the pan to help loosen the cake from the pan.
Drizzle the bundt cakes with the icing and enjoy.