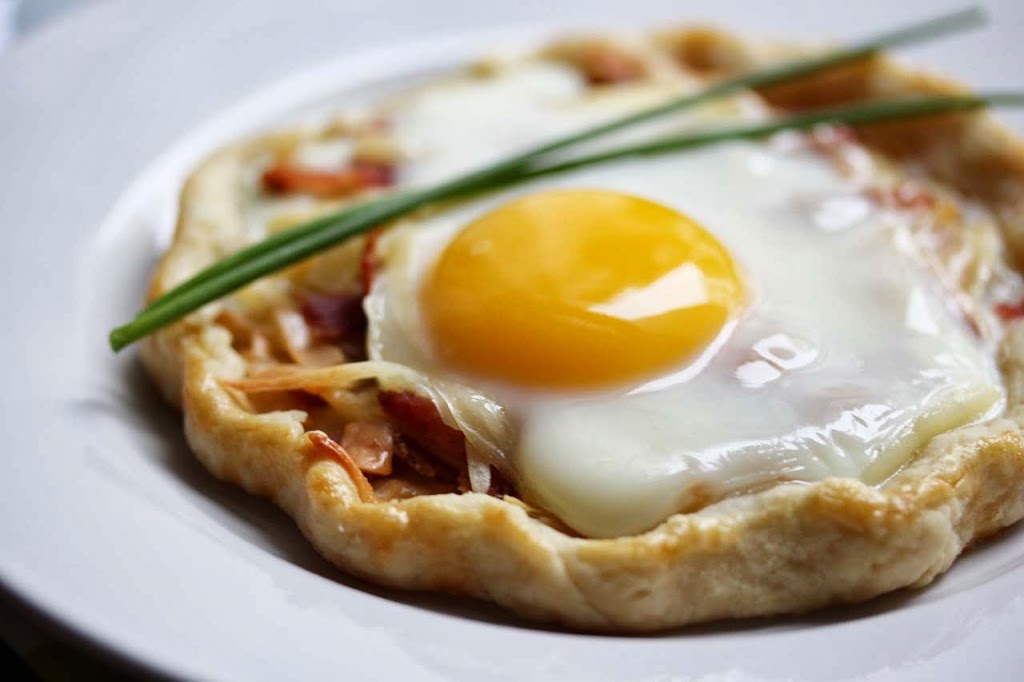 I believe their is a saying that when life hands you a dozen eggs, breakfast is a must! Alright so maybe I am making that up, but it should be a saying. On Friday, Matthew greeted me with one dozen, fresh, Joint Venture Farm eggs and I really wanted to make something that would showcase these beautiful eggs. I mean just look at them.
While brainstorming some ideas I kept thinking about a galette, and its simple, rustic and free form beauty. While I have only made a sweet version of this tart I thought that a breakfast version would be a perfect and tasty way to put some of these eggs to good use.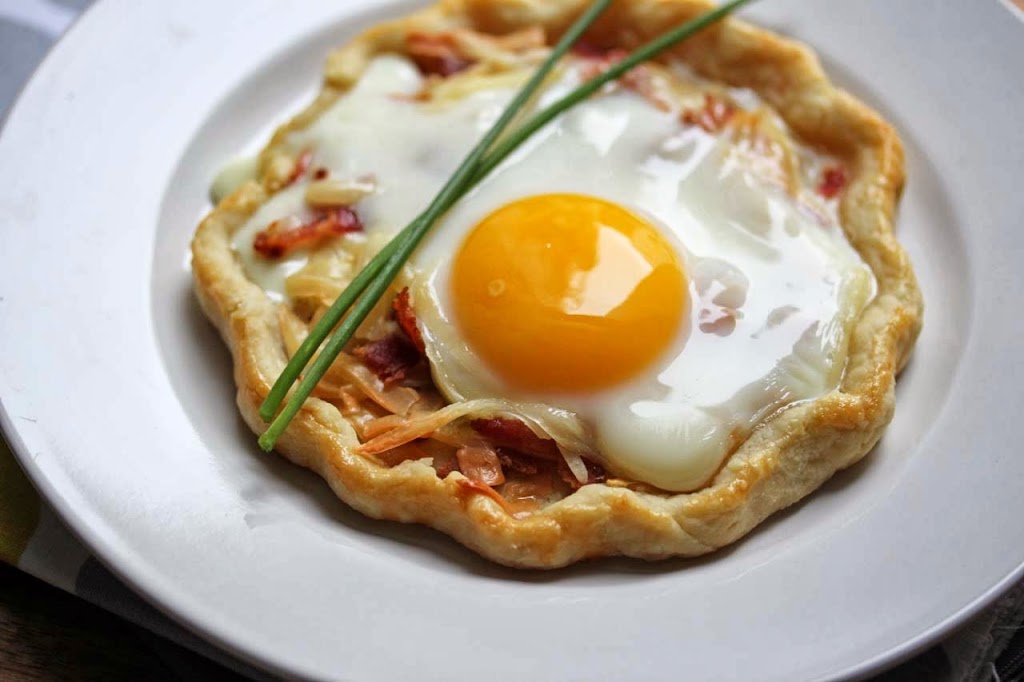 These individual sized tarts turned out great. They had a tender, buttery, and flaky crust and were filled with potatoes, bacon, white cheddar, and topped off with a fresh egg.
Ingredients: (yields 4 tarts)
Crust:
1 cup plus 2 tablespoons of all-purpose flour, plus more for dusting
1/8 teaspoon of salt
1 teaspoon of granulated sugar
5 and 1/2 tablespoons of unsalted butter, cut into small cubes and chilled
3 and 1/2 tablespoons of vegetable shortening, cut into small cubes and chilled
2 tablespoons plus 2 teaspoons of ice cold water
In a large bowl mix together the flour, sugar and salt. Add the butter and shortening and cut it into the flour mixture until crumbly and some pea sized pieces of butter and shortening remain. Add the water and using a work mix until combined and a dough forms.
Turn the dough out onto a lightly floured work surface and shape the dough into a slightly flattened disc. Wrap the dough in a piece of plastic wrap and refrigerate for 1 hour.
Filling:
1 small baby red potato
olive oil
black pepper
4 slices of bacon
4 ounces of white cheddar, grated
5 large eggs, room temperature (one egg will be used for the egg wash)
chives for garnish
Preheat the oven to 350 degrees and line a large rimmed baking sheet with parchment paper. Set aside.
Fill a small sauce pan with cold water, just enough to fully cover the potato. Once the water begins to boil cook the potato for 8-12 minutes, to check for doneness pierce the potato with a fork the outside should be tender and easily pierced and the inside should still be firm. Transfer the potato to a medium bowl of cold water to cool.
While the potato is cooking you can start the bacon. In small frying pan on low heat fry the bacon until fully cooked. transfer the cooked bacon to a small plate lined with two sheets of paper towel to cool and help remove any excess grease.
Once the potato is cool enough to handle pat it dry with some paper towel and slice off 8 round slices. Depending on the size of potato you may have a bit left over. Cut each of the 8 potato slices in half. Drizzle the potato slices with some olive oil and season with a bit of black pepper. Set aside.
Chop the cooled bacon into small pieces. Set aside.
Assembly:

Divide the pie crust into quarters. On a lightly floured work surface roll out each quarter into a thin round. About 7 inches in diameter. Place the dough rounds onto the parchment lined baking sheet.
Arrange 4 pieces of potato into the center of each dough round. Add about 1 strips worth of chopped bacon on top of the potatoes. Top with 1 ounce of grated cheese (roughly 1/3 cup). Make sure to leave a 1 inch edge so you can form the crust.
Begin to fold and pinch the edges of dough all the way around so it just touches the filling. In a small bowl beat one egg. Apply the egg wash to each crust using a pastry brush.
Bake the tarts for 15 minutes and remove from the oven. Carefully crack 1 egg into the center of each tart, if some of the egg run over that is okay. Return the galettes to the oven for 5-8 minutes or until the crust is golden brown and the eggs are fully cooked. Keep a close eye on the galettes so they don't burn.
Season with some black pepper and garnish with some chives.