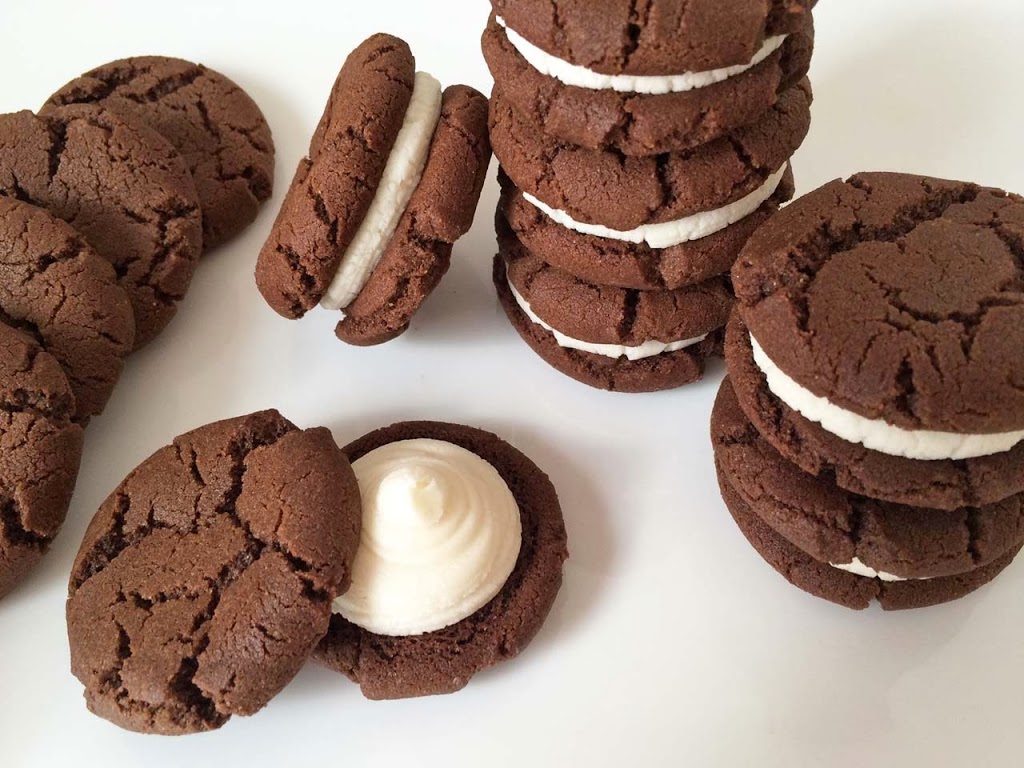 The classic Oreo has always been a favorite of mine. Two thin, crisp cookie wafers sandwiched between an irresistible sweet cream filling perfect for dunking in an ice cold glass of milk. Just make sure that glass of milk belongs to you because not everyone enjoys cookie crumbs floating around in their milk!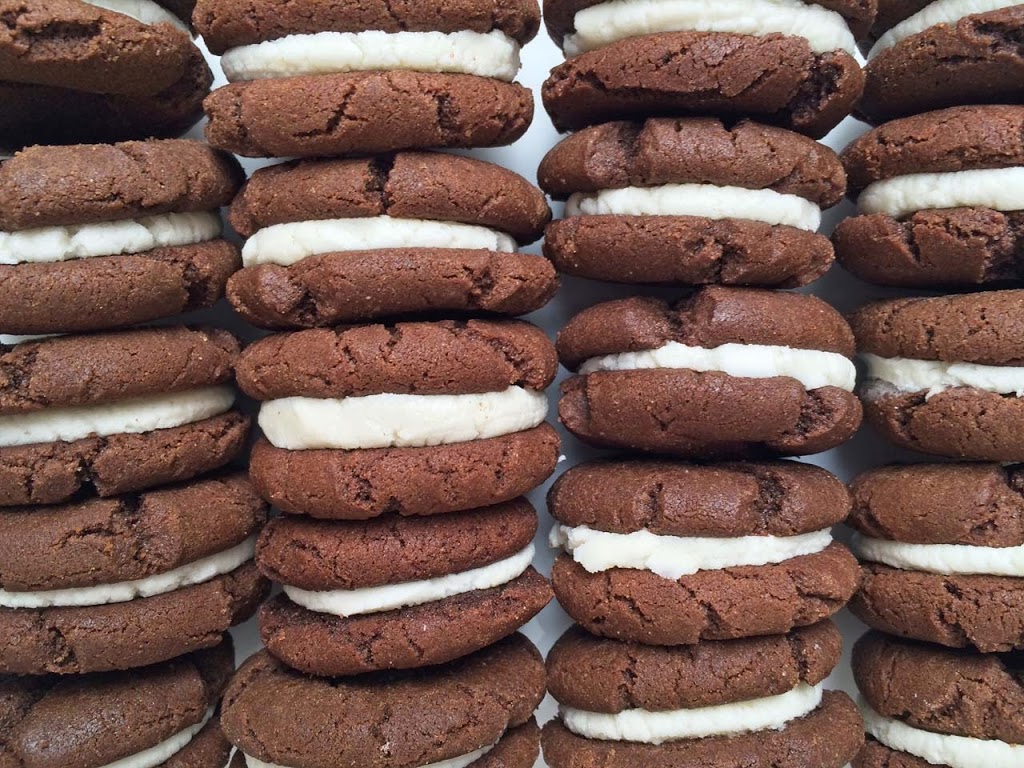 Feeling a little nostalgic I thought it would be fun to bake up a homemade version of this beloved cookie. I used the homemade oreo cookie recipe from smittenkitchen.com. I must say that these cookies turned out great. They were, crisp, crunchy, sweet, chocolatey and the filling was thick and sweet just like an oreo should be.
Cookie Ingredients: (yields 25-30 cookie sandwiches)
1 and 1/4 cups of all purpose flour
1/2 cup unsweetened dutch processed cocoa powder
1 teaspoon of baking soda
1/4 teaspoon of baking powder
1/4 teaspoon of salt
1 cup to 1 and 1/2 cups of granulated sugar *(see note)
1 and 1/4 sticks of unsalted butter, cubed and at room temperature
1 large egg, room temperature
Note: I used 1 and 1/2 cups of sugar because I preferred my cookies to be more sweet than salty tasting.
Directions:
In a food processor quickly pulse together the flour, cocoa powder, baking soda, baking powder, salt and sugar until combined. Add the butter and egg and continue processing, until a dough starts to form. Do not over mix.
Transfer the dough to a large bowl and cover it with plastic wrap. Place the dough in the refrigerator for 30 minutes.
Preheat the oven to 375 degrees and line two baking sheets with parchment paper. After 30 minutes remove the dough from the refrigerator.
Roll the dough into 1 teaspoon sized balls and place them about 2 inches apart onto the prepared baking sheets. Gently press down each cookie to slightly flatten it.
Bake for 9 minutes rotating halfway through. Allow to cool for 10 minutes before transferring the cookies to a cooling rack to fully cool.
While the cookies cool you can prepare the filling.

Filling Ingredients:
1/4 cup of unsalted butter, room temperature
1/4 cup of vegetable shortening
2 cups of confectioners sugar, sifted
2 teaspoons of vanilla extract
Directions:
In the bowl of the mixer with the paddle attachment beat the butter and shortening on low until creamy. Turn the mixer off and add the sugar and vanilla. Beat on low for 1 minute. Turn the mixer on high and beat for 2-3 minutes until light and fluffy.

Assembly:
Using a piping bag with a 1/2 inch round tip, pipe a teaspoon sized mound into the center of a cooled cookie. Then place a second, like sized cookie on top of the cookie with the cream. Gently sandwich the two cookies together applying gentle and even pressure to work the filling to the edges. Repeat this process with the remaining cookies.