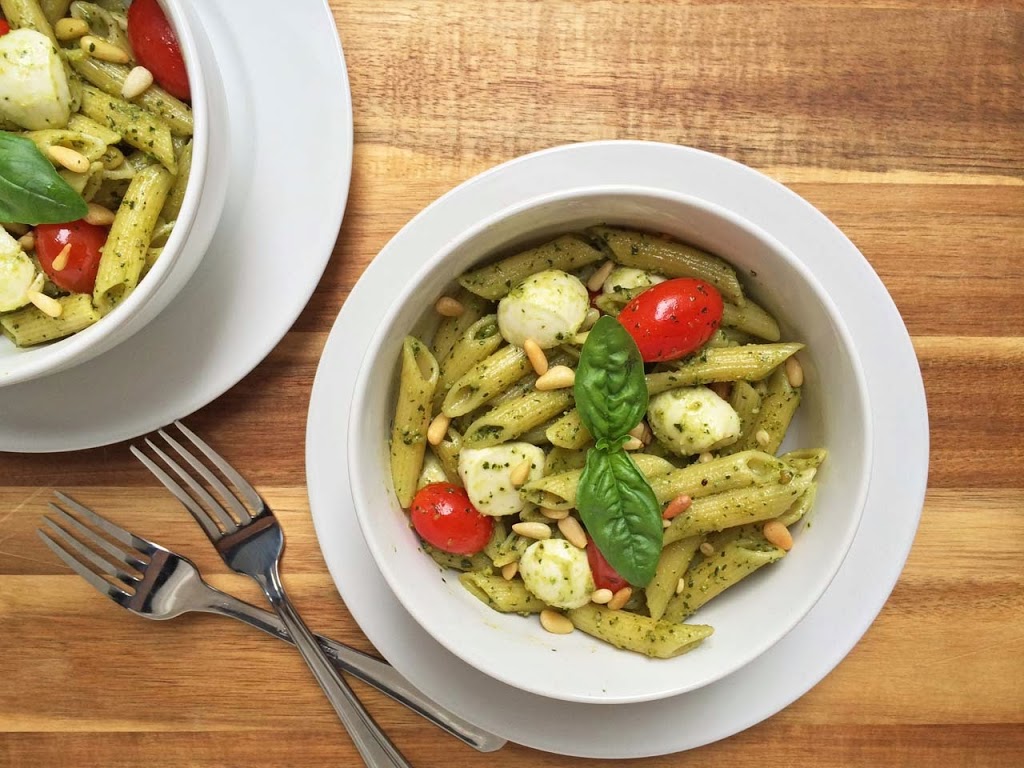 We have had two nice spring-like days here in the city! Lighter layers, iced coffee, wide open window kind of days. While I wont be packing away the winter clothes just yet, it is nice to know that spring really does exist… hehe.
With all of these thoughts of spring I felt a nice fresh pasta dish was in order. So today for lunch I tossed together a simple and delicious pesto pasta. Tender penne pasta noodles lovingly coated in a fresh basil pesto, mixed with toasted pine nuts, plump tomatoes, and some fresh mozzarella cheese. We ate our pasta right away, but it is also delicious served cold.
Ingredients: (yields 2- 4 servings)
3 cups of uncooked pasta (I used penne pasta)
2 tablespoons of pine nuts
1/2 cup of pesto (homemade or store bought)
8 cherry tomatoes, halved
8 Ciliegine fresh mozzarella balls, halved
1 tablespoon of olive oil
salt and pepper
Directions:
Cook the pasta according to the directions on the package. Once the pasta is cooked carefully remove it from the heat and strain it. (I cooked my pasta until it was al dente)
While the pasta cooks, toast the pine nuts in a small pan on medium high heat. Toast the pine nuts until just lightly browned and fragrant. Keep a close eye on the pine nuts as they can burn quickly. Carefully remove the toasted pine nuts from the heat and transfer them to a bowl to cool.
In a large bowl mix together the pasta, pesto, olive oil and pine nuts. Gently toss in the tomatoes and mozzarella and mix until incorporated. Season with salt and pepper to taste and enjoy!