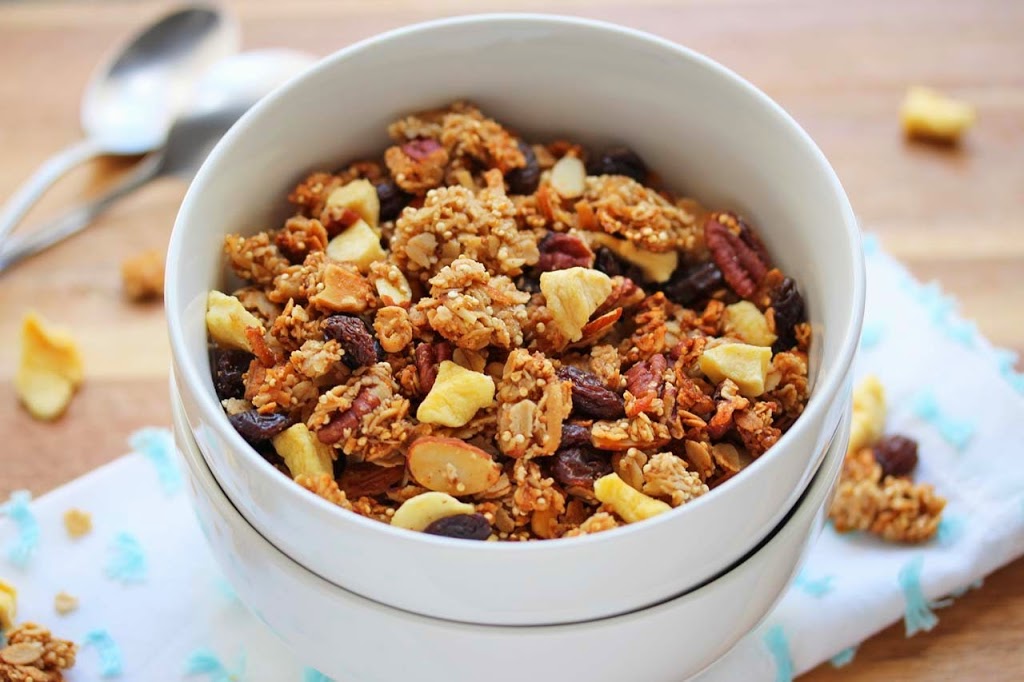 This week (so far) has been both busy and exciting all rolled into one! Before I tell you about this delicious granola, which is currently being munched on as I am typing this, I would like to share with you some of the events of my week. Monday was the day, after much research and debate we finally purchased a camera! Up until this point all of the photos taken for the blog have been with an iPhone 4 and 5 camera. Which while it worked well, I wanted something more powerful and with more control. I am still learning and getting comfortable with this camera but so far I am very pleased with the results. You can take a peek here to check out an older granola post taken using the iPhone camera.
Another highlight of this week is a business update. In a previous post I mentioned that I would be sharing updates with you from my journey to starting my own baking business. Last week I filled out a home processors registration request form, which has just been approved! I am also currently working on a few cookie recipes that I hope will be a hit.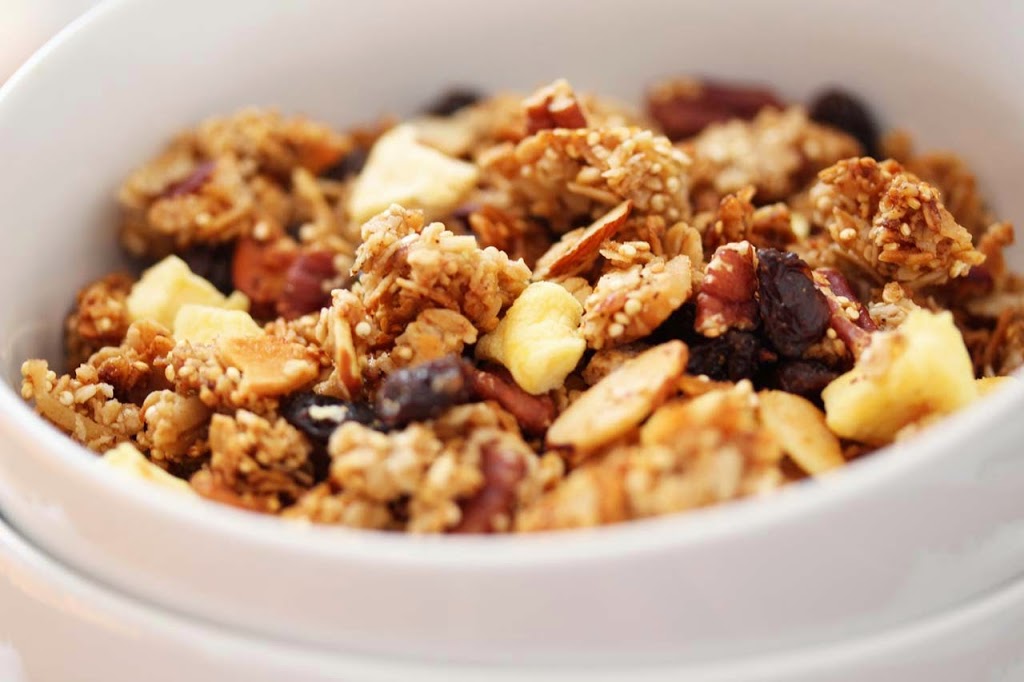 Lets talk granola now shall we! This recipe is a take on one of my favorite on the go apple cinnamon and nut snack bars. I took some flavors that I love about the snack bar like tender bits of apple, crunchy nuts, chewy raisins and hints of cinnamon and transformed it into a crisp and crunchy granola that is quickly disappearing by the handful around here. I adapted this recipe from sallysbakingaddiction.com. This granola has a warm spice from the cinnamon and cloves, with an extra crunch compliments of the quinoa. I also added some sweetened coconut which gives the granola a nice toasty coconut flavor.
Ingredients: (yields about 5 cups)
1/2 cup of uncooked quinoa, rinsed and well drained
3 and 1/2 cups of old fashioned rolled oats
1/2 cup of sliced almonds
1/2 of pecans, chopped
1/2 cup of sweetened coconut flakes
1/2 teaspoon of ground cinnamon
1/8 teaspoon of ground cloves
1/8 teaspoon of salt
1/4 cup of coconut oil, melted
1/4 cup of honey
1/4 cup of dark brown sugar, packed
1 teaspoon of vanilla extract
1/2 cup of raisins
1/2 cup of dried apples, chopped
Directions:
Preheat the oven to 300 degrees and line two large baking sheets with parchment paper.
In a large bowl toss together the oats, quinoa, almonds, pecans, coconut, ground cinnamon, ground cloves, and salt until well combined. Set aside.
In a small bowl whisk together the coconut oil, brown sugar, and vanilla extract until well combined. Pour the wet ingredients over the dry ingredients and mix with a wooden spoon until evenly coated and damp.
Pour the granola onto the two prepared baking sheets and spread the granola into an even layer. Bake the granola for 30-40 minutes or until the granola is evenly browned. keep a close eye on the granola as it bakes and stir every 10 minutes to prevent burning. Let the granola cool on the baking sheets. Once cooled transfer to a large bowl and mix in the apples and raisins. Store the granola in an airtight container.