Skillet Chocolate Chip Cookie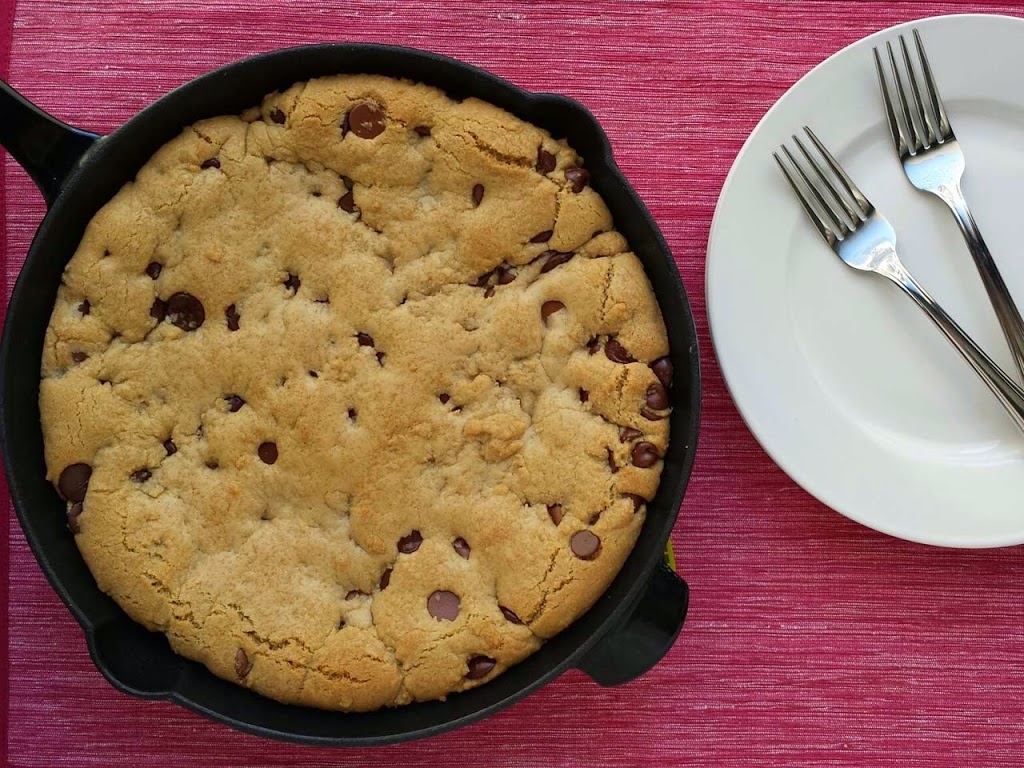 One year ago (tomorrow) will officially mark the one year anniversary since hitting publish on my very first post for Ashley Marie's Kitchen! While some of the beginning posts were not my best photography or writing I enjoy looking back on them as a reminder of how far I have come. At some point I would like to do a "justice" series and revamp at least a few of the older posts, preferably the ones that look like they were taken at dusk with the flash on, hehe.
Throughout my first year in the kitchen I have learned a lot through my successes and failures and I have seen my skills and confidence in the kitchen transform as a cook, baker, and photographer, which is an amazing feeling. Though I still have much to learn and explore I am thankful to you, my family and friends for joining me on this journey.
One of my goals for this next year is to work towards starting my own baking business. While I am still in the beginning phases I would like to incorporate sharing more of those experiences with you in some of my blog posts.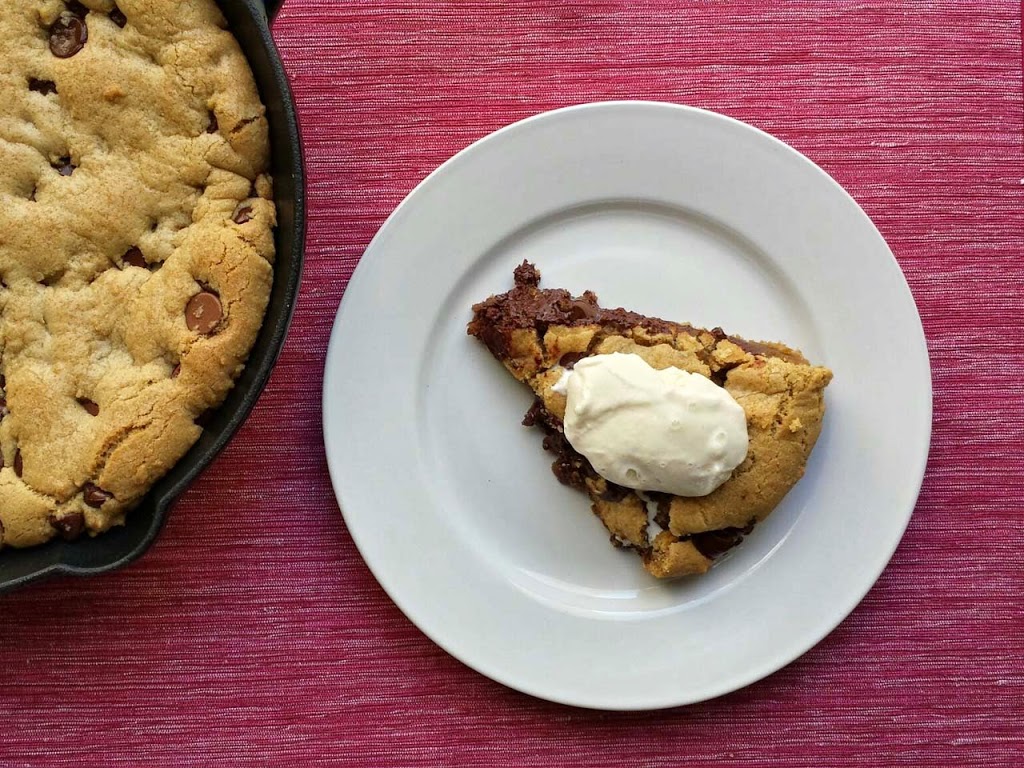 Finally, to celebrate my first year of blogging and help kick off the next year, it only felt right to celebrate with something sweet. Say hello to the skillet cookie, which I adapted from marthastewart.com. No need to get out the mixer for this cookie! I chose to keep it simple and save myself from doing extra dishes and I mixed everything in one bowl. Buttery, chewy, and packed with three types of chocolate you may never look at a chocolate chip cookie the same. Don't forget the vanilla ice cream to top it all off.
Ingredients: (yields 8 servings)
1 and 1/2 sticks (3/4 cup) of unsalted butter, softened to room temperature
1 cup of dark brown sugar, packed
1/2 cup of granulated sugar
1 large egg and 1 egg yolk, room temperature
2 teaspoons of vanilla extract
2 cups and 2 tablespoons of all purpose flour
1 teaspoon of baking soda
1/4 teaspoon of salt
1/2 cup of milk chocolate chips
1/2 cup of semi-sweet chocolate chips
1/2 cup of bittersweet chocolate chips
Directions:
Preheat the oven to 350 degrees.
In a large bowl with a wooden spoon, cream together by hand the butter, brown sugar and granulated sugar until combined. Add the egg, egg yolk, and vanilla and mix until incorporated. Add the flour, baking soda and salt and mix until just combined. Gently stir in the chocolate chips.
Press the dough into a 10-inch oven proof skillet, so that it evenly covers the bottom of the pan.( I used a 10-inch enameled cast iron skillet)
Bake for 30-35 minutes until golden brown and cooked through, Do not over bake. (I baked mine for a total of 25 minutes because we enjoy ours slightly under baked).
Carefully transfer skillet to a cooling rack to cool for 20 minutes. Use caution when removing the pan from the oven as the handles with be extremely hot. Cut into 8 slices and enjoy.