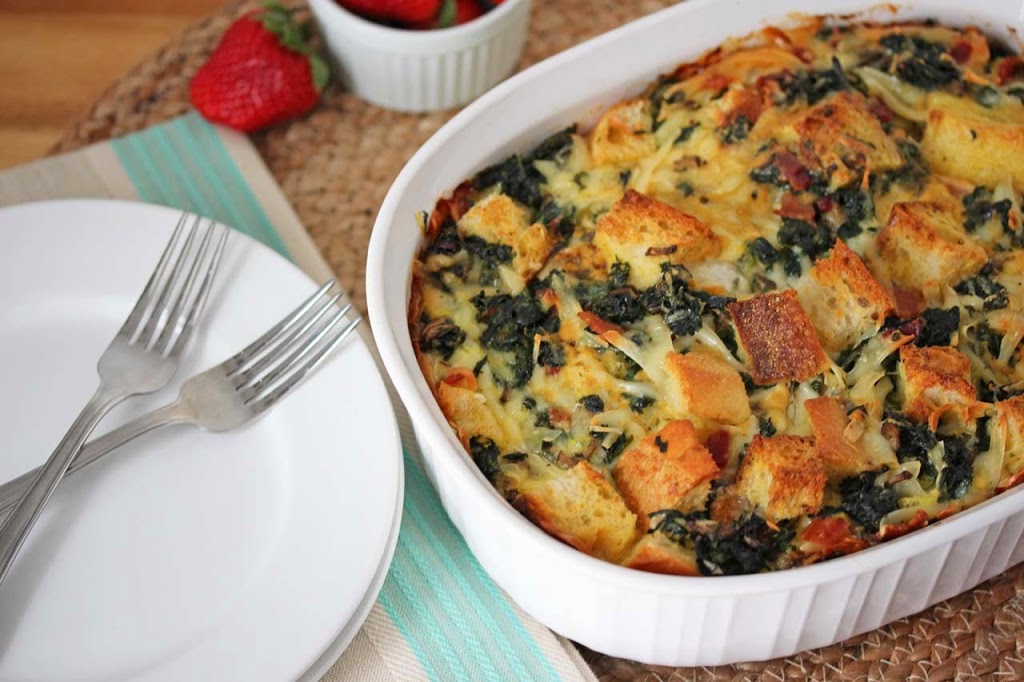 I hope everyone is enjoying their Easter. Matthew and I had a very nice and relaxing day which started off with a delicious, no fuss breakfast strata.
While brainstorming some Easter meal options I kept thinking about a baked breakfast strata that I had seen weeks before. As you know I have a weakness for all things breakfast but what really sold me on this dish is that most of the work is done the day before which means I have earned myself an extra snooze or two on the alarm clock.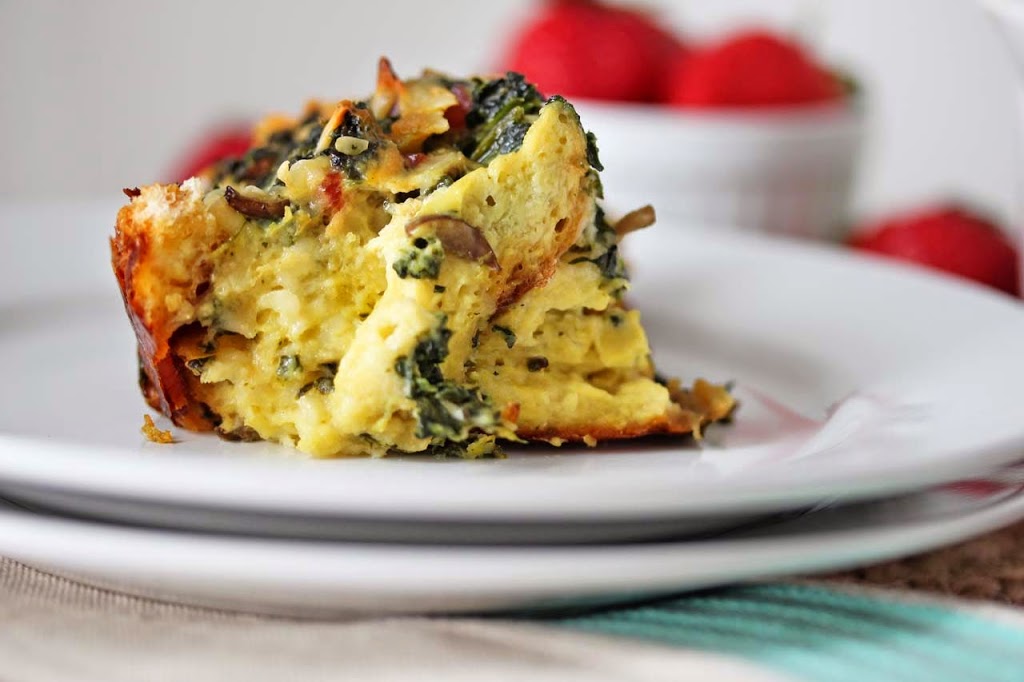 This is an easy to prepare dish with fantastic flavor. Tender chunks of bread mixed with eggs, bacon, spinach, mushrooms, and cheese to create a delicious savory breakfast.
Breakfast Strata
Source: Adapted from Smitten Kitchen
Yields: 6-8 servings
9 slices of bacon (I used Italian pancetta)
1 (10 oz) package of frozen spinach thawed, squeezed of excess liquid and finely chopped
1 and 1/2 cups of cremini mushrooms, finely chopped
3 tablespoons of unsalted butter
1 teaspoon of salt
1/2 teaspoon of black pepper
1 pinch of nutmeg
8 cups of french bread, cut into 1-inch cubes
6 ounces of Gruyere cheese, grated (about 2 cups)
2 ounces of Parmesan cheese, finely grated (about 1 cup)
2 and 3/4 cups of milk
9 large eggs
2 tablespoons of Dijon mustard
In a medium frying pan on low heat fry the bacon until fully cooked. Transfer the bacon to a plate lined with two sheets of paper towel and allow to cool.
In a large frying pan on medium high heat saute the butter and mushrooms, until brown, tender, and any liquid the mushrooms have given off is evaporated. About 5 minutes. Add 1/2 teaspoon of salt, 1/4 teaspoon of black pepper and 1 pinch of nutmeg cooking for 1 minute. Stir in the spinach and remove from the heat. Set aside.
Spread 1/3 of the cubed bread into a well buttered 3-quart gratin dish or other shallow ceramic baking dish. Top the bread layer with 1/3 of the mushroom mixture, 3 strips of bacon torn into bite sizes pieces and 1/3 of both cheeses. Repeat the layering process two more times for the remaining bread, mushroom mixture, bacon, and cheeses.
In a large bowl whisk together the eggs, milk, Dijon mustard, 1/2 teaspoon of salt and 1/4 teaspoon of black pepper and evenly pour the egg mixture over the strata. Cover the strata with a piece of plastic wrap and refrigerate for at least 8 hours to overnight.
The next day remove the strata from the refrigerator and preheat the oven to 350 degrees. Allow the strata to sit out for 30 minutes while the oven preheats. Bake the strata, uncovered for 45-55 minutes until puffed, golden brown and cooked through. You can tent the top of the strata with foil if you notice it getting to brown. Allow the strata to cool for 10 minutes before serving.