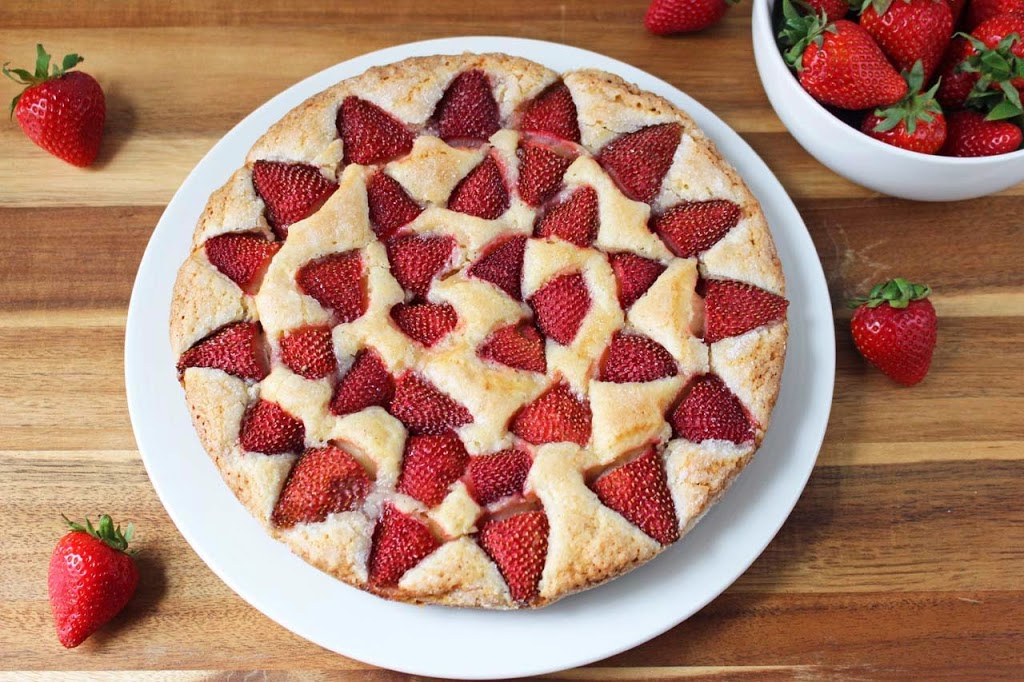 Things are about to get berry delicious on the blog today. Not only do I have an amazing strawberry buttermilk cake but I also prepared a strawberry whipped cream to accompany it.
Before I get into all that strawberry goodness I have a couple bakery updates. I am currently finishing up the lessons for a food protection certificate here in NYC. I am also getting final preparations ready for the NYC Bake Sale for No Kid Hungry. I have been learning about packaging and labeling (though at a small scale), but fun never the less.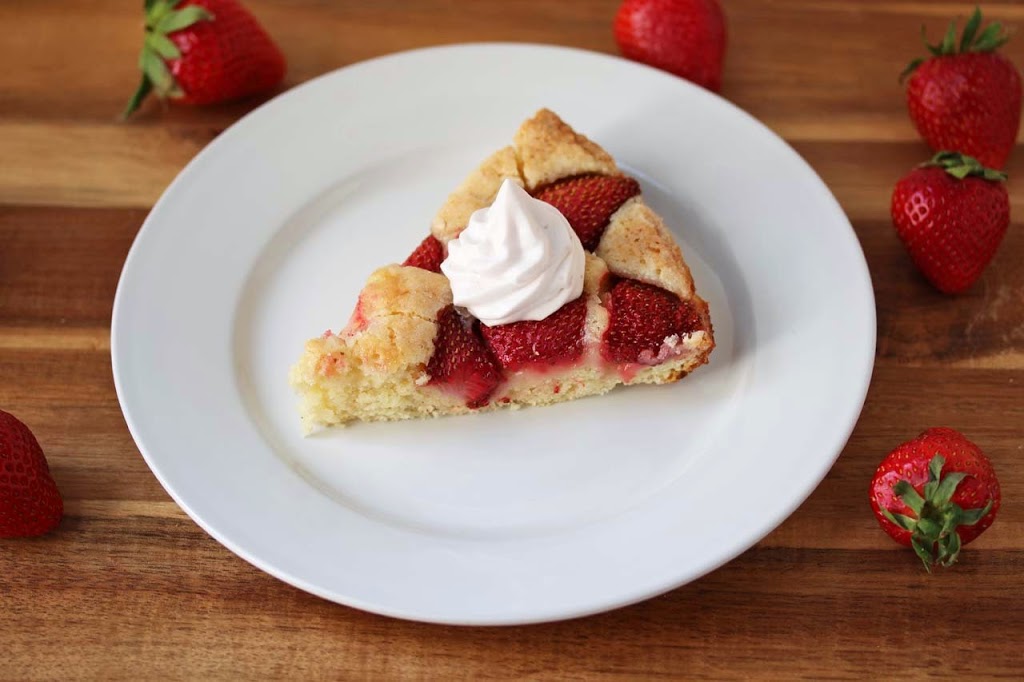 But enough about business, on to dessert! This strawberry cake reminds me of a strawberry shortcake. Dense, sweet, and moist cake spotted with bursts of strawberries topped with a cool and subtle strawberry whipped cream. A mouthful of summery bliss, even though thats a few months early.
Strawberry Cake
Source: Adapted from Martha Stewart
Yields: 10 servings
6 tablespoons of unsalted butter softened, plus more for greasing the pan
1 and 1/2 cups of all-purpose flour
1 and 1/2 teaspoons of baking powder
1/2 teaspoon of salt
1 cup, plus 2 tablespoons of sugar
1 large egg, room temperature
1/2 cup of buttermilk, shaken
1 teaspoon of pure vanilla extract
1 pound of strawberries hulled and halved
Directions:
Preheat the over to 350 degrees and grease a 10-inch pie plate or cake pan.
Over a medium sized bowl sift together the flour, baking powder, and salt. Set this aside.
In the bowl of an electric mixer with the paddle attachment, cream together one cup of sugar and the butter until light and fluffy. This should be about 3 minutes. Add the egg, buttermilk, and vanilla. Mix until combined.
Gradually add the flour mixture until just combined. Make sure to not over mix.
Transfer the batter to the greased pie plate. Arrange the strawberries on top of the cake. Over the berries, sprinkle the remaining two tablespoons of sugar.
Bake the cake for 10 minutes at 350. After 10 minutes, reduce the heat to 325 and continue to bake the cake for another 50 to 55 minutes. The cake should be a golden brown color and firm to the touch.
Let the cake cool in the pan before slicing in.
Strawberry Whip Cream
1 cup of heavy cream
2 tablespoons of granulated sugar
1/2 a cup of strawberries halved and pureed
While the cake is cooling, its the perfect opportunity to make up some strawberry whip cream.
Take 1/2 a cup of strawberry halves and cook them over low heat in a small saucepan. Once they begin boiling, turn the heat to low and simmer for 10 minutes. Then remove the strawberries from the heat and spoon them through a sieve removing any seeds. Allow the puree to completely cool.
After the puree has cooled, whip together the heavy cream, sugar, and 2 tablespoons of puree. Make sure to not over whip, go for the soft peaks on this one.
By this time, you are ready to slice, dollop, and bite – enjoy!