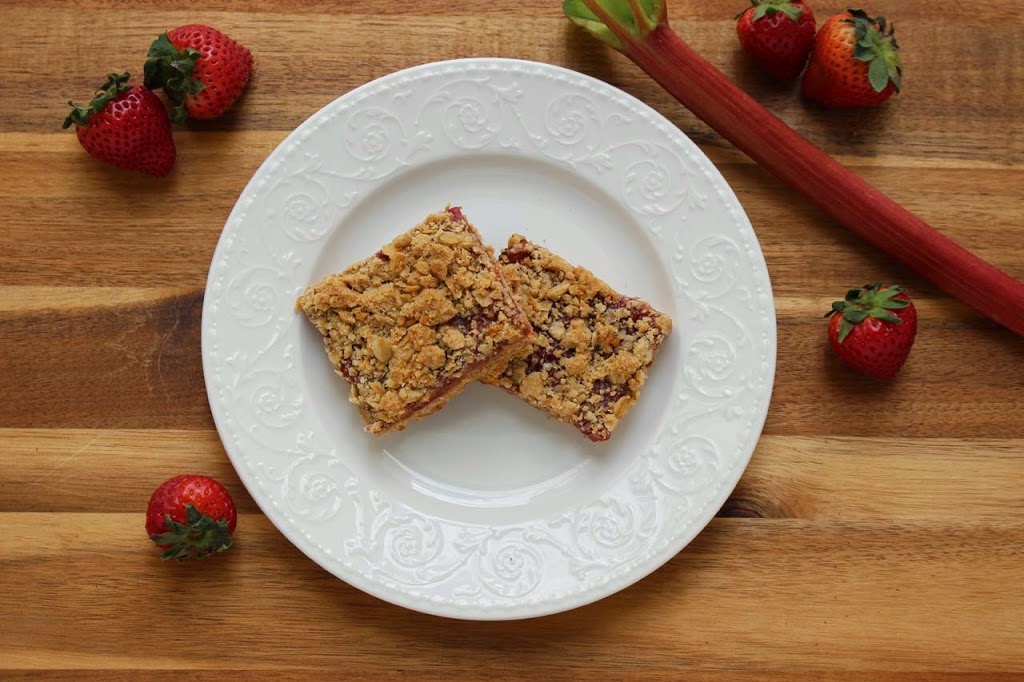 A general rule of thumb I use is when I have to think about the last time that I have had a specific dessert, it has been too long. One such dessert, is the strawberry rhubarb crumb bars.
One bite of these bars and it is easy to see why that strawberry-rhubarb combination is so loved. A tender buttery oat crust and crumb paired with a sweet yet faintly tart strawberry- rhubarb filling. These bars make for a perfect no fuss dessert and a great pairing to a scoop vanilla ice cream and a dollop of whipped cream, just saying.
Source: adapted from Land O Lakes
Yields: 36 bars depending on size

Filling:
2 cups of fresh strawberries, sliced
1 and 1/2 cups of fresh rhubarb, sliced into 1-inch pieces
1 tablespoon of fresh lemon juice
1/2 cup of light brown sugar, packed
2 tablespoons of cornstarch
Crust and Crumble:
1 and 1/2 cups of all-purpose flour
1 and 1/2 cups of uncooked quick cooking oats
1 cup of light brown sugar, packed
3/4 cup ( 1 and 1/2 sticks) of unsalted butter, room temperature
1/2 teaspoon of baking soda
1/4 teaspoon of salt
zest of 1/2 a lemon
Directions:
In a 2 quart sauce pan combine the strawberries, rhubarb, and lemon juice. Cover and cook over medium high heat, stirring often. About 8 -12 minutes or until the fruit is tender.
In a small bowl combine 1/2 of a cup of brown sugar and 2 tablespoons of cornstarch. Add the sugar mixture to the fruit. Cook for 1 minute or until boiling, stirring constantly. Boil for 1 minute or until thickened. Once thickened, remove from the heat and set aside.
Preheat the oven to 350 degrees and grease a 13 x 9″ pan.
In a large bowl combine the flour, oats, brown sugar, butter, baking soda, salt and lemon zest mixing until well combined and crumbly.
Reserve 1 and 1/2 half cups of the crumb mixture. Firmly press the remaining crumb mixture into the prepared pan. Evenly spread the filling over the crust. Sprinkle the reserved 1 and 1/2 cups of the crumb mixture, evenly over the filling.
Bake the bars for 30-35 minutes and golden brown. Let the bars fully cool before slicing and serving.