Brown Butter and Sea Salt Chocolate Chip Cookies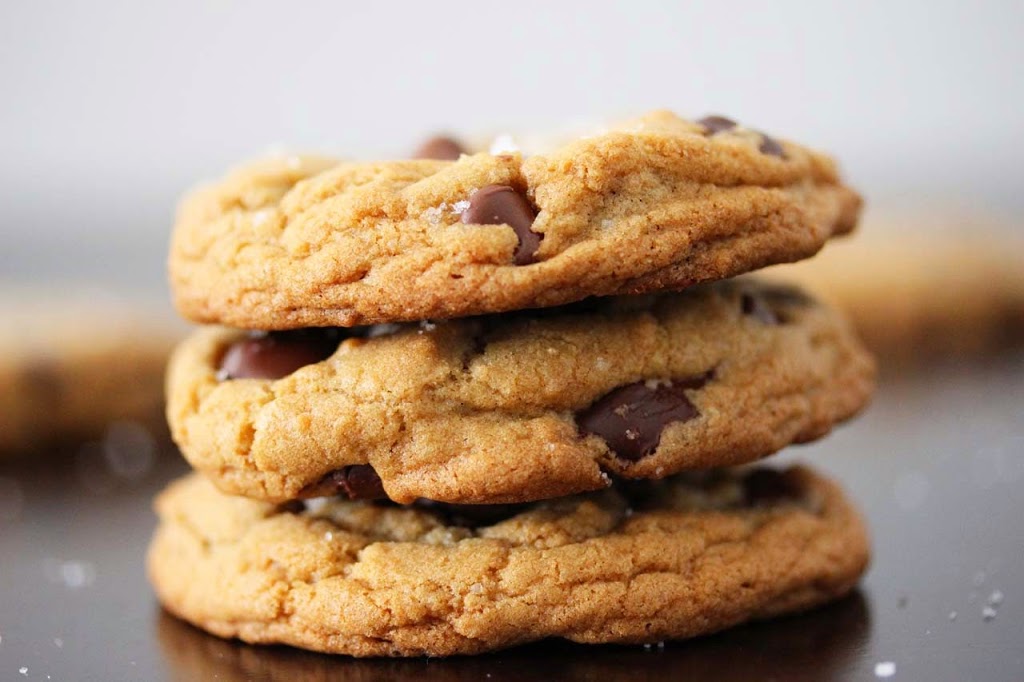 Browned butter just makes desserts better, there I said it! Well that and three types of chocolate and some strategically sprinkled sea salt doesn't hurt either. These cookies are a perfect combination of salty, sweet, and chocolaty with subtle hints of caramel flavor compliments of the browned butter.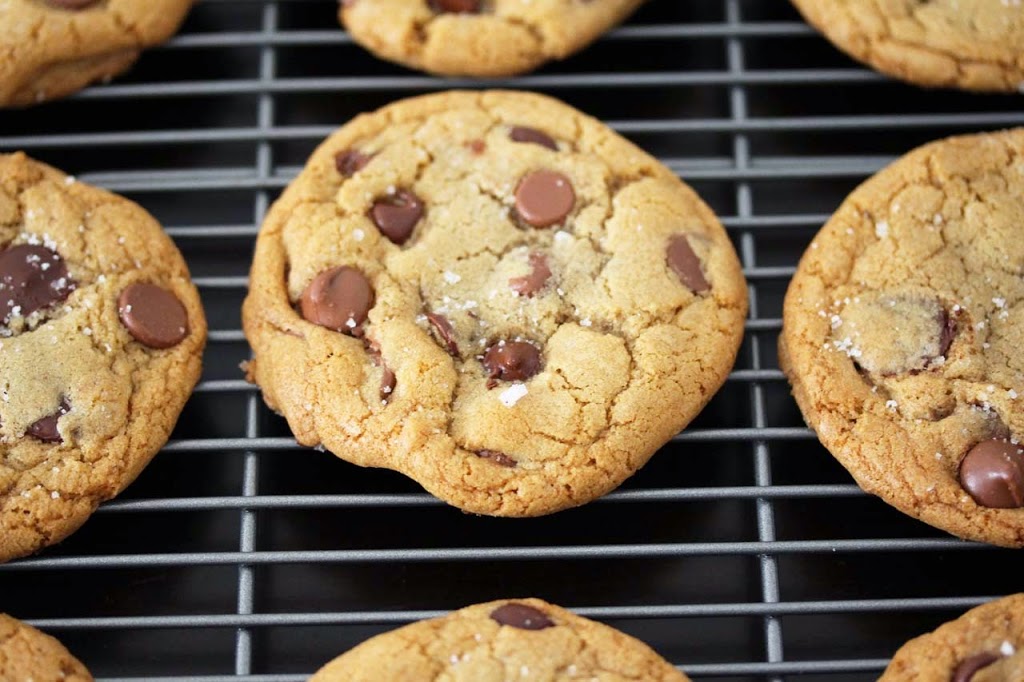 The outside of the cookie is crisp while the center is soft and chewy, as any good cookie should be in my opinion. So if salty and sweet is your thing I highly recommend these for your next sweet treat!
Brown Butter & Sea Salt Chocolate Chip Cookies
Source: Ashley Marie's Kitchen
Yield: 18 two tablespoon sized cookies
2 cups and 2 tablespoons of all -purpose flour
1 teaspoon of baking soda
1/4 teaspoon of flaky sea salt, plus more for sprinkling
1 and 1/2 sticks (3/4 cup) unsalted butter, room temperature
3/4 cup of light brown sugar, packed
1/4 cup of dark brown sugar, packed
1/2 cup of granulated sugar
2 large eggs, room temperature
2 teaspoons of pure vanilla extract
1/2 cup of bittersweet chocolate chips
1/2 cup of semi- sweet chocolate chips
1/2 cup of milk chocolate chips
Directions:
In a large bowl whisk together the flour, baking soda and sea salt. Set aside for later.
Place 1/2 a stick of butter (4 tablespoons) in a small sauce pan. Melt the butter over medium low heat until it turns a golden nut brown and brown specks just start to form on the bottom of the pan. Transfer the browned butter to a heat safe bowl and allow it to cool. About 10 minutes.
In the bowl of the electric mixer fitted with the paddle attachment, cream together the remaining 1 stick (8 tablespoons of butter), brown sugars and granulated sugar until light and fluffy. About 5 minutes. Mix in the eggs, vanilla and cooled browned butter until incorporated. Gradually add the flour mixture until just combined. Do not over mix. Fold in the chocolate chips until incorporated.
Cover the dough with a piece of plastic wrap and refrigerate for at least 1 hour.
With 30 minutes left on the chill time, preheat the oven to 350 degrees and line two baking sheets with parchment paper.
Scoop the dough into 2 tablespoons sized balls onto the prepared baking sheets. Leave about 2 inches between each cookie so they have some room to spread.
Lightly sprinkle the top of each cookie with some sea salt. I also pressed a few extra chocolate chips onto the top of each cookie.
Bake 12-16 minutes, until golden brown. Let the cookies cool on the baking sheets for 5 minutes before transferring them to a wire rack to cool completely.