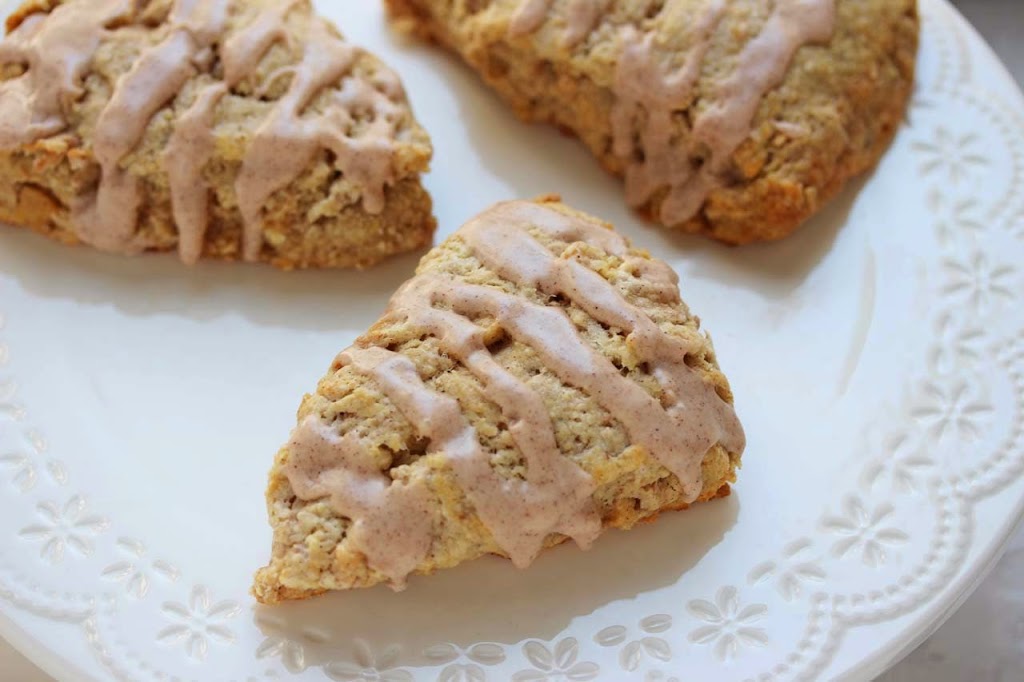 I know the whole saying of an apple a day, and now I am wondering if it would work the same for these scones? One can dream, Hehe.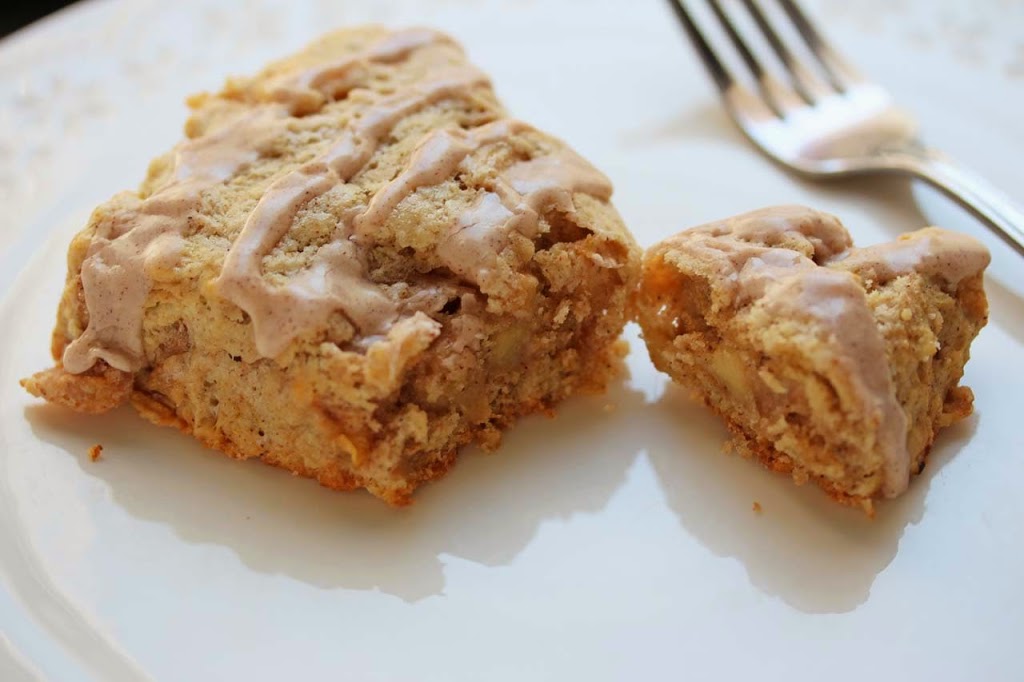 I used my go to scone recipe for the base and added tender sautéed chunks of apple, cinnamon, cloves ,and nutmeg for a hint of spice and some walnuts for crunch factor. I used heavy cream to keep these scones nice and moist and I topped the whole thing off with a cinnamon cream glaze simply because the thought was too delicious to pass up, and boy was I right.
Apple Cinnamon Scones
Source: Ashley Marie's Kitchen
Yield: 8 scones
For the Apples:
2 tablespoons of unsalted butter
2 large apples (about 2 cups) peeled and finely diced
1/2 teaspoon of cinnamon
1/8 teaspoon of cloves
1/8 teaspoon of nutmeg
1/4 teaspoon of lemon zest
1/4 teaspoon on lemon juice
For the Scones:
2 cups of all -purpose flour, plus more for dusting
1 teaspoon of baking soda
2 teaspoons of cream of tarter
2 and 1/2 tablespoons of sugar
1/2 teaspoon of cinnamon
1/8 teaspoon of ground cloves
1/8 teaspoon of nutmeg
4 tablespoons of cold unsalted butter, cut into cubes
sautéed apples, cooled
1/2 cup of chopped walnuts
1/2 cup, plus 2 tablespoons of heavy cream, plus more for brushing the tops
1 large egg, room temperature, and lightly beaten
1 teaspoon of pure vanilla extract
Directions:
Preheat the oven to 400 degrees and line a baking sheet with parchment paper.
Prepare the apples first:
In a skillet over medium heat melt the 2 tablespoons of butter. Add the apples, cinnamon, cloves, nutmeg, lemon zest and lemon juice and cook stirring frequently until tender. About 8 -10 minutes.
Remove apples from the heat and place them in a thin layer onto a large plate. Allow the apples to fully cool.
Over a large bowl sift together the flour, salt, baking soda, cream of tartar, sugar, cinnamon, nutmeg and cloves. Add the cubed butter and cut it into the flour mixture until crumbly and some pea sized pieces of butter remain.
Gently stir in the cooled apple pieces and the walnuts to incorporate. Make a well in the center of the flour and apple mixture. Pour in the cream, beaten egg and vanilla and mix everything together until just combined. Make sure not to over mix as the scones will become tough.
Transfer the dough to a lightly floured work surface. With floured hands pat the dough into a round with a 1 -inch thickness. If the dough is a bit shaggy you can gently knead the dough 3 -4 turns to until the dough comes together. Again be careful not to overwork the dough. Cut the dough into 8 triangles and place them onto your parchment lined baking sheet. Brush the top of each scone with some heavy cream.
Bake the scones for 15 -20 minutes and golden brown and firm to the touch. Allow the scones to cool on the baking sheet.
While the scones cool you can get started on the glaze!
Cinnamon Cream Glaze:
1/2 cup of confectioners sugar, sifted
1 teaspoon of vanilla extract
2-3 tablespoons of heavy cream
1/2 a teaspoon of cinnamon
In a small bowl mix together the sugar, vanilla, heavy cream and cinnamon until combined and smooth. Drizzle the glaze over the cooled scones and enjoy!