Baked Peanut Butter Doughnuts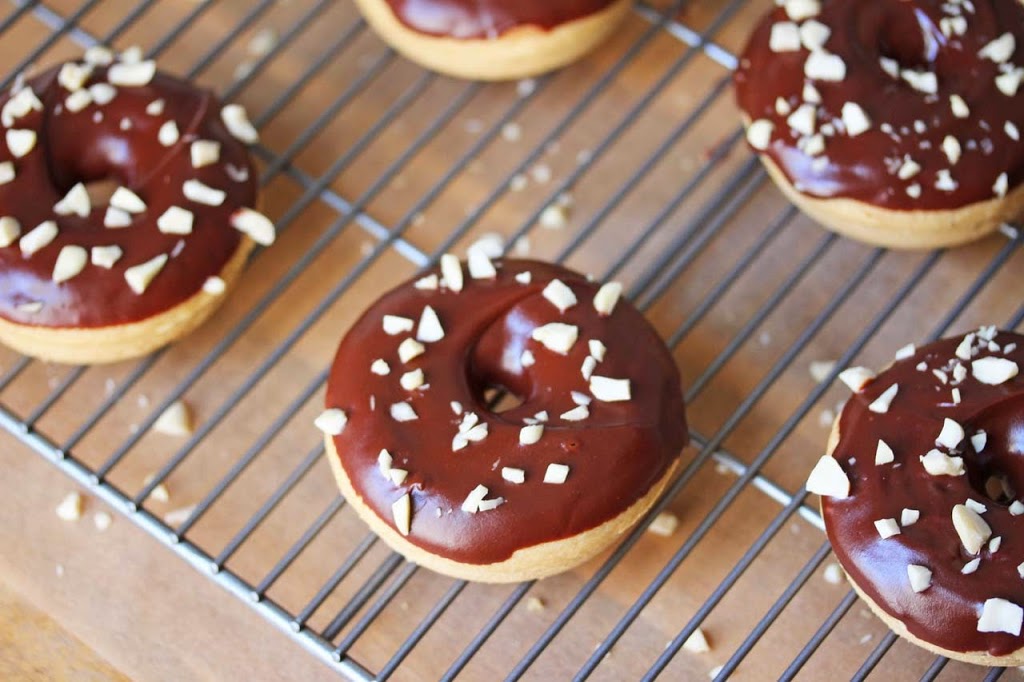 Hope you had a great fathers day! If you are looking for some more recipes for dad or simply just some tasty breakfast ideas I have you covered with these baked peanut butter chocolate glazed doughnuts.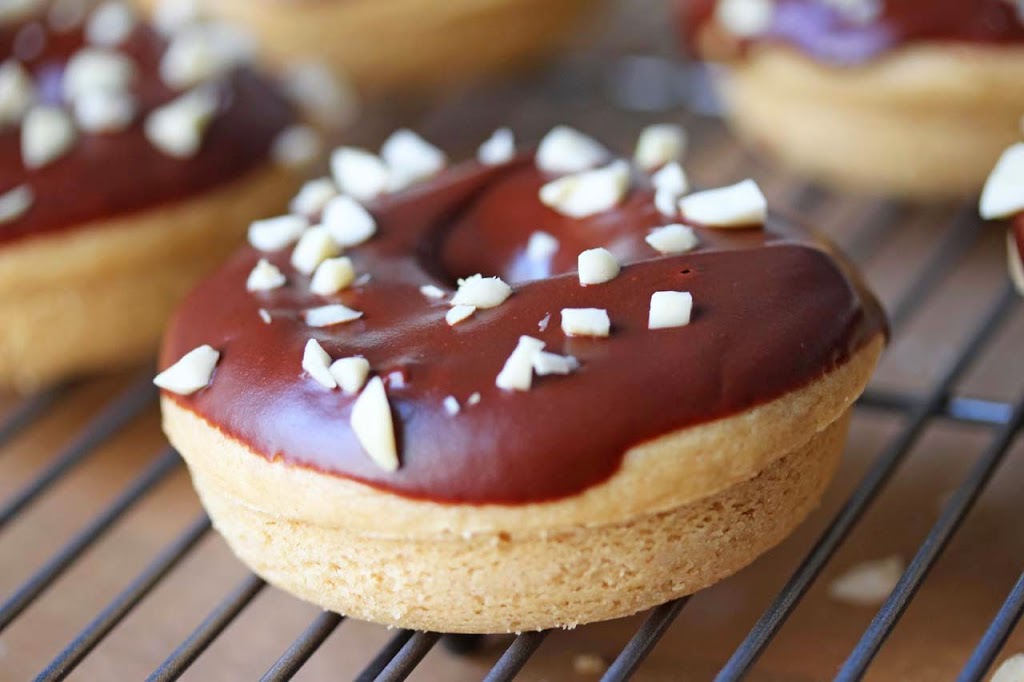 These doughnuts have a great sweet, stick to the roof of your mouth peanut buttery goodness. Pair them with an ice cold glass of milk and you have a winning breakfast. A tender peanut butter doughnut topped with semi-sweet chocolate glaze and sprinkled lovingly with some chopped peanuts for an added bit of crunch. deeeeelicious!
Baked Peanut Butter Doughnuts
Source: Ashley Marie's Kitchen
Yield: 6 doughnuts
1 cup of cake flour, not self rising
1 teaspoon of baking powder
1/4 teaspoon of salt
1/8 teaspoon of nutmeg
2 tablespoons of unsalted butter, melted
1/3 cup of light brown sugar, packed
1/4 cup of creamy peanut butter
1/2 cup of buttermilk, shaken
1 large egg, room temperature
1/2 teaspoon of pure vanilla extract
Directions:
Preheat the oven to 325 degrees and grease a doughnut pan.
In a medium bowl sift together the flour, baking powder, salt and nutmeg. Set aside.
In a large bowl mix together the melted butter, brown sugar and peanut butter until combined. Add the buttermilk, egg and vanilla and mix until incorporated.
Gradually add the flour mixture to the peanut butter mixture and stir until just combined. Be careful not to over mix.
Spoon or pipe the batter into each section of the doughnut pan filling it about 2/3 of the way full.
Bake for 8- 13 minutes or until the doughnuts are cooked through and spring back when lightly touched. Keep a close eye on them so they do not over cook. Let the doughnuts cool in the pan for 5 minutes before transferring them to a wire rack to fully cool.
While the doughnuts cool you can get started on the glaze.
Chocolate Glaze
1/4 cup of semi -sweet chocolate chips
1 teaspoon of light corn syrup
1 tablespoon of unsalted butter
1/2 teaspoon of pure vanilla extract
chopped peanuts (optional)
Directions:
In the bowl of a double boiler add the chocolate, butter, corn syrup and vanilla. Stir until the chocolate and butter is melted and the mixture is well combined and smooth. Carefully remove the bowl from the heat and allow to cool slightly.
Dip the cooled doughnuts one at a time, top side down into the chocolate glaze, transfer the glazed doughnut back onto the cooling rack and add some chopped nuts while the glaze is still wet. Repeat with the remaining doughnuts. Enjoy! To make clean up quick you can place your cooling rack into a rimmed baking sheet to catch any dripping chocolate or chopped nuts.