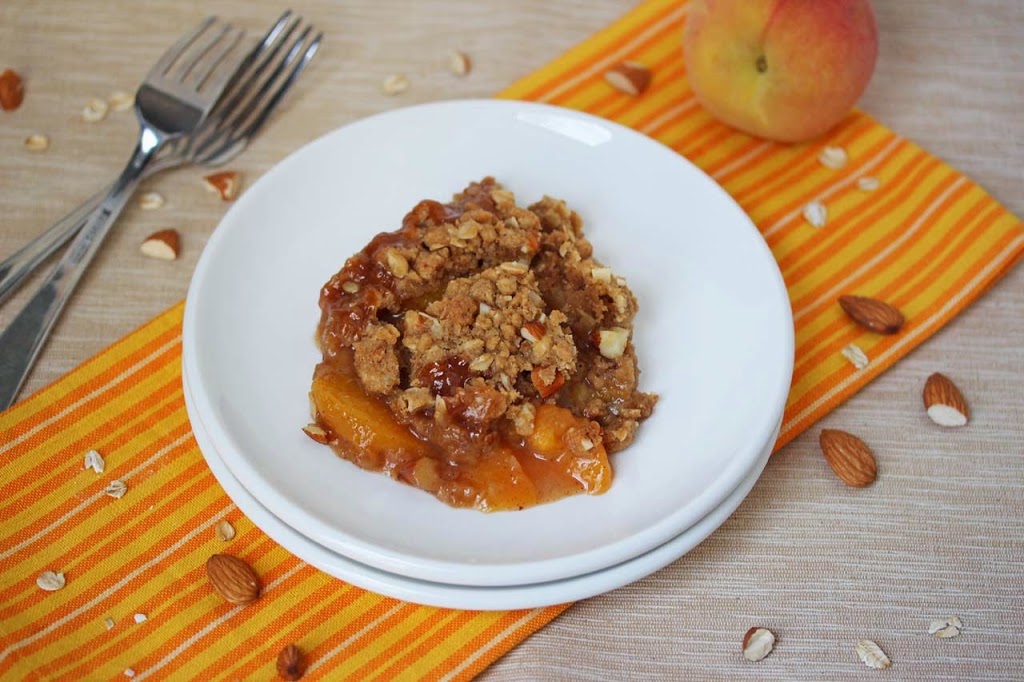 It's official, summer has arrived! So why not slip into your summer groove with a fresh, quick and easy peach crisp. Sure you will have to turn your oven on but trust me this is totally worth it, not only will you have a deliciously sweet dessert but your kitchen will also be filled with an amazing peachy cinnamon and spice aroma!
Sweet, tender peaches coated with fresh lemon, ginger, cinnamon, and spices. Topped with a crisp buttery, brown sugar and oat topping with some chopped almonds for added crunch! Serve this warm with a scoop or two of vanilla ice cream and enjoy the summery goodness! I can wait to make this again with the added twist of swapping out some of the peaches for blueberries or raspberries, yum!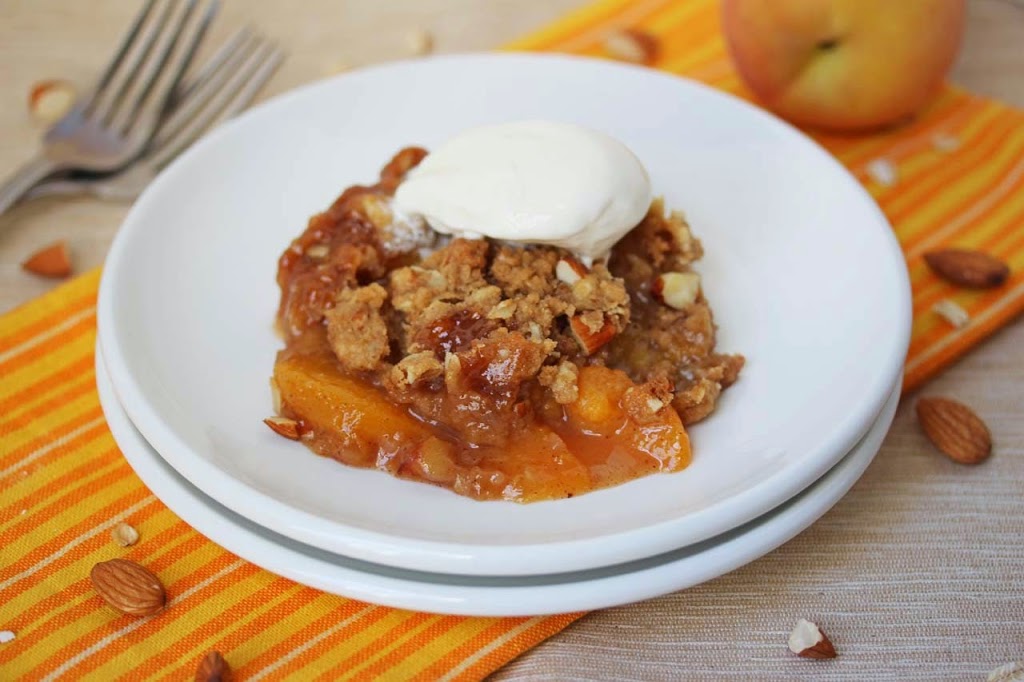 I would also like to share some overdue bakery updates. If you have been staying tuned I mentioned a few posts ago about preparing for my food protection certificate which I am happy to announce I received! Going forward I am researching the next line of paperwork I will need to have in order to sell my baked goods as well as working on some new recipes. If you follow me on facebook (hint, hint you should follow me on facebook)… I will be posting more pictures of sweets that I am working on.
Peach Crisp
Source: Ashley Marie's Kitchen
Yield: 8 servings
Filling
6 cups of fresh peaches, peeled, pitted and sliced
1/2 cup of granulated sugar
1 tablespoon of all -purpose flour
1/2 teaspoon of cinnamon
1/4 teaspoon of minced ginger
1/8 teaspoon of cloves
1/8 teaspoon of nutmeg
2 teaspoons of fresh lemon juice
1 teaspoon of lemon zest
Topping
1 cup of all- purpose flour
1/2 cup of old fashioned rolled oats
1/2 cup of raw almonds, chopped
1/2 cup of light brown sugar, packed
1/4 teaspoon baking powder
1/4 teaspoon of baking soda
1/2 cup (1 stick) of unsalted butter, softened and cubed
Directions:

Preheat the oven to 350 degrees and grease a 8- inch square pan.
Prepare the filling first:
In a large bowl toss together the peaches, sugar, flour, cinnamon, ginger, cloves, nutmeg, lemon juice and lemon zest until evenly coated. Transfer the peaches to your prepared pan.
In a separate bowl mix together the flour, oats, almonds, brown sugar, baking soda and baking powder. Using a fork or pastry cutter, cut in the butter until combined and clumps form. You can also use your hands to squeeze some topping pieces together.
Evenly sprinkle the topping over the peach mixture. Bake for 45-50 minutes until the filling is bubbly and the topping is golden brown. Keep a close eye on the topping so it doesn't get to brown.
Carefully transfer the peach crisp to a wire rack and let cool about 30 minutes or until just warm. Serve with some vanilla ice cream or a dollop of whipped cream and enjoy!