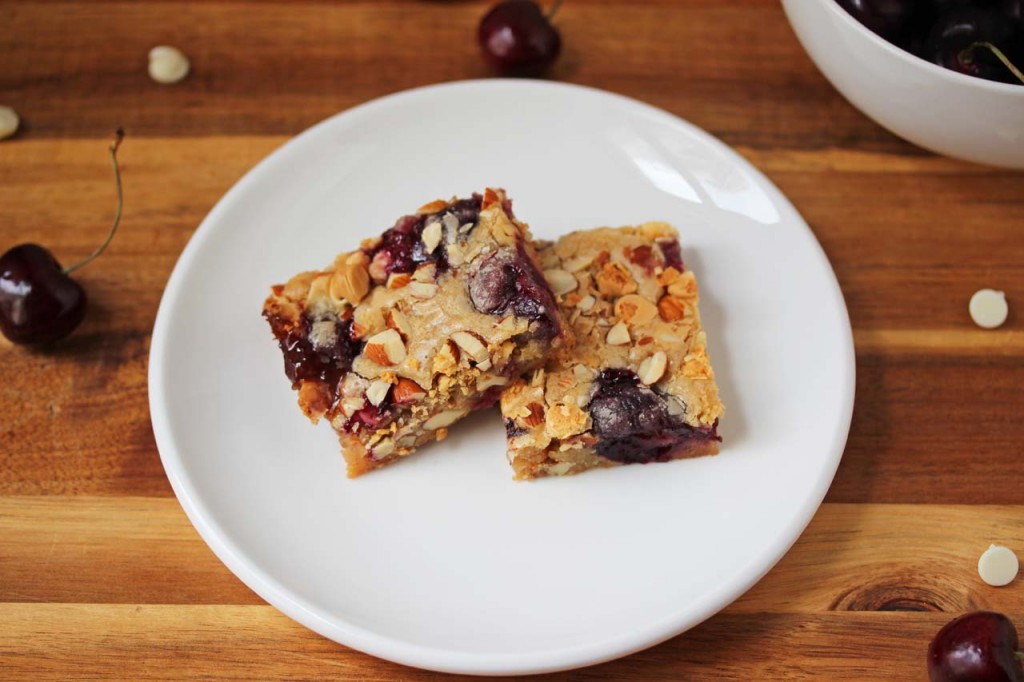 You might notice a couple changes around here as we have moved over to wordpress. Still have a lot of plans to implement, but I am happy to be on the new system. I think most everything transferred in the move, but there might be some comments lost and some rough edges that need to be ironed out still.
Enough on that for now, as I mentioned in the last post, I have some cherries to use up. How about a batch of these cherry blondies? Every bit as chocolaty and buttery as your typical blondie with an added twist. Fresh cherries, almonds and a bit of almond extract for the perfect summer fruit meets blondie combination.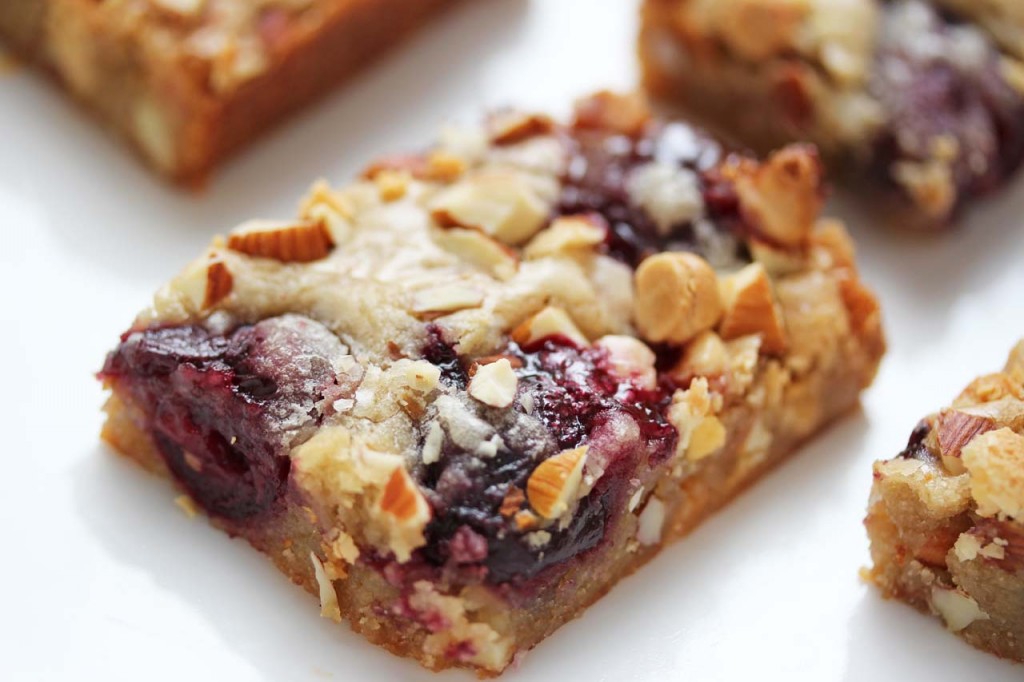 These one bowl wonders make for a simple and delicious summertime treat. They are also perfect served up warm with a scoop of vanilla ice cream and some caramel sauce.
Cherry Blondies
Source: Adapted from Martha Stewart
Yield: 16 bars

1 stick of unsalted butter, melted, plus more for greasing the pan
1/2 cup of light brown sugar, packed
1/3 cup of granulated sugar
1 large egg
1 teaspoon of pure vanilla extract
1/4 teaspoon of pure almond extract
1 cup of all -purpose flour
1/4 teaspoon of salt
1 cup of fresh cherries stemmed and pitted
1/2 cup of white chocolate chips
1/2 cup of raw almonds, chopped
Directions:
Preheat the oven to 350 degrees and grease an 8 inch square baking pan. Line the pan with a piece of parchment paper with a 2-inch over hang on two sides. Lightly butter the parchment paper.
In a large bowl whisk together the melted butter, brown sugar and granulated sugars until smooth. Add the egg, vanilla extract and almond extract and whisk to combine. Add the flour and salt and mix until just combined with a few flour streaks remaining. Make sure not to over mix.
Fold in the cherries ( I left them whole) , 1/4 cup of the  white chocolate chips and 1/4 cup of almonds. Transfer the batter to the prepared pan and smooth the top with a spatula if necessary. Top the bars with the remaining 1/4 cup of almonds and 1/4 cup of white chocolate chips.
Bake the bars for 30 -35 minutes until golden brown. A toothpick inserted into the center should come out clean. Carefully transfer the pan to a wire rack to fully cool. Once the bars have cooled you can slice and enjoy.