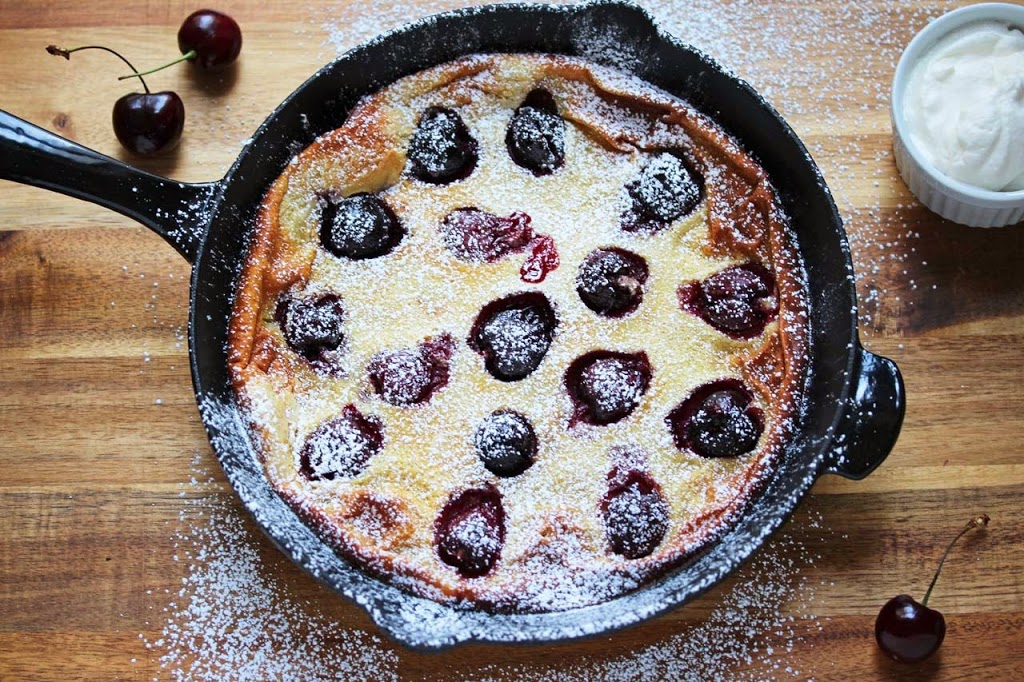 Cherry Clafoutis – a classic French dessert. I have always been inspired by French cooking, as so many others are. Certainly, it is always a great learning experience to tackle one of the classics like this. (I will master that soufflé one day as well!) So seeing as it is Summer and cherries are in season, I decided to pick some up at the market and give this a try.
Traditionally made with the pits in, I decided to omit them for making it easier to eat. Interestingly, the cherry pits add an almond flavor – hence I added some almond extract. Cherries and almonds have always gone well together, its in their nature… hehe.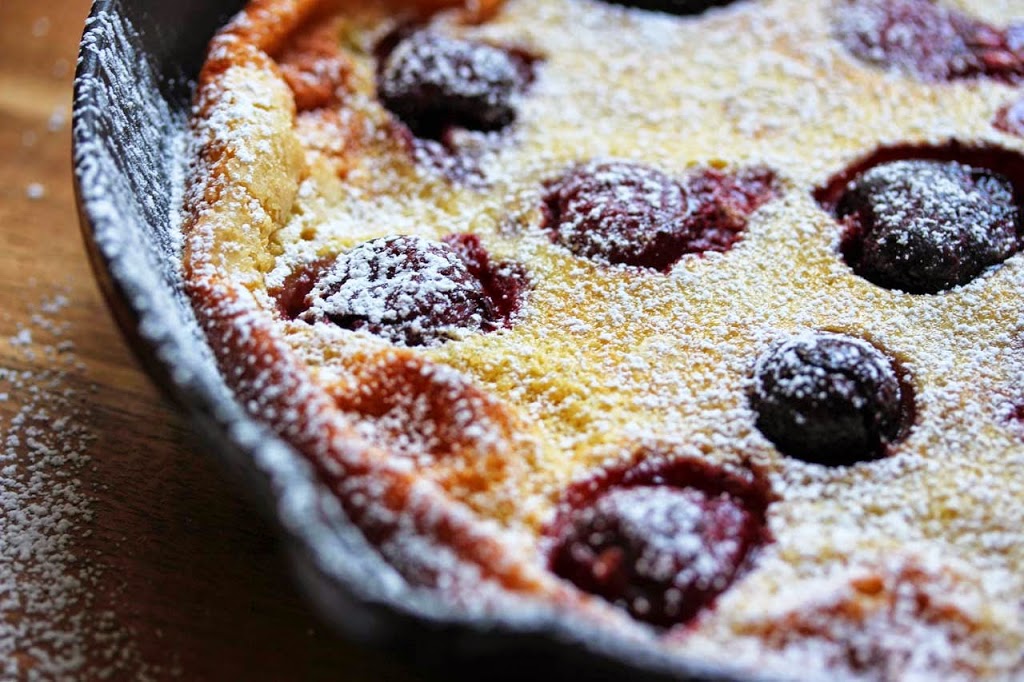 This dessert has a great flavor and an interesting, almost flan like texture. I served mine warm with some almond infused whipped cream and it was fantastic! You can also serve it cold the next day as well. Stay tuned for more cherry recipes coming soon…
Cherry Clafoutis
Yield: 8 servings
3/4 cup all purpose flour
1 cup sugar seperated into 3/4 cup and 1/4 cup
a pinch of salt
1 and 1/2 cup whole milk
4 eggs
1 and 3/4 teaspoon vanilla extract
1 teaspoon almond extract
1 and 1/2 to 2 cups pitted cherries depending on size
some powdered sugar for dusting
Directions:
Preheat the oven to 375 degrees.
In a large mixing bowl add flour, 3/4 cup sugar, and a pinch of salt. Mix that well.
In a separate bowl add the eggs, milk, vanilla extract, and almond extract. Whisk that together until combined.
Add the wets to your dries and mix that together until combined making sure it is smooth and there are no lumps remaining. (You can do that by hand or with a blender.)
In a 10 inch non stick oven proof skillet add about 1/4 of the batter. Put that in the oven for about 5 minutes. You are looking for it to set only slightly. This will help to keep the cherries afloat. (I used a 10 inch enameled cast iron skillet.)
After 5 minutes, remove the skillet and add your cherries. Also, sprinkle the 1/4 cup of sugar evenly over the cherries and batter. Pour the remaining batter over the top. Place back in the oven for another 35 minutes. You should notice a golden brown crust forming on top around the edges.
Let it cool for about 10 minutes (perfect time to whip up some cream) and then dust with some powdered sugar over the top.