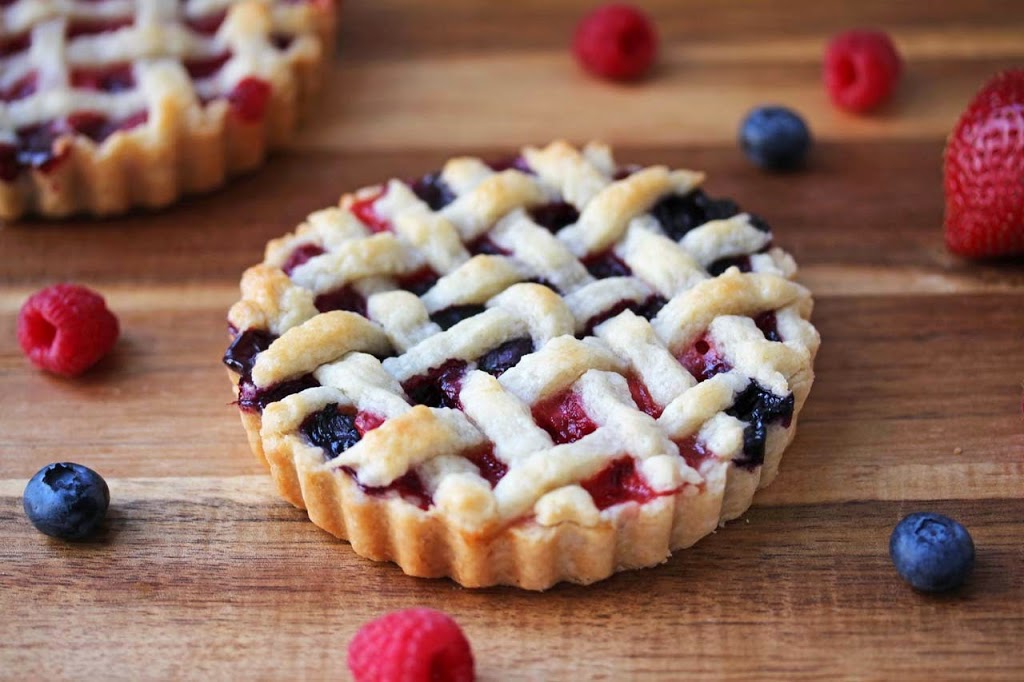 I hope everyone had a good Fourth of July and enjoyed the long weekend! We had a nice and relaxing 4th ourselves – starting with some grilled steaks and ending with fireworks and one of these mini pies.
A light, flaky, and buttery crust "jam" packed (pun intended) with a mix of sweet, plump blueberries, raspberries and strawberries with a splash of lemon and a hint of nutmeg. For a sweet, slightly tart and oh so delicious mixed berry pie. Perfect for your next summer gathering or to use up some of those summer berries.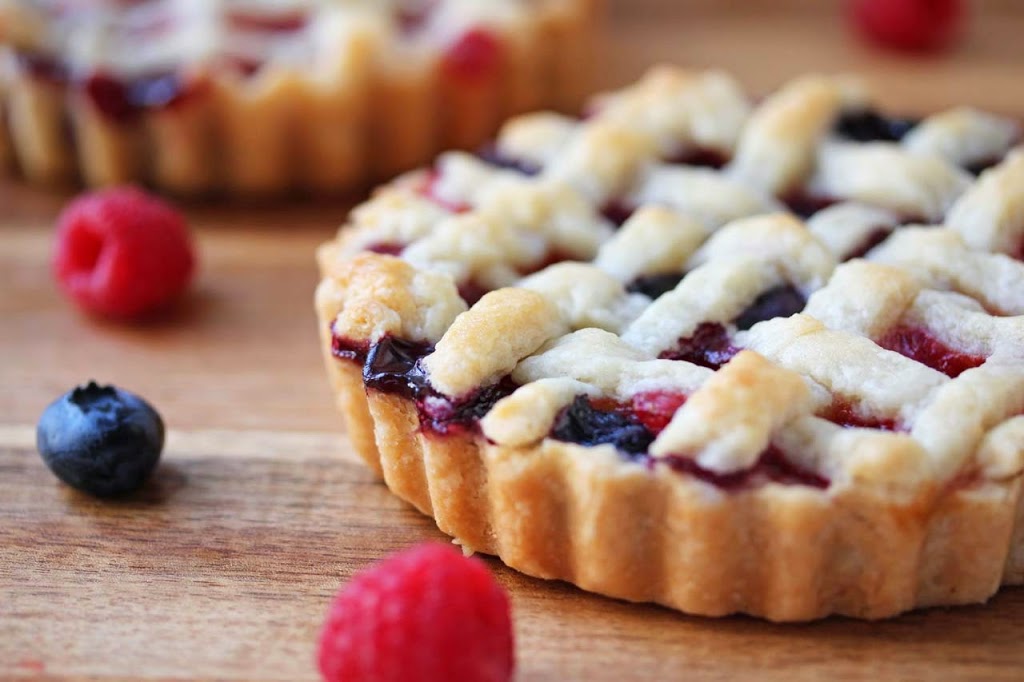 Mini Mixed Berry Pies
Source: Ashley Marie's Kitchen
Yield: 4 mini pies

Crust
2 and 1/4 cups of all- purpose flour
1/2 teaspoon of salt
2 tablespoons of granulated sugar
1/4 teaspoon of fresh lemon zest
11 tablespoons of unsalted butter, chilled and cubed
7 tablespoons of vegetable shortening, chilled and cubed
1/3 cup of ice cold water
Filling
3 cups of fresh berries (I used a cup each of : strawberries, blueberries and raspberries)
3 tablespoons of all- purpose flour
1/3 cup of granulated sugar ( you can add more depending on the sweetness of your berries)
1 teaspoon lemon juice
1/8 teaspoon nutmeg
1 and 1/2 tablespoons of unsalted butter, cut into cubes
heavy cream for brushing the crust
Directions:

Prepare the crust first. In a large bowl mix together the flour, salt, sugar and lemon zest. Add the cubed butter and shortening and cut it into the flour mixture until crumbly and some pea sized pieces of butter and shortening remain. Add 1/3 cup of ice water and mix until incorporated and the a dough forms.
On a lightly floured work surface gently shape the dough into two disks. Work the dough just long enough to form the disks. Lightly sprinkle each disk with flour. Wrap each disk with plastic wrap and refrigerate for at least 1 hour.
With 30 minutes left on the chill time for the dough preheat the oven to 400 degrees and line a rimmed baking sheet with parchment paper.
While the oven is preheating you can start the filling.
In a large bowl gently toss together 3 cups of berries, 1/3 cup of sugar, 1 teaspoon of lemon juice, and 1/8 teaspoon of nutmeg until incorporated. Set aside.
Assembly:

To make the pies I used 4 mini non -stick tart pans with a removable base. The pans were about 4 1/2 inches in diameter by 1 -inch deep.
Once the dough is finished chilling removed one disk of the dough and roll it out into a large thin round. Cut out two circles slightly larger than the tart pan. (about 6 and 1/2 inches in diameter.)
One at a time gently press and shape each circle of dough into a tart pan. I made sure to leave some overhang to make it easier when attaching the top crust. Use a fork to carefully poke a few holes on the bottom of the crust. Repeat the rolling and shaping process with the other disk of dough
Evenly fill each pie with the berry mixture. (For me this was about 1/2 a cup.) Divide the 1 and 1/2 tablespoons of butter over the top of the berry mixture for each pie.
Decorate the tops of each pie with the remaining dough. I chose a lattice for the top of my pies. Depending on how you decorate your pies you may have cut a few slits in the top crust to allow for steam to escape. Brush the top of each pie with some heavy cream.
Carefully transfer the pies to the prepared baking sheet. Bake the pie for 15 minutes at 400 degrees. After fifteen minutes reduce the heat to 350 degrees and continue baking the pies for 20 -25 minutes and the crust is golden brown and fully cooked. Keep a close eye on the crust as it bakes, if it is browning to quickly you can tent in with some tin foil.
Transfer the pies to a wire rack and allow to fully cool.