Chocolate Peanut Butter Cupcakes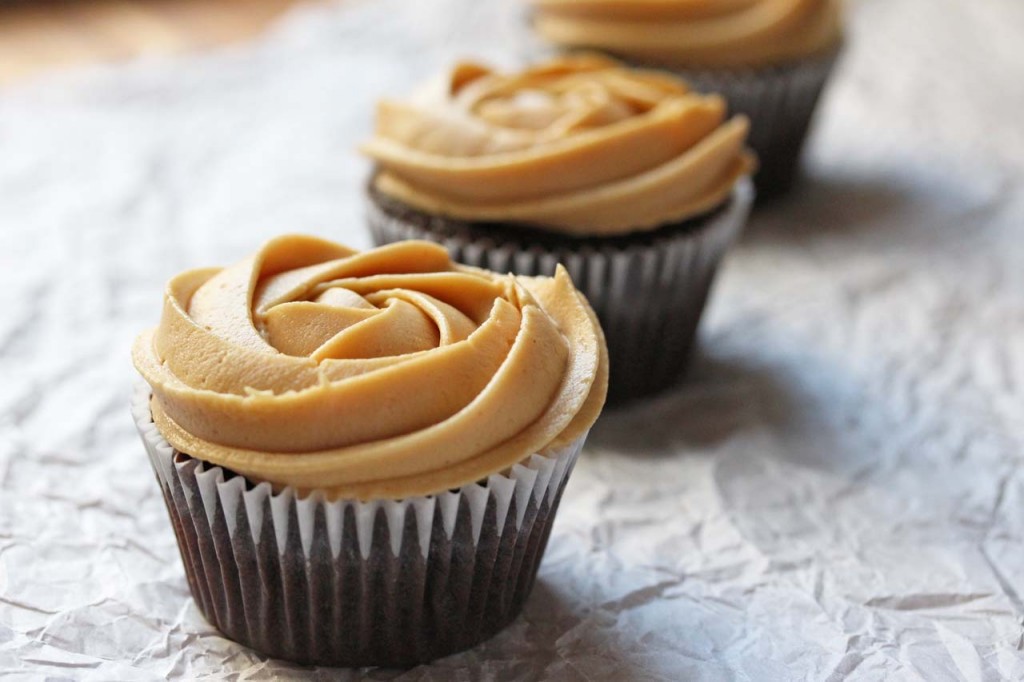 Chocolate and peanut butter lovers beware, these cupcakes are highly addictive and oh so amazing! As in I've already had to stash a few cupcakes in the freezer just to get them out of sight.
Speaking of out of sight that brings me to the next best thing about these cupcakes. To make sure their was chocolate and peanut buttery goodness in every bite I stuffed a peanut butter cup into the center of each cupcake while they baked, I did just mention these were addictive right?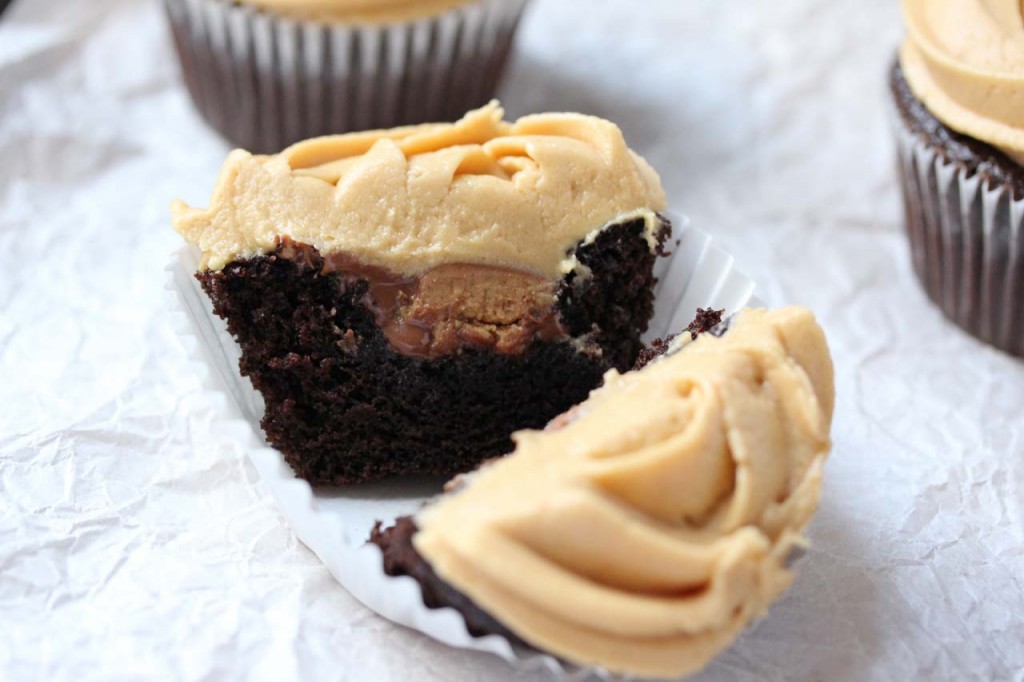 These are perfect for your next gathering or sweet tooth craving. Moist chocolate cake, stuffed with a peanut butter cup and topped with a smooth and creamy peanut butter frosting for the ultimate peanut butter and chocolate experience!
Chocolate Peanut Butter Cupcakes
Source: Ashley Marie's Kitchen
Yield: 12 Cupcakes
Cupcakes
3/4 cups of bread flour
1/2 cup of unsweetened cocoa powder ( I used dutch processed cocoa powder)
3/4 teaspoon of baking powder
3/4 teaspoon of baking soda
1/4 teaspoon of salt
1/2 cup of granulated sugar
1/2 cup of light brown sugar, packed
1 large egg, room temperature
1 large egg yolk, room temperature
1/2 cup of buttermilk, shaken
1/4 cup of unsalted butter, melted and slightly cooled
1 teaspoon of pure vanilla extract
1/2 cup of brewed coffee, slightly cooled ( I used a medium roast coffee)
12 miniature peanut butter cups, unwrapped ( I used Reese's)
Peanut Butter Frosting:
1 cup of creamy peanut butter
1 stick of unsalted butter, softened
2 cups of powdered sugar
1/2 teaspoon of pure vanilla extract
 1/3 cup of heavy cream
Directions:
Preheat the oven to 350 degrees and line a standard cupcake pan with paper liners.
Over the bowl of an electric mixer sift together the bread flour, cocoa powder, baking powder, baking soda and salt. Using the paddle attachment add the brown sugar and granulated sugar to the flour mixture and mix on low speed until incorporated.
In a medium bowl whisk together the egg, egg yolk, buttermilk, melted butter and vanilla. Gradually add the egg mixture to the flour mixture, mixing until just combined. About 1 minute on medium speed. Add the coffee and mix until just combined on low speed. Make sure not to over mix.
Divide the batter between the muffin cups. Make sure not to over fill. ( I used about 2 and 1/2 tablespoons of batter per cupcake, you may have some batter left over ). Bake the cupcakes for 12 minutes. Carefully remove the cupcakes from the oven and using caution press 1 peanut butter cup into the center of each cupcake. The peanut butter cup should be level with the top of the cupcake. Return the cupcakes to the oven and bake for an additional 5 -8 minutes or until a toothpick inserted near the center comes out clean. When testing for doneness make sure to avoid poking the peanut butter cup in the center. Allow the cupcakes to cool completely.
While the cupcakes cool you can prepare the frosting.
Peanut Butter Frosting
In the bowl of the electric mixer using the paddle attachment cream together the peanut butter and butter until smooth and creamy. About 2 minutes on medium speed. Add the confectioners sugar and vanilla and mix until combined. Add the heavy cream and mix until smooth. Frost the cooled cupcakes and enjoy!